I am grateful. This winter is passing us by without brutality. I feel as if we dodged a bullet this year, while other parts of the US have experienced subzero temperatures and dumps of snow. It's hard to ranch in the frigid cold. We've been there. When it is tough outside, there is this unsettledness in my gut. I know something will go wrong, and I'm waiting to see what. Vehicles freeze up. Waterlines break underground. And those living things, the animals that we care for, if there is anyone off alone from the several hundred head of beeves we winter, the cold is ruthless.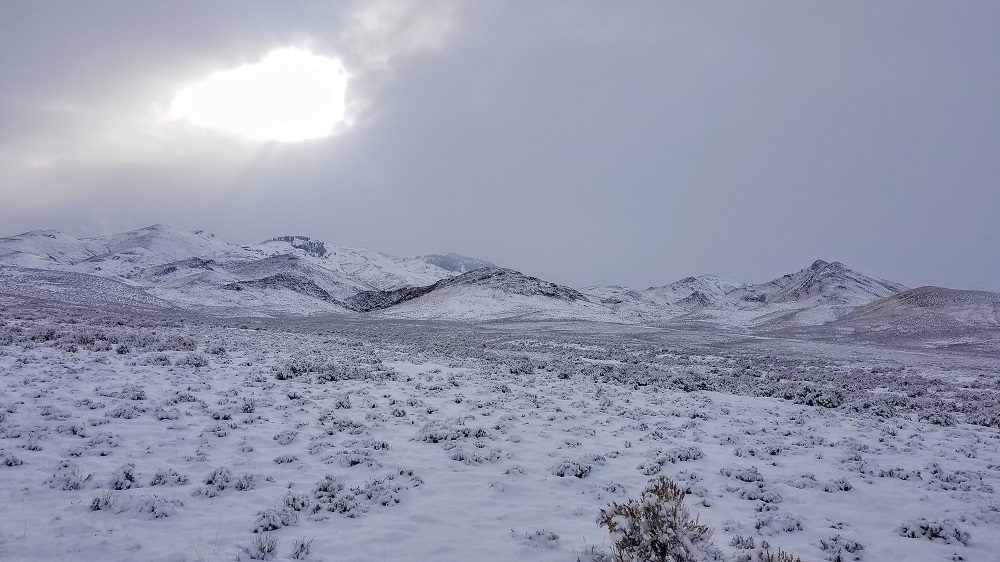 We must always be on the alert.
I remember two years ago. Brutal. Driving up the valley, we spot a cow on one of the spacious 5000 acre ranches of the upper valley, in a broad field with no windbreaks. A lone black cow, frozen to the ground, legs pointed skyward, snow partway drifted over her shadowy body, fading away into the white. The coyotes may have already been feasting on her. No need for a phone call. I know my neighbor knows; besides, it is too late. Any rancher with a degree of cattle blood running through their veins constantly scans the horizon for cows run amok when the weather unravels.
Sometimes, the razor-sharp focus on the obvious things like the well-being of my cowherd fully occupies my mind and I'll fail to notice the unexpected. A winter day several years ago was one of those times.
The temperature had plummeted to well below zero. At these times of year, I really don't care to know the exact number; we don't have one of those big yard thermometers up or one of those digital weather stations, and I'd rather simply judge by the feel of snow under my feet (crunchy Styrofoam) or the wind burn on my cheeks, to assess whether or not to up the hay ration to the beeves. Later, friends in town mentioned that the mercury was somewhere around minus 25 F.
And the wind. Incessant.
We could have fed with the team of draft horses on this day, but they were on the lam for the weekend (we often gave them weekends off), and I turned them loose with the rest of the saddle-horse string. Today, jumping in the ranch truck after feeding out in the wind on the wagon deck, I was grateful for the pickup's noisy heater (after a mouse made a nest in it, the fan never was the same). Bamer, my very dedicated and loving stupid mutt dog, jumped in the empty front seat with me. His random canine ancestry must have been part thin skinned dingo. He had the hair of a desert dog, and he was freezing his butt off.
He was shaking violently.
As I watched Bamer intently gazing at the well furred up cows through his now slowing shiver on our drive by the long line to check for their wellness (I do this every day I feed them), it dawned on me that I hadn't seen the horses for a day or two. We usually run them on the other side of the ranch away from the cattle. It's not like we feed them very seriously except when the weather really gets sketchy. We'd pitch them a few tons of hay every few days to keep them in good flesh, but they don't show a lot of interest in the hay. Horses, unlike cows, will readily paw through the snow. It's probably something their ancestors needed to learn on the Asian steppe. It seemed sometimes as if they'd rather mix up their own rations by eating the native grassy gems they could find underneath the white blanket.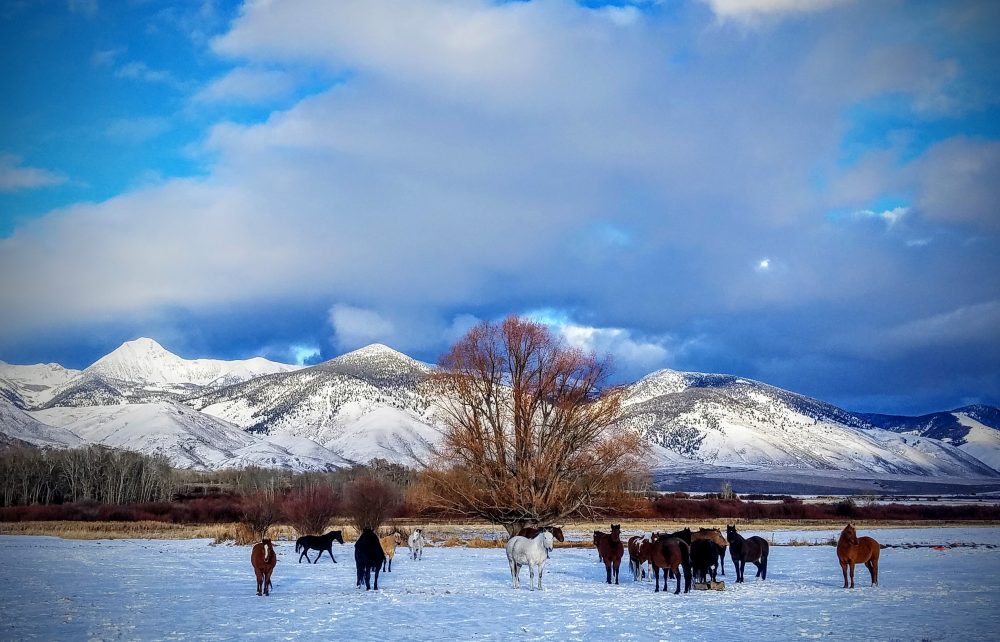 So I rarely worried about them. Except for the draft horses, most of our horses were on "time off" that we gave them after a hard summer of range riding. We would just check on them a few times a week to monitor their body condition (they always winter in good fat cover with the lack of work), feed them a little hay, and see if perhaps anyone had gotten hurt. Occasionally, they might bruise a joint in a badger hole, or suffer a flesh wound in a bite mark from another bitchy mare.
But now, they were nowhere to be seen as I scanned the windswept fields.
I brought the diesel feed truck up to the barn and plugged the engine heater in. I unplugged my old blue pickup, and in spite of the engine heater, it started reluctantly and I let it warm up for a while. I moved Bamer from the still warm cab of the feed truck to my warmed up blue truck, and we soon were bumping across the meadows to find the horses. My guess was that the cayuses had to be down in the river bottom where the brushy willows provided good cover.
It didn't take long to find them. The horses were all gathered tightly together along the banks of the swirling dark bends of the river; everyone appeared to be upright. I breathed a sigh of relief. But as I drove up closer, I noticed that Big Red, the Suffolk Punch draft horse, was laying down. His head was up, but from where I was in the pickup, I could tell that there was something amiss. I could read an unease about the other horses in their movements and body language. I brought the truck as near to them as I could on the roughly hummocked frozen wetland ground down by the river, shut it off, and Bamer and I walked briskly, driven by the wind at our backs the last 200 feet toward them.
I should mention that Red is a heavy draft horse. He was fairly fleshy, and easily weighed in at 2500 lbs. Most of our quarter horses only weigh around 1300 lbs. About five hundred parts of his portly poundage were the result of his personal problem with gluttony. Red was part pig. He ate all in his reach and left nothing in his wake. We had to actually line wood corral fences with hot wire to keep him from eating lodgepole pine. It was more than nervous cribbing.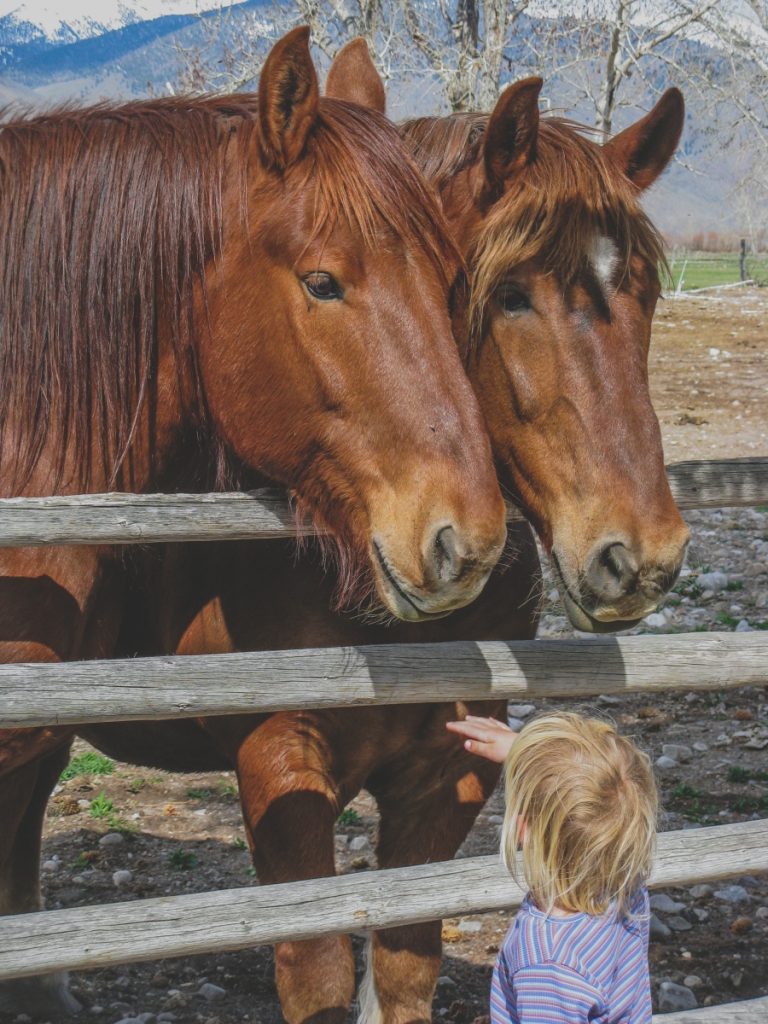 Red could eat anything and was an easy keeper. We would put him on diets in the corrals, keeping him from grass, feeding him tight rations of hay, but then, he would become intensely coprophagic (dear reader, I will refrain from defining such behavior, and leave it up to you to satisfy your curiosity of what that entails if you don't already know). Red could survive, I think, on simply the fragrance of grass, wafting in on the summer breeze.
There was a heavily railed buck and pole fence between the horses and us. And as I got closer, I began to assemble the pieces of what had happened. There was a small frozen bayou off the main channel of the river. The main channel of the Pahsimeroi never freezes; it is because it rises from some 2000 warm springs in the valley. Almost no overland creek flow supplies the Pahsimeroi even though there are many perennial streams that drain toward it out of the high mountains that ring our valley. Instead, these creeks go underground when they hit the deep glacial till comprised of rock and gravely rubble slopes that run from the foothills toward the Pahsimeroi Valley floor.
And then, these abundant underground mountain water flows become springs rising up in and adjacent to the river. Some are merely trickles; many are small rivers that spontaneously erupt from the gravely substrate of the valley bottom. Crystal clear water surges from the ground in these leaks in the abundant groundwater reservoir, propelled by never ending summer snowmelt. Some geologists postulate it takes several years for water to make it through the valley gravels to springs, and on the way, it maintains the temperature of the Earth: 50 degrees F.
But some that water trickles into fissures, weak points in the Earth's crust where it contacts hot rocks made so by their proximity to molten rock, or magma. And the water is heated, not to the point of boiling (although some do in adjacent valleys), but to the point of warmth. One of our ranch springs bubbles up from the ground year-round at 70 degrees. Billy, our neighbor to the south, has one spring with a creek sized flow of water that has a bathtub feel of 104 degrees, even in the dead of winter. I can see steam emanating from it on a clear winter day.
And so, the Pahsimeroi never freezes, even on the coldest days. But if the temperatures fall below zero, the margins and still water bays, bends, and bayous will slowly freeze over without the circulating effects of the warm river waters.
And cold it was. Several nights near 30 below ensured that the bayou froze, and a dusting of rime deposited by ice fog made it fairly nice footing for a barefoot horse that wanted to see how sweet that grass was over on the other side. As with a cow (and so many of us humans), the grass is always greener…except here, the fence is a river. So, the horse would spend time pondering said possibilities, and then, one would try it.
Which is fine if it is a thirteen-hundred pound quarter horse.
So they gingerly, one by one, followed (likely powered by envy). They picked their way across the ice, in the full moonlight of the night before, and simply thought nothing of it. Uneventfully, they completed said crossing and started grazing.
Until the ungainly Red, the massive Suffolk Punch, decided to follow suit. He got most of the way across, but then hit thinner ice, and the bottom fell out from underneath him. And down he went into the deep waters, and worse, into the volcanic slippery mud, five feet under water. There was simply no way out for Big Red, despite his massive strength. No purchase could be made in the quick-mud underfoot. And so there he stood, half floating, half standing on the unsure substrate of the slick muck. He was as good as dead as hypothermia would eventually set in despite his thermal mass.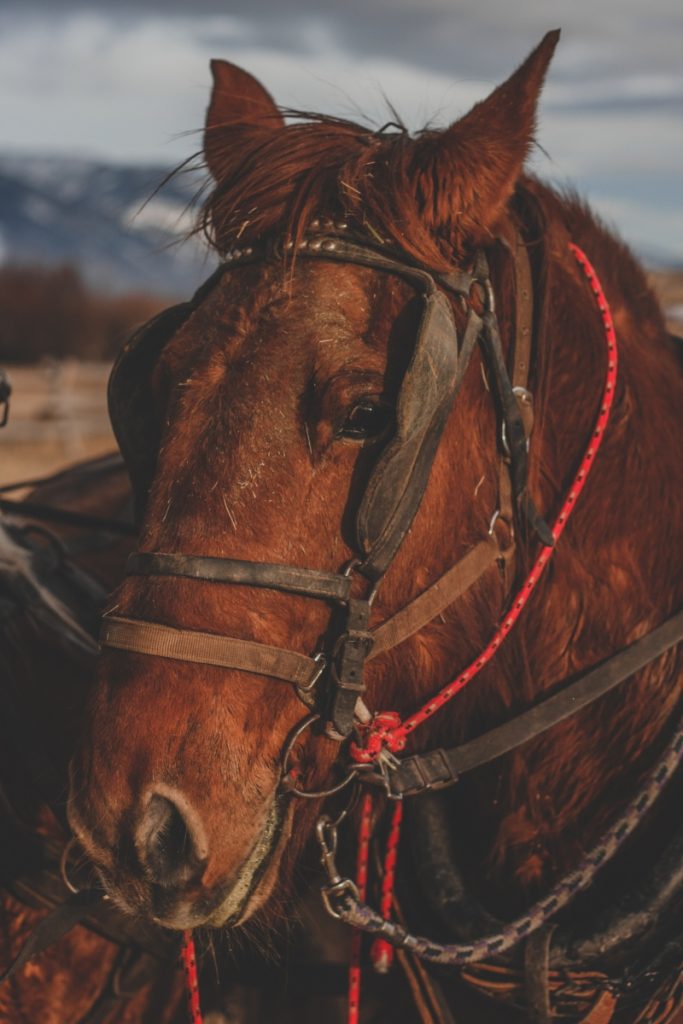 I knew that Red's giant draft feet were likely the only thing keeping him from sinking deeper into the bottomless muck. Those quarter horses stood little chance of not disappearing in minutes. On fly fishing forays down to the river, I had almost been there myself in waders. The only way to get out of some of those deep muddy bottom encounters was to keep my head and try to swim out.
The other horses were all in a similar predicament: there was now no way back off the tiny peninsula they found themselves on; Red's thrashing had eliminated the safe passage across the ice and turned it into a matrix of slush, muddy water and ice floes. On two other sides of the peninsula, they were surrounded by the swiftly moving river with margins of thin ice. And on the other boundary, the heavy lodgepole pine of the buck and pole fence prevented any hope of exit that way.
As I approached, several of the smaller horses looked at Red and his open water area. I could tell what they were thinking. They wanted to get back to the big grassy pastures from where they came, and I think they figured that if Red could stand in the water, they could walk across. They had no idea that he was stuck. One mare placed her front feet down on the low of the bank. She was thinking she could wade back!
I had to act quickly, not only for Red's sake, but the others. With their much smaller feet, they would never get out of the mire. At least Red had a chance. I ran over to the mare and chased her off the bank. Then, I ran to the pole fence, and tried to wrest the rails off with my gloved hands. No way. We used ring shank nine inch steel spikes when we hammered those lodgepole stems up; they were almost impossible to get out. I would have to cut the 6 inch rails or pound the nails backward with a hammer.
I ran to the pickup, Bamer in tow. I looked in the bed, under the seats and in the back seat. All I could find was a small carpenter's hammer. There was no time to drive back to the ranch and get a chainsaw or sledgehammer. I looked back at the horses. Now, 5 head were at waters edge contemplating a crossing.
The hammer would have to do. I grabbed a piece of bailing twine, and sprinted back across the hummocks. I immediately got started furiously, feverishly beating on that top fence rail, pounding on it as fast as my arms could place blows on the pine log. A millimeter at a time, the rail was backing off. A sledge hammer would have had them off in a minute, but the carpenter's hammer would have to do.
The topmost rail fell down to the snow covered ground.
Thankfully, the horses came over to me in curiosity, and temporarily lost their interest in attempting a crossing. Progress was painfully slow, and exhausting, and after switching arms several times, the two top rails were off, pulled sideways, laying in the snow in fifteen minutes. I ran over to my lead mare, the black hided Morgan-Arab cross April, and pulled the bailing twine out of my pocket. In a minute, I had a makeshift halter over her head, and began to lead her to step over what fence rails I still had attached to the fence. Given the years she had been up on the range negotiating down timber in thick forests, this was nothing.
It worked; she picked her way over. And the others followed suit in single file. Once through, they collectively galloped in new-found freedom, tails up, whinnying, leaving the struggling, dying Red behind them. I turned my attention to him. There was a chance, albeit slim, that I could cajole him out. And the abandonment of him by his comrades was working in my favor; it clearly energized him. He gave out a generous lonesome whinny, calling for the return of his companions.
They heeded him not.
I had an idea: if I could open the fence further, and then drag the free standing fence to offer a wedge of opening along the margin of the bayou, I may be able to coax him to a shallower version of the muck that he stood on with his dinner-plate sized feet.
In another 10 minutes, I had the opening I needed. Now, all I needed was hazing device. I had one pole free from the fence. Balancing the 20 foot piece of lodgepole pine in my hands, I swung it over the ice and slush waters to strike him on his massive butt. It startled him, and he lunged forward to the opening. After several more whacks, he was gaining height on shallower muck, and propelled by the innate desire for a herd animal to be part of a herd, he lunged finally free of water, mud and ice, explosively launching onto the frozen bank with his front feet. In one massive hind leg heave, he was up on his knees, free from near death, and then up and trotting, although quite numbly and wobbling toward his mates.
I heaved a sigh of relief. The "what-ifs" coursed through my mind. If I had waited one more day…I could have conceivably lost more than Red. But as it was, they were no worse for wear; Red was now back with the horse herd, and characteristically, he put his always hungry head down into the snow for the abundant graze they found themselves on, as if nothing had happened. He had plenty of fat cover. He would be fine.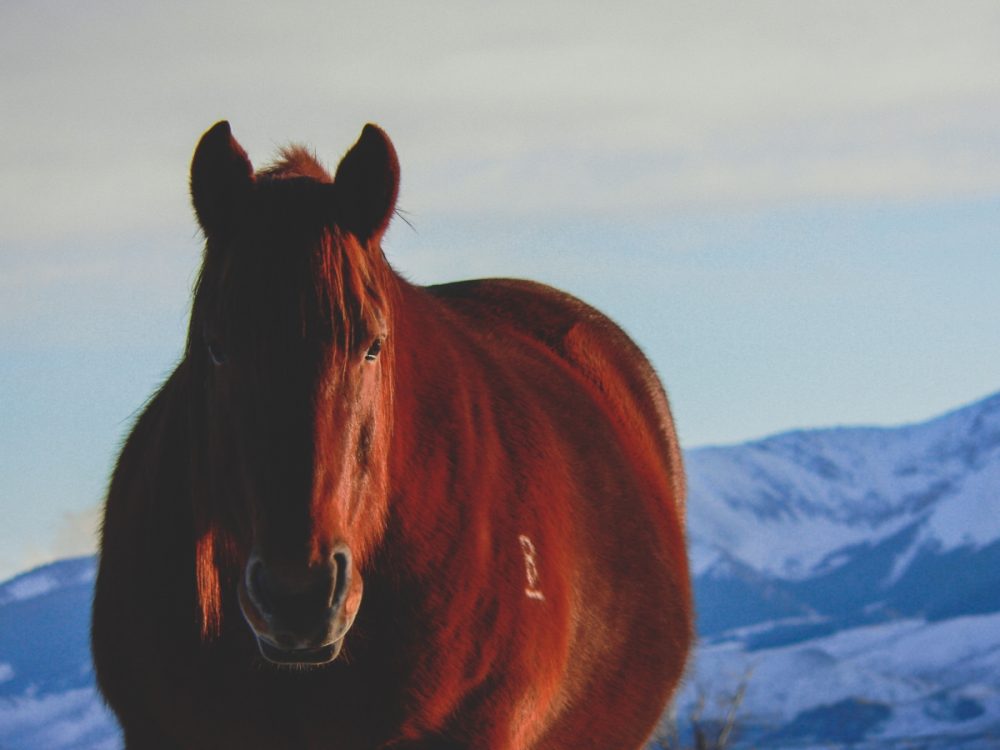 The next day, I went down and checked on them all. It was as if the nightmare never happened. But then, proof: Red walked over toward me. He still had thick ice rattling like bells on his mane—and frozen mud rattling on his fetlocks. But otherwise, he was back to his gluttony grass loving self, and was already making back the pounds that he may have lost in his ordeal.
I've often had near wreck averted by that nagging sense that something isn't right. Check cattle one more time the nag says (we just checked them!). And we would go back to cattle only to find a cow in trouble, needing assistance while giving birth in the brush. Check that gate the nag says, and sure enough someone had left it open, risking a dangerous nighttime runaway. I recall one time we were heading off on a trip out of state. We had left the ranch and were on our merry way until we found all twenty of our horses happily running down the highway ahead of us, 2 miles from home. I guess they were wanting to go on a trip too. If we had been just a minute later, we would have not likely seen them, and God only knows where they would have ended up.
What is it, this thing? Good luck? Intuition? God whispering to us? I don't know for sure.
But this I do know: to stop and listen. I hope you have the ability, the opportunity of quiet in your life to do the same.
Happy Trails, friends
Glenn, Caryl, Girls and Cowhands at Alderspring.
For 26 years, Handcrafting unparalleled flavor and wellness while regenerating wild landscapes.
Wild Wellness Delivered.