It's hard to be inside on a day like this. The wind has picked up, and there is a fresh breeze that streams in rivers down off the rocky heights. Big cumulus clouds roll like tumbleweed across a canvas of deep azure. A tiny tinge of green can be seen out in the pastures that still bear the patina of brown grass from last year. Vanguard high mountain peaks, burdened with impenetrable white, comprise the horizon like ramparts surrounding the high Pahsimeroi Valley. We live in a hole that has been punched by a giant celestial hand into the unbroken whiteness of mountain snows that cover most of this part of Idaho.
May Mountain, sentinel of this part of the valley, has a plume of snow ripping off its knife-edged summit crest at nearly 11,000 feet. It betrays its wintry secret on this, the first day of spring. Here in the valley, we are pushing 50 degrees at 5200 feet elevation; up there, it is likely well below zero, despite the sun.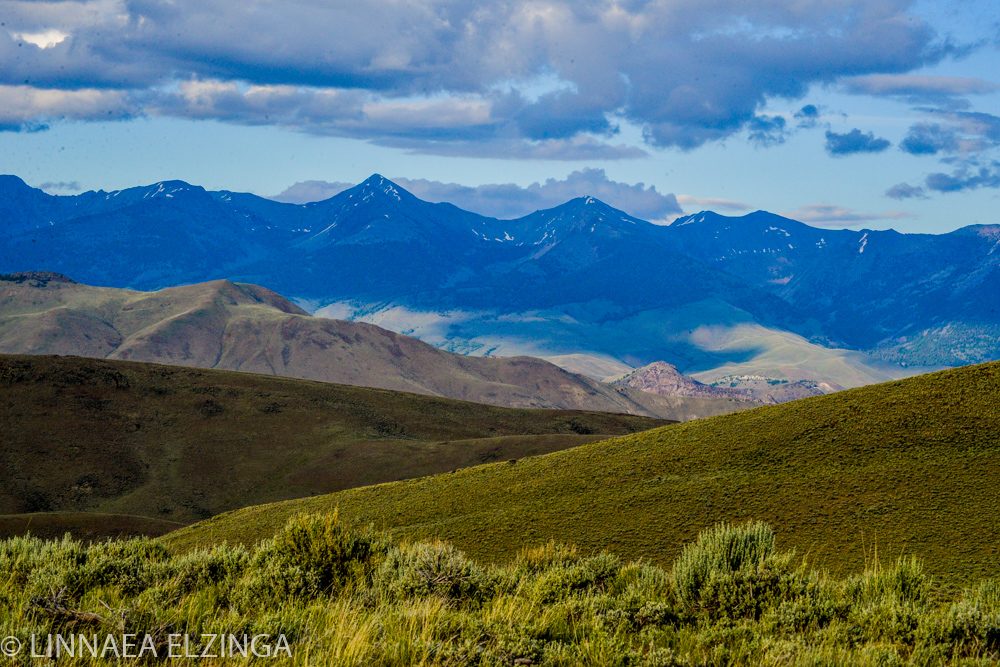 I can see our summer grazing range easily out my office window. It too is caked with thick white icing. It is another month before it starts melting in the high country. That makes it a little hard to reckon that we'll be horseback up there in just another 6 weeks on deep and luxuriant green grasses. One might think that all a steer can dine on up there by then is snow.
But the sun is all powerful, especially at our high elevation. And the day-length is on an exponential growth curve, now that they sun has passed the Equator, and is making its way across the Northern Hemisphere. The snow will retreat, of that I sure. I have already gotten the maps out and started planning the routes and camps across the landscape that we'll graze this summer. It will amount to a 100-200 mile grazing journey and 4000 feet of elevation gain on this relentless quest for wild grasses. We'll only graze 5-10% of the 70 square miles of our range country; we'll leave plenty untouched for the wild animals that live there. This year we will grazing in new country that we haven't touched for several years. That ensures rest for the grasses, and even a chance for them to respond to our passage in years prior with more production than ever before.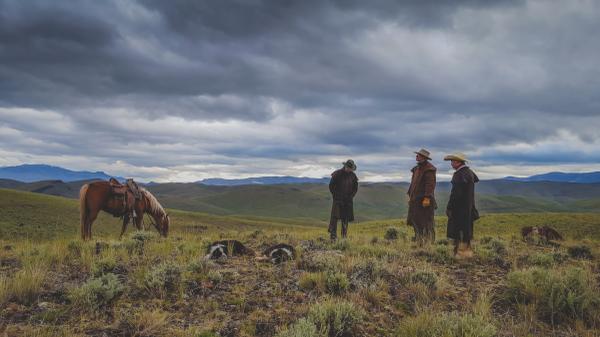 There are two packs of wolves living at the edge of our summer range for this winter. These 140-pound top of the food chain predators are feasting on abundant elk that find grazing on the south facing slopes at the foot of Table Mountain along the Morgan Creek drainage. If they den there in the next two months, we could have some interactions with our cattle. And it's given me some careful thought about who is going to be horseback with us in our crews this summer.
That's been the task de jour; Caryl and I have been poring over prospective cowhand resumes for the past 2 weeks. I've talked to scores of folks on the phone, getting references checked, and doing interviews. We've had over 45 applicants from literally all over the world for a few crew jobs, and so many of them have been just excellent. Most come with great references, good experience, and good character. As I was telling a friend of mine the other day, "And just as I was losing hope in Generation Z, suddenly I find myself truly optimistic. We have some excellent applicants. They even interviewed well. They're articulate, think on their feet, and are easy to get along with. It's actually been really tough sifting through them."
It looks like our crew of 8 range riders will be a little slanted toward females; we've simply had more women apply than men. They are all young, which is good, because for me, at 55, the job can sure be taxing on my body. And that's just the physical component; the range rider must not only consider where to graze the cattle they tend on a daily basis, they must also carefully strategize how the rest of the species up there will be able to thrive as well. They need to be acutely aware of habitats occupied by sensitive species such as bull trout and sage grouse; they need to coexist with top predators such as wolves, without any lethal interactions on both sides. And, perhaps most importantly, crew members need to leave no trace on the pristine landscape to indicate that they lived there with 300 head of cattle, except footprints and grasses with a bite missing.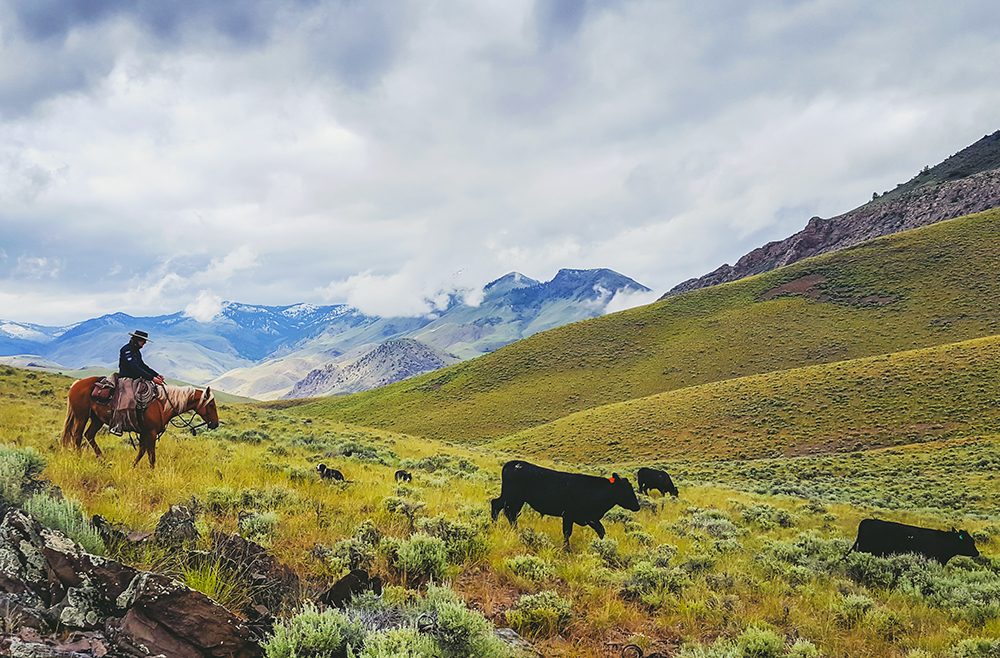 And we didn't mince words on the interview. Caryl and I wanted them to hear and consider the nitty and gritty. It went something like this with Linda (not her real name): "So, Linda, we are going to stick you up in the middle of nowhere on 70 square miles of Idaho mountain wilderness with one or two other people you don't know. It's rugged country, with elevations ranging from 4000 to 9000 feet, with conditions ranging from hot, 100-degree dry cactus desert to fir and pine forests where it can snow any day of the year, even in the middle of July. The trail to cow camp is often only accessible by horseback. You'll live with and care for 2 horses, 300 head of yearling cattle, and one or two dogs. You won't see anyone else up there. There is no cell service. You are on your own. You'll be in the saddle for as many as 14 hours a day, carefully planning where the cattle graze and keeping them all in hand. You'll prevent them from abusing any habitat important for the other animals you share the range with. Sometimes you are on foot, crawling through brush where you can't take your horse."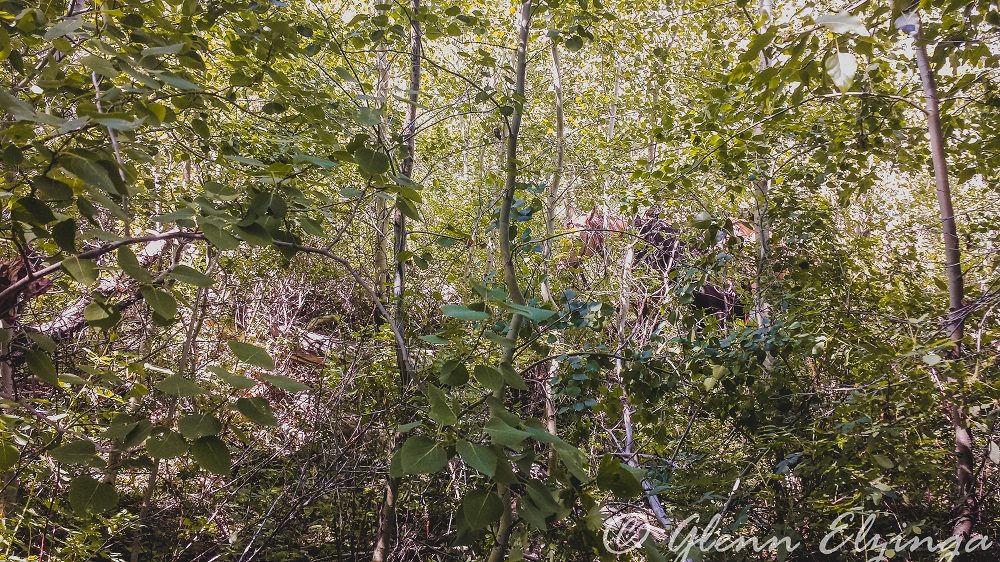 "At the end of that typical long day, you'll roll back into camp horseback with the cattle at nightfall, have to bed them down in a hot wire paddock to keep them safe from wolves, make sure they drink, and then take care of your horse, pulling your tack, combing your horse clean and dry, checking and picking rocks out of their feet, and getting him a drink."
"You'll have to find horses safe grass to graze on and turn them loose. You'll take care of your dogs. And now it's dark. It's 10:30. You light the lantern, get the camp stove going, cook dinner for you, wash dishes, and make camp bear proof, hanging your larder in a nearby tree. Then, you fall into your bedroll. You sleep lightly because you listen to the cattle and horses all night and you are attentive for wolves and bears in camp."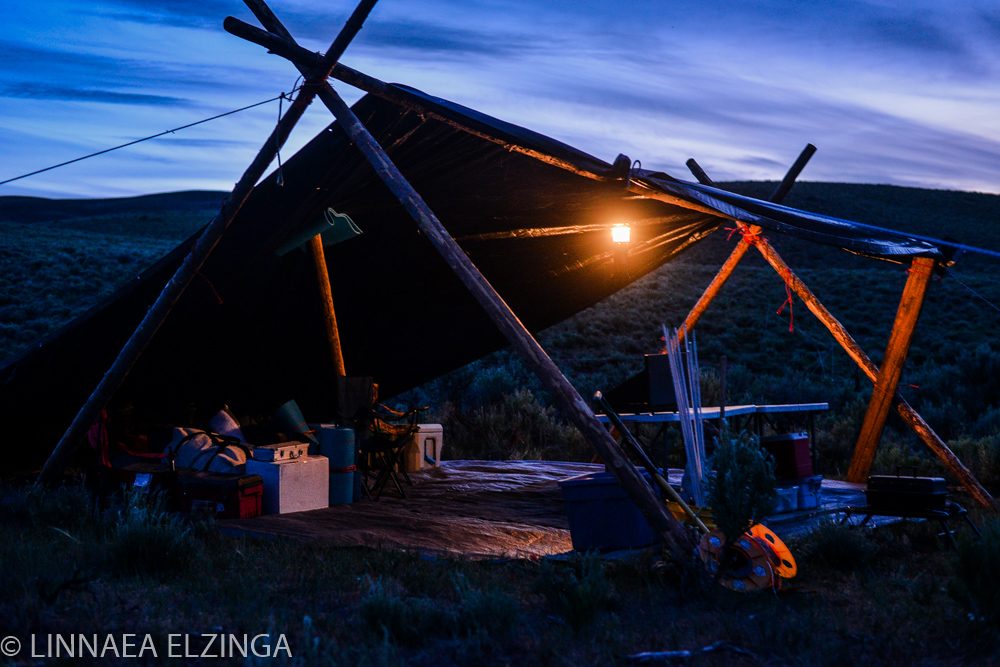 "You sleep 5-7 hours and do it all over again for four days straight. Then, your relief riders come in, you pack gear, and you ride horseback out with your crew to the drop point by nightfall, load your horses in the trailer, and drive the four wheel drive back to headquarters. It's about an hour drive. All this you do for a bed on the ground and all the beef you can eat."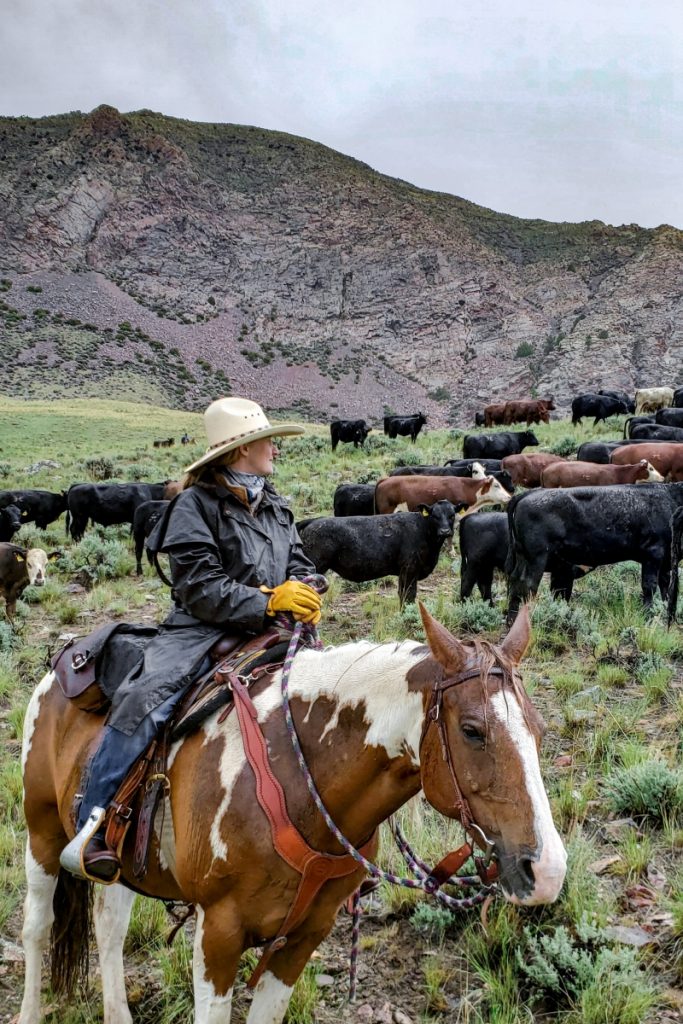 "So, here's my question, Linda: while riding in the pickup on the way back to the ranch over that hour, are your crew members still talking to you? Or do they have issues with who you are and what you said over the last 4 days?"
It's an important question. It's critical that our crews function effectively as a team. You can't go it alone. The goal is to get the richest, most diverse grass in those cattle, and do it in a very stress-free way. They need to be comfortable with the humans who care for them. And if those humans are at odds, the animals sense it. I've seen it. They have their heads up, instead of down and happily grazing. Their eyes dart furtively about, looking to escape your charge. They know when people can't be trusted. They are prey animals after all, and if the humans in charge of them can't be trusted, the beeves will scoot off and disappear somewhere on their own to find their own security on thousands of square miles of rugged and wild mountain country. Then, they need to be found. It's no small task.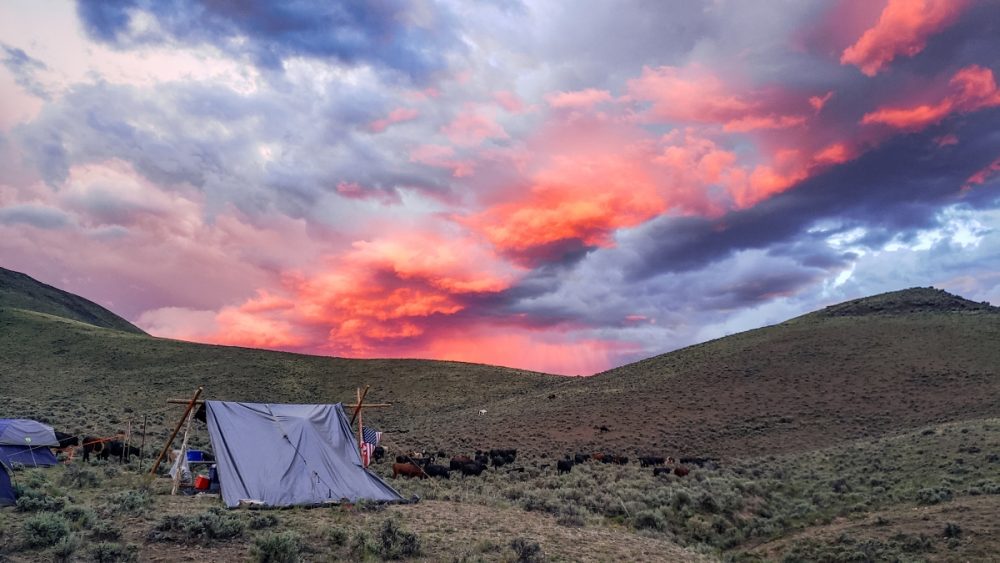 Very seldom is it all tough cowhand, although that is important, as you probably picked up on the example of a day in the life above. We've all seen westerns, with John Wayne and Clint. Sorry, friends, but that's not our reality. Good range riders are acutely aware of nuance, and capture the subtle vision that excellent, nutrient rich wild grasses are the foundation for the flavor in our beef, and even wellness for the folks that eat it.
So, it makes our quest for employees interesting and a little counterintuitive. We happily hire people with little horse experience. We can train them in that regard. We can teach them how to move cows. We can show them how to camp. But it's a lot harder to insert a consciousness of the subtle, yet all important vision of wellness into their hearts and minds without some foundation to start with. Because it really is the foundation of what we are, and the why of what we do.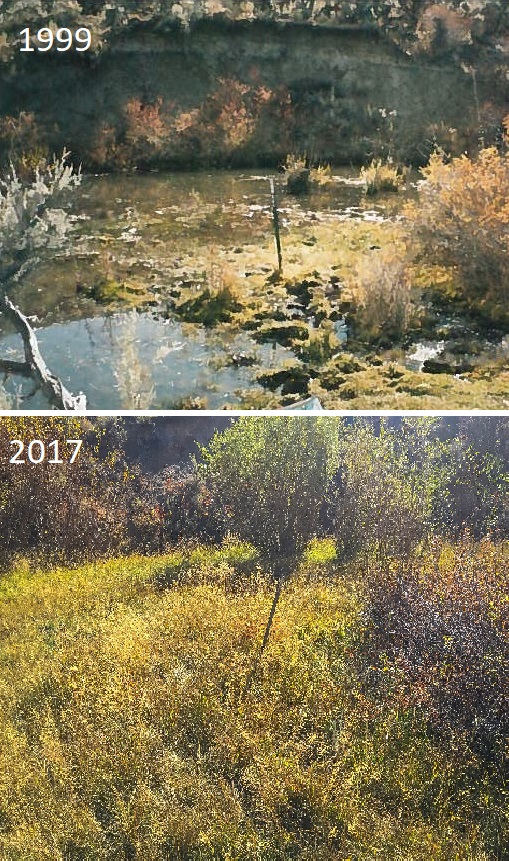 I need to know that my crew is going to carry on those ideals, to enhance, rather than maintain the health of our wild rangelands and the species we share the landscape with. And that our beeves will come back healthier, and more robust than ever before. And that the eaters of them, who are partaking in wild wellness, continually experience flavor that sets a new high bar. And that they not only enjoy eating our beef, but their health is blessed because of it.
It's why we do what we do.
Happy Trails.
Glenn, Caryl, Girls and Cowboys at Alderspring.