Dear Friends and Partners.
Lincoln, Montana. The west is defined by rivers; the ancient paths of Native Americans followed them as do many of our roads. Hamlets and towns like Lincoln now punctuate the cursive penmanship of river meanders. I've been following the serpentine flow of the Blackfoot River threading the middle of Montana. It braids its way through the fabric of forests and mountains that seem to never end. And in one direction, they don't.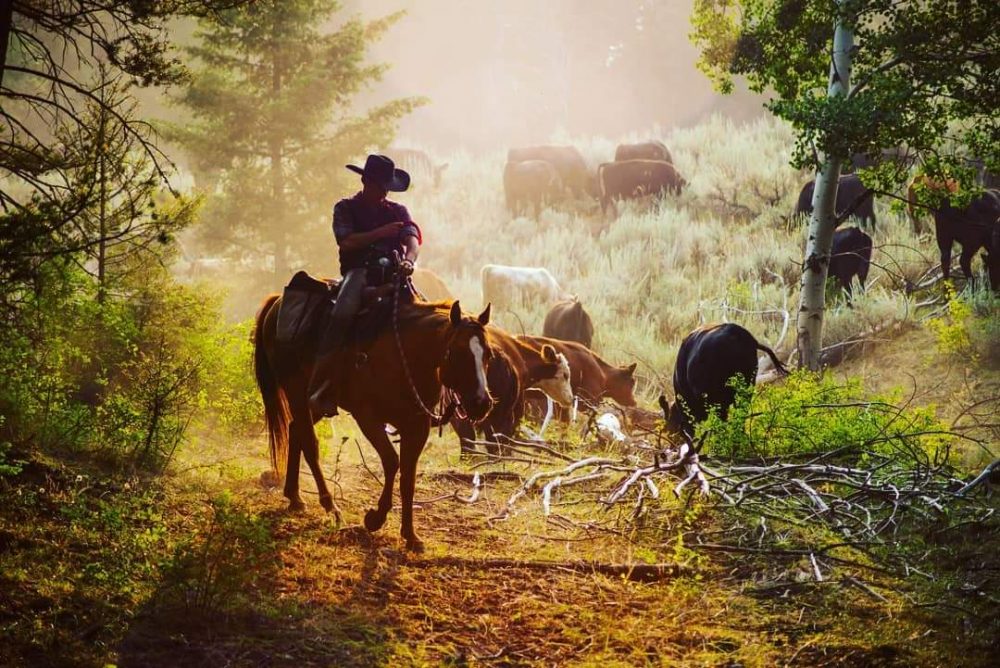 To the north of highway 200 and off my eastbound left hand rears up Rockies, the southern frontier of the vast Bob Marshall Wilderness. The peaks sport a fresh covering of snow on this May morning. I know what lies beyond to the north of the initial line of peaks: a nearly unbroken mountain wilderness that forms a ruggedly peaked and glaciated cordillera that finally terminates in tundra at the coastal plain of the Arctic Ocean, 1600 miles to the north.
I am driving old reliable: a 1997 Powerstroke diesel that pulls a 28-foot gooseneck stock trailer. I am going to pick up a few ancient bloodline Aberdeen Angus young cattle (certified organic and 100% wild prairie grass fed). It is a long drive to this friend's ranch, close to Canada, but it is worth it. He has invested a lifetime into these genetics, and it shows up in beeves that nicely marble and harvest wild grasses with discriminating efficiency.
I stop at the only filling station in town. As is often the case in Montana, a gambling and poker hall is attached to gas station convenience store. I grab some hot water (I drink green tea or brew my own coffee as I travel, as C-store fare to me has a distinctive flavor not unlike what I just fueled my truck with), and I head out the door. Powerstroke purrs, and I slowly trundle my 40 foot long presence out of the pot-holed lot.
As I creep over the holes, a greasy red-gray bearded man covered with hole-weathered denim bursts out of bar poker room double doors, yelling as I bump by. He's raising a beer bottle toward me.
"Hey!" then, "HEEEYYY!," much louder. He's looking at me.
I roll to a stop, easing up on the pedal. I'm thinking I left something undone, and go through the pre-roll checklist mentally, scanning for fuel caps, doors, coffee cup on hood; nothing turns up.
"Yeah. YOU!" he says. He pulls a draw from the beer, wipes his beard with sleeve, and raises bottle as if in toast. "Nice cow catcher on that rig," he thunders, with a hairy grin. He gestures at the massive black steel grill guard that son-in-law Ethan custom welded for the front of the pickup. It is overbuilt, by any stretch of the imagination. I've noticed when driving through Prius and Subaru dominated Bozeman and Missoula that their owners afford me a wide berth. We've totaled several vehicles over the years, striking free range black Angus cows, deer, and elk on these kinds of 2 lane roads, and this was a hopeful solution to save truck and the people inside.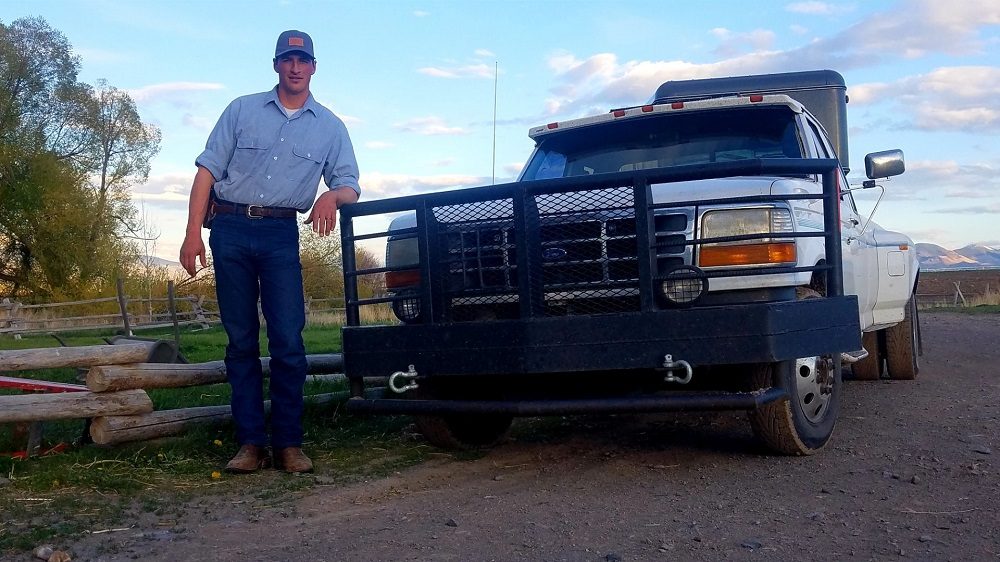 Smiling, I yell back thanks, mentally noting to remember to tell Ethan the story (he's rightly proud of his grill guard) and head off east on 200.
I know what lies ahead; I've been this way before. The wending way of Montana 200 will take me into the headwaters of the Blackfoot, past vast wetlands and beaver meadows settled in between densely timber hills, and over the last pass-Rogers Pass-at the Continental Divide, and down, down off the end of the abrupt uplift we call the Rocky Mountain front.
Rogers Pass. If I was to head directly east from here, I would not have to traverse another mountain range for 2500 miles until those that define the northern Appalachians: the Adirondacks, the Green and White Mountains of New England.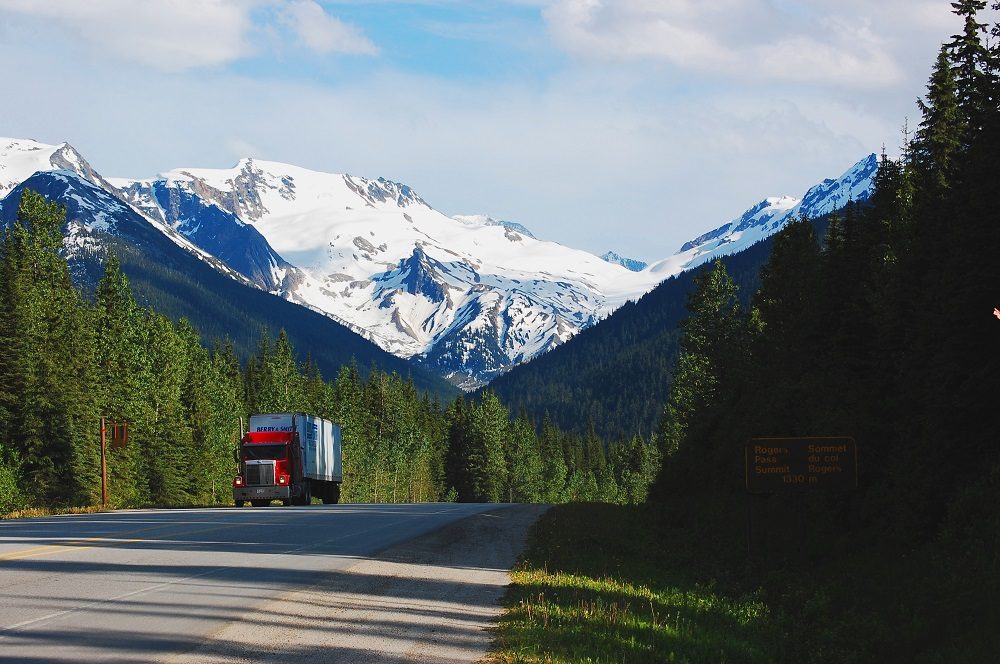 I downshift Old Reliable to gingerly pick my way down the switchbacks of the pass into the Middle Fork of the Dearborn River. The downhill grade is thousands of feet from snowy heights of the pass to the incontestable end of mountains. The fall will also mark the end of trees. Douglas-fir and lodgepole pine will be no more. I leave snow and forest behind, and ahead, through windows in the broken course of mountain and retreating ridge, I spy a distant horizon, flat, spanning, dominating the entire viewshed east.
It is the prairie.
The prairie. Once, it was the largest grassland in the world. Here, along the foot of the Rocky Mountain front, I can capture a sense of the scale of this magnificent grassy landscape.
I have mountains in only my mirrors now as I roll through windblown waves of prairie grass, coursing in chaotic abandon all around me. Great storm clouds, some bearing rain, yet broken enough to let moats of sunlight and azure complete the Albert Bierstadt feel of the scene (He was a western landscape artist of the mid-to late 1800s. Although his paintings could be a little fanciful in scale, and subjected him to criticism, I believe that his exaggerations were somehow appropriate in that he evoked a feel and heart for the surroundings that only reality could bring otherwise).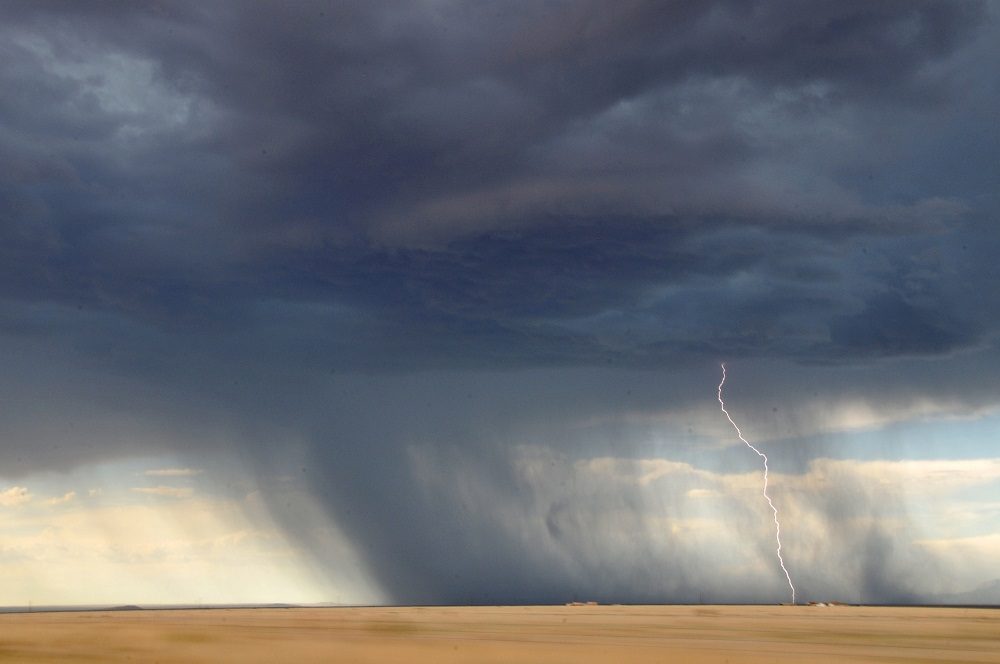 There is only an occasional traveler on the road. Other than them, I feel as if I am the only human in this remote part of Earth. It is rolling land of grass, uninterrupted for the most part by any human habitation, as far as the eye can see, until the wall of mountains to the west rises from the plains.
I reach Bowman's Crossing, the only paved crossroad a traveler encounters on this no-man's land stretch of highway 200. I can see the north and south approaches clear for over half a mile in each direction. Those drivers are bound by a stop sign to halt, allowing highway 200 motorists the right-of-way. I always look, despite the stop sign, for a very sobering reason.
Montana's highway department has the controversial practice of placing a white metal cross on a post at every point along their state roads where a fatality occurred. At Bowman's Crossing, the markers are stacked, forming a crookedly topped pyramid. I guess after driving for miles without passing another vehicle, they think, "What are the chances?" Or perhaps the suddenness of a stop sign after miles of travelling with no road signs makes it easy to miss.
With Bowman's behind the pitch and roll of prairie ocean breaking at the foot of mountains begins to settle into a gentle undulation. The land becomes easier, flatter. The rocks from the mountains are a long roll away now. In the mirror the snowy crest of the Rockies match the white clouds in azure above them. In a few more miles I won't be able to discern mountain or cloud. The pepper sprinkling specks of distant black Angus cattle become less common. The land feels empty. It is so wide open that it is a bit uncomfortably exposed for me, a valley dweller. The wind can be relentless (hold on to that pickup door!). Distant grain elevators on the remote, ocean like horizon are a little clipped at their bases from the curvature of the Earth.
I reach the grain elevators. The disposition of country changes. No more is the land wild, haphazard, open, a sea of undulating grass. Now, there are long striping patterns on the land. The grass is gone; the land has changed.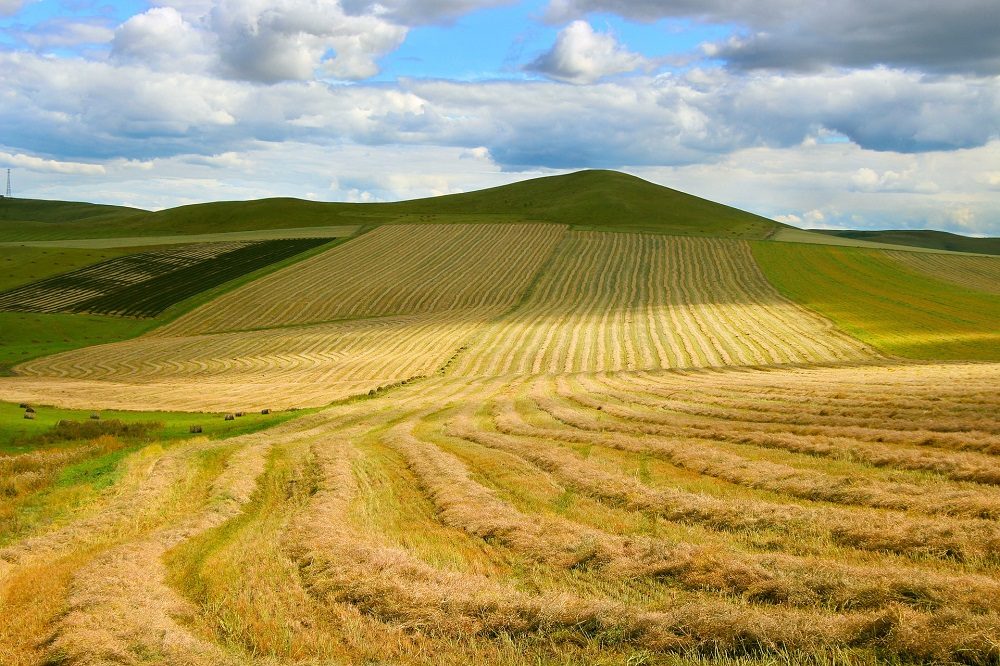 Perhaps forever.
Pioneer brought plow here, and introduced iron to ocean. Settler reached down with steel share, and flipped the unbroken sod over, exposing black tilth to air, sun, and rain. Ten thousand years of soil life development—of a complex biological symbiosis with the mineral and rock stuff of soil—ended in that moment. Soil nutrients oxidized in the sun, exposed from their blanket of prairie grasses. Countless soil microbes, worms and arthropods died. The filaments of mycorrhizal fungi were ripped apart, ending the elegant symbiosis where the fungi provided extra nutrients and moisture to plant roots, and the plants provided the fungi with carbohydrates, food transported from the green leaves in the sun to the plant's roots in the soil.
Pioneer farmer knew little of what he did. He was only trying to make a living from dirt. It was the early 1900s, and the wheat market had gone fantastic. European demand for wheat in the face of World War I was insatiable, and countless immigrants to the prairie province had found gold.
Railroads were quickly laid. Towns were mapped and planned. Elevators cropped up to contain the bounty. But by 1920, it was over. The old wooden elevators, now gray, with flaked and weathered paint peeling and boards cracking, banging in the incessant wind, still stand.
The price collapsed.
Most of the farmers left for a land of new promise: the Pacific Coast. Some simply faded away, destitute. But others hung on, and continued, with newer, larger machines to increase their economy of scale. It was not easy to make a living. Not only were prices lower, but yields declined as well. The initial fertility of those early years declined rapidly as repeated plowing continued to expose the stored soil organic matter to the air and decrease the once teeming life in the soil.
By the 50's technology found a way to fill in the soil nutrition gap: nitrogen fertilizer. Two world wars of bomb manufacturing had created a nitrogen manufacturing process, using petroleum, to create cheap fertilizer. Yields doubled.
The amber waves once again became gold in their fields.
And the soil? It became deader than ever before. It is now simply a mineral matrix, a hydroponic substrate for roots to anchor on and provide a vehicle for application of chemicals and high yielding seed hybrids.
Fort Benton. The former hub of the high country. It was the last port of Montana; here the hustle and bustle of steamship docks and warehouses brought and shipped grains from the high prairie heartland. Although the ships are gone, the rail still carries the grain to ports further east.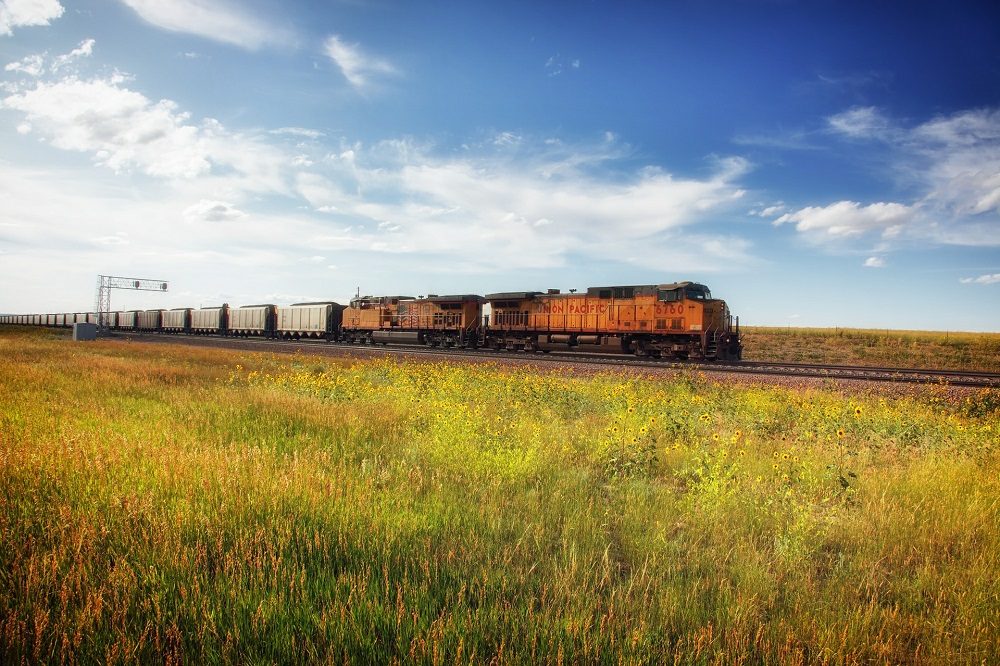 The wide Missouri, its waters yielded from a thousand snowy peaks, gathers all the water from the northern Rockies to the Mississippi. The big river has placed a deep cut on the land over millennia. Above the river cut, on the tables above, is grain. Nearly all of it is grain for thousands of square miles. And it is a grain raised on soils with little biota left in them.
I drive across it, and get bored.
The Bearpaw Mountains. Are they really mountains, I wonder, as I drive the last bit in the persistent northern latitude light characteristic of solstice-season. They are a tiny isolated uplift; an island, in a sea of prairie that was once all grass. I find a place to sleep in my friend's camper on their ranch, and think about what I saw. Thoughts become dreams, and I doze.
My friends, Mark and Monica have made a home in the foothills of the Bearpaws. There, they raise cattle, small frame, ancient type Angus that live a good life on grass. I ask Mark about the prairie grass. Most of his place is ancient prairie, and has never been plowed for farming.
Bison made this place their home. I pictured the brown tide of them scattered over these low hills from their front porch; there could be millions of head of them in one herd. And the next day, they could be gone.
Always moving.
"We rented a place over in those hills a bunch of years back." Mark points toward Canada, as the newly rising sun lights his face. Monica stands next to him, the wind off the now again rolling prairie foothills rustling her long hair. They have ranched here for most of their lives, raising four good young men, and some of the best grass cattle I have seen.
"That place was farmed, years back, during the homestead and wheat boom. It had recovered since then, and many of the prairie grasses were back. But it never yielded as good on cattle weight gains as those areas on the home place." He turned back from the hills, and looked me in the eye. "Those cattle consistently came back 50 lbs lighter than the ones on intact prairie."
Why?
I think you can guess it. It's the unseen pulsing diversity of soil life that makes even the grass above, and the critters on it, productive. When we upset that elegant fabric of life beneath the soil surface by disturbance in farming, or worse, with a chemical agriculture, we lose.
Great Falls, Montana. The new hub of the high prairie. Old Reliable pulls my newly purchased pristine organic Angus cattle past an oil refinery that belches bathroom-like mercaptans, the sulfur containing odors our human genome is repulsed from. Thankfully, today, the wind is not our way. It blows into town, where folks there must appreciate the smell of money.
And there are railroad yards that go on for miles; many rail cars carry grain to distant manufacturing centers, all at a great petroleum cost despite the economy of scale. As I continue my journey with the refinery effluent in the mirror, I think of the carbon equation. The media has us overwhelmed with this idea of climate change, but offers us very little to do about it. How can John Doe prevent carbon accumulation in the atmosphere? Very little, it seems.
As a result, I detect a hopelessness, a despair in so many people. I've had to travel across the West this winter to give several talks about what we do, and I hear voiced the same concern time and again:
"But what can I do?"
Stop eating meat, the media says. Meat is the culprit, they say. Meat causes carbon emissions.
And they are right.
"What?," you say. "Don't you raise meat?"
I certainly do. But I'll submit that our beeves are in no way related to the kind of agriculture that raises the kind of meat that is responsible for the failure in the carbon equation.
The why is actually very simple. Ninety five percent of cattle, chickens, and pigs consumed on this planet are fattened on grain. That grain may be corn (GMO), soybean (GMO), or wheat (not GMO, but glyphosate is often used as a dry-down agent). These grains are raised on the soils I told you about above, using machinery, that burns oil (carbon emissions released into the atmosphere), and fertilizers that take a large amount of petroleum to produce. The machines are not carbon neutral even when they stand idle. Coal and petroleum are responsible for most of the energy to build them.
Back to the soil. The organic matter in said conventionally farmed soils is largely gone, and that equates to carbon lost, volatilized into the atmosphere or carried away in crop wagon. All that is left behind after harvest is technically called dirt.
Soil with life extracted.
Continuing: that grain, now a feed material, gets fed to livestock in feedlots (feedlots are bad sounding to a lot of folks, so now the ag industry likes to call them feedyards. Like your backyard. Sound better? I think not).
Grain, as in corn, soy, and wheat, is not carbon neutral, despite what big-ag wants you to believe. The carbon released from exposing soil to the air, and the carbon costs in petroleum use as its energy source in our ag production protocols does not get recaptured.
Pahsimeroi Valley. The cattle jubilantly exit the trailer at their new home on Alderspring (like us, they are happy to exit the car). Unlike the protocol above, the beeves will find a life on grass that has never been farmed or plowed or sprayed or fertilized. They will walk on soils intact with the permanence of life; for millennia it has been this way, and will continue to be.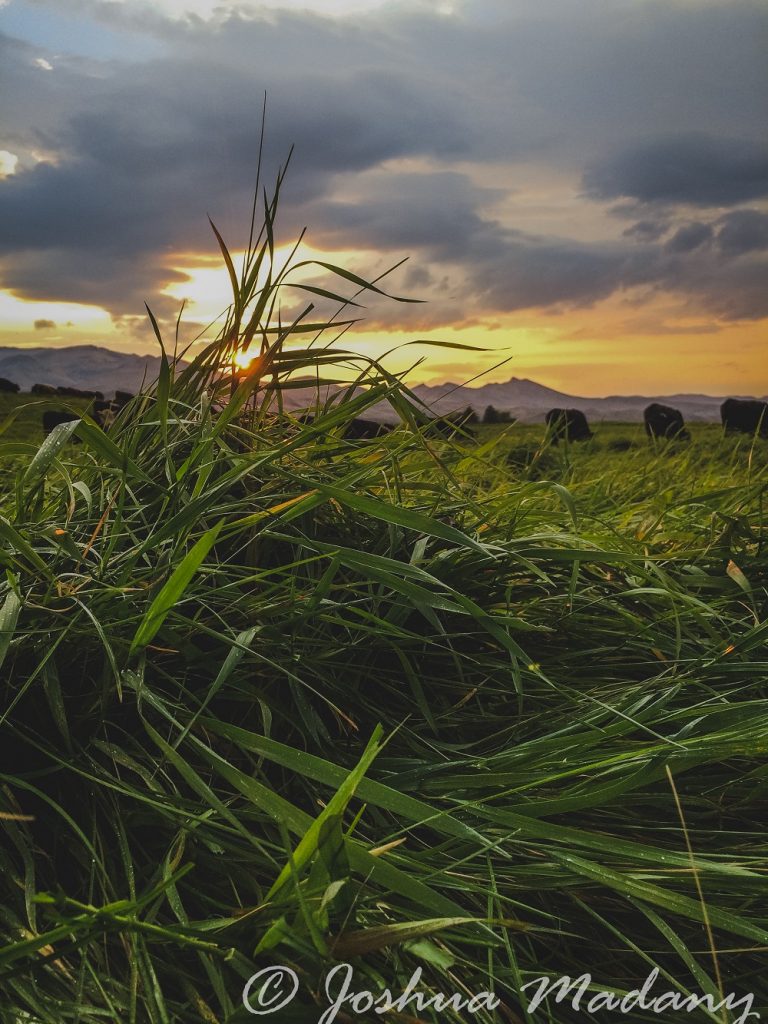 They will graze grass that those intact, living soils produce like their bison forbears before them. In this elegant system, they alone will harvest their grasses. We won't mill, concentrate or alter them in any way. And they get to choose exactly what they need to balance their own nutrition. No animal health nutritionist will devise a feedlot ration.
Alderspring beeves will live much longer than the conventionally raised feedlot animal, thus giving them time to capture the mineral and nutrient richness that soil offers. We perceive that as flavor, and a boost to our own wellness.
It's worth the wait.
Then, in the regenerative way we graze on our wilderness landscapes, through encouraging vegetative expression and ecosystem restoration, we are actually sequestering (putting in the soil) a much larger amount of carbon than we release.
Because we do release carbon. We drive motor vehicles, just like you do. After all, this story is built around me with a diesel pickup.
And our cows burp. They do emit methane. It is a natural by-product of the process of fermentation. But this is in no way a new phenomenon. Conservative estimates indicate that in the US alone, before settlement, bison numbered as much as 60 million. Other wildlife species such as elk, caribou and deer were also far more plentiful in pre-settlement times. Cows populate the US currently with around 90 million head. It may be that we are currently similar to prehistoric levels of belching ruminants (the fact is that the methane predominantly comes from the fore, rather than the aft end of animals).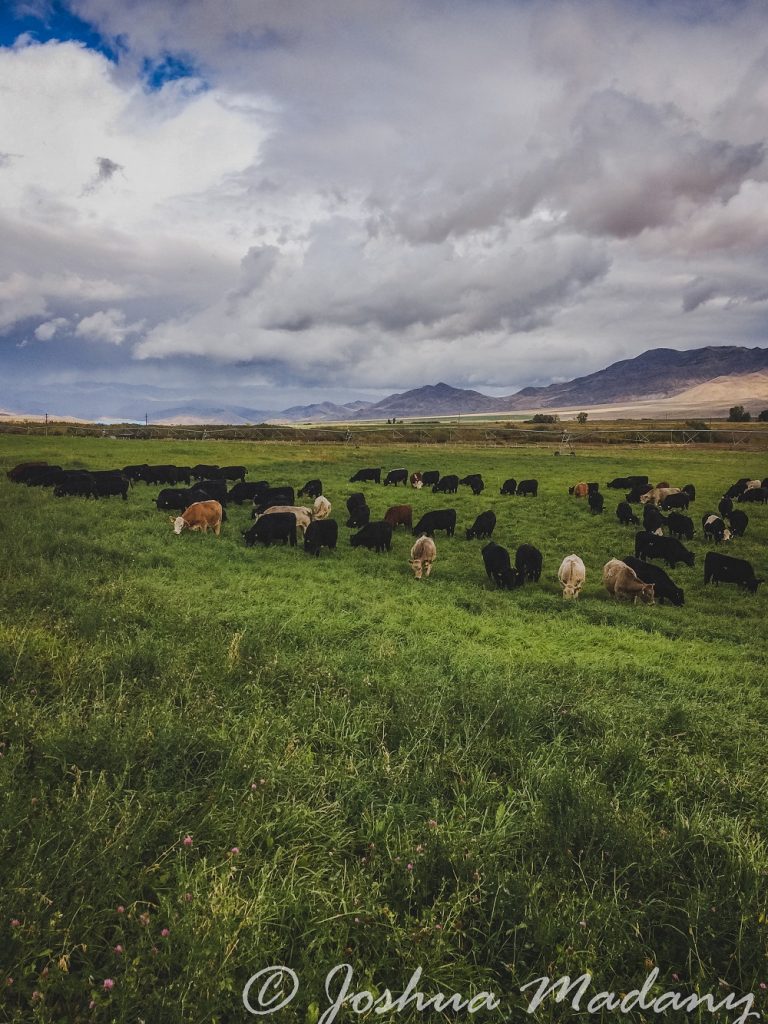 And we avoid tractor use. We do very little, if any, tillage. We use no fertilizers. We feed no corn or soybeans. We are an animal powered ranch.
But the largest offset is in our grazing lands themselves. In the past three years, we estimate (conservatively) that our regenerative grazing efforts where we are restoring streams and springs has sequestered over 2400 tons of carbon in the soil and in plants.
It is from beavers recolonizing where we intentionally don't graze. It's from us staying out of sensitive high water yield areas with our beeves so everything from fish to plants to birds can colonize in it and reproduce. It's from grazing in the right way: when an animal grazes the top of a grass off, the plant sheds some of its roots to maintain efficiency matching the photosynthetic capability of the grass that we intentionally left above the ground. Root death then adds more soil organic matter, and because we only grazed part of the plant, the foliage feeds the onset of new root growth.
It's from aspen stands regenerating when the cows stop grazing them. It's all from what we call husbandry.
Husbandry has no room for extractive agriculture, which creates the absence of life. Life degenerating.
Think life regenerating. If there is life, there is carbon being locked away.
And that makes all the difference.
Especially to you, dear reader. If you are wondering what to do when you want to save this planet for future generations, don't despair. Because it's really simple. Invest, and commit to not just a grass fed agriculture, or an organic one. Invest in one that strives to regenerate. It isn't only us; there are many. But you have to seek them out. Counterfeits are common that prey on people's despair. Use wisdom.
Don't hesitate. Regenerate. It really is all up to you.
Happy Trails.
Glenn, Caryl, girls and cowhands from Alderspring.
For 26 years, handcrafting unparalleled flavor and wellness while regenerating wild landscapes. Wild Wellness Delivered.