Michael Pollan's fascinating biography of a steer describes the fate of a steer he purchased from a ranch in South Dakota, and followed through the feedlot and into the packing plant.  Pollan's article clearly portrays in a readable and interesting way the current model of beef agriculture that we want to replace with a localized pasture-based model.  Pollan's article was published in the New York Times in March 2002 and discussed on National Public Radio.
POWER STEER
By MICHAEL POLLAN
From The New York Times March 31, 2002
You can read the entire article online at Michael Pollan's Site.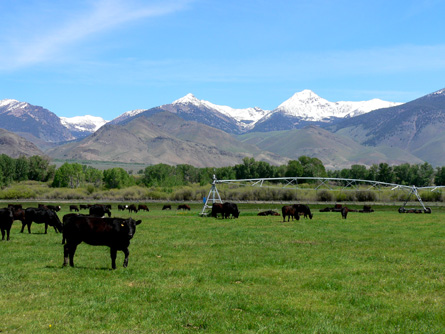 Excerpts   The Blair brothers ranch occupies 11,500 acres of short-grass prairie a few miles outside Sturgis, S.D., directly in the shadow of Bear Butte. In November, when I visited, the turf forms a luxuriant pelt of grass oscillating yellow and gold in the constant wind and sprinkled with perambulating black dots: Angus cows and calves grazing.
Ed and Rich Blair run what's called a "cow-calf" operation, the first stage of beef production, and the stage least changed by the modern industrialization of meat. While the pork and chicken industries have consolidated the entire life cycles of those animals under a single roof, beef cattle are still born on thousands of independently owned ranches. Although four giant meatpacking companies (Tyson's subsidiary IBP, Monfort, Excel and National) now slaughter and market more than 80 percent of the beef cattle born in this country, that concentration represents the narrow end of a funnel that starts out as wide as the great plains…
…Although the modern cattle industry all but ignores it, the reciprocal relationship between cows and grass is one of nature's underappreciated wonders. For the grasses, the cow maintains their habitat by preventing trees and shrubs from gaining a foothold; the animal also spreads grass seed, planting it with its hoofs and fertilizing it. In exchange for these services, the grasses offer the ruminants a plentiful, exclusive meal. For cows, sheep and other grazers have the unique ability to convert grass-which single-stomached creatures like us can't digest-intohigh-quality protein. They can do this because they possess a rumen, a 45-gallon fermentation tank in which a resident population of bacteria turns grass into metabolically useful organic acids and protein…
…I started my tour at the feed mill, the yard's thundering hub, where three meals a day for 37,000 animals are designed and mixed by computer. A million pounds of feed passes through the mill each day. Every hour of every day, a tractor-trailer pulls up to disgorge another 25 tons of corn. Around the other side of the mill, tanker trucks back up to silo-shaped tanks, into which they pump thousands of gallons of liquefied fat and protein supplement. In a shed attached to the mill sit vats of liquid vitamins and synthetic estrogen; next to these are pallets stacked with 50-pound sacks of Rumensin and tylosin, another antibiotic. Along with alfalfa hay and corn silage for roughage, all these ingredients are blended and then piped into the dump trucks that keep Poky's eight and a half miles of trough filled.
…We have come to think of "cornfed" as some kind of old-fashioned virtue; we shouldn't. Granted, a cornfed cow develops well-marbled flesh, giving it a taste and texture American consumers have learned to like. Yet this meat is demonstrably less healthy to eat, since it contains more saturated fat. A recent study in The European Journal of Clinical Nutrition found that the meat of grass-fed livestock not only had substantially less fat than grain-fed meat but that the type of fats found in grass-fed meat were much healthier. (Grass-fed meat has more omega 3 fatty acids and fewer omega 6, which is believed to promote heart disease; it also contains betacarotine and CLA, another "good" fat.) A growing body of research suggests that many of the health problems associated with eating beef are really problems with cornfed beef. In the same way ruminants have not evolved to eat grain, humans may not be well adapted to eating grain-fed animals. Yet the U.S.D.A.'s grading system continues to reward marbling-that is, intermuscular fat-and thus the feeding of corn to cows.
…What keeps a feedlot animal healthy-or healthy enough-are antibiotics. Rumensin inhibits gas production in the rumen, helping to prevent bloat; tylosin reduces the incidence of liver infection. Most of the antibiotics sold in America end up in animal feed-a practice that, it is now generally acknowledged, leads directly to the evolution of new antibiotic-resistant "superbugs." In the debate over the use of antibiotics in agriculture, a distinction is usually made between clinical and nonclinical uses. Public-health advocates don't object to treating sick animals with antibiotics; they just don't want to see the drugs lose their efficacy because factory farms are feeding them to healthy animals to promote growth. But the use of antibiotics in feedlot cattle confounds this distinction. Here the drugs are plainly being used to treat sick animals, yet the animals probably wouldn't be sick if not for what we feed them.
…While waiting for my box of meat to arrive from Kansas, I've explored some alternatives to the industrial product. Nowadays you can find hormone- and antibiotic-free beef as well as organic beef, fed only grain grown without chemicals. This meat, which is often quite good, is typically produced using more grass and less grain (and so makes for healthier animals). Yet it doesn't fundamentally challenge the corn-feedlot system, and I'm not sure that an "organic feedlot" isn't, ecologically speaking, an oxymoron. What I really wanted to taste is the sort of preindustrial beef my grandparents ate-from animals that have lived most of their full-length lives on grass.
Eventually I found a farmer in the Hudson Valley who sold me a quarter of a grass-fed Angus steer that is now occupying most of my freezer. I also found ranchers selling grass-fed beef on the Web; Eatwild.com is a clearinghouse of information on grass-fed livestock, which is emerging as one of the livelier movements in sustainable agriculture.