On Alderspring, we've had nearly 60 seasonal and short term interns and employees over the years, and they come away with knowledge, skills and abilities to bring to their lives wherever they end up. But one of the best things they come equipped with is story: times they have prevailed over all odds and stuck with tasks through the most adverse conditions. And in that they receive depth, tenacity and self-worth that can only come with experience in real life situations.
And that can make all the difference in their life that just so happens to coexist with this world of social media contrived experience.
One such story is that of Tim, our first Pahsimeroi Valley intern.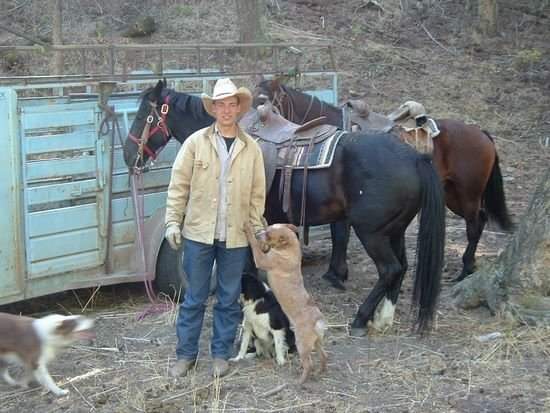 In the fierce fry-pan scorch on this July day in a south facing canyon, I looked up at Tim, astride his gelding, Gus, about 20 feet vertically above me, pasted to the hillside. We were both dripping salt water, despite the dry heat. My hat band streamed water from my sweat soaked hair and ushered it out to the edge of my brim. Drip.
I was afoot, leading my mare, Missy through the tall and nearly impenetrable big sage, looking for calves that may have fallen behind. It had been too long afoot for them, but we continued to push this drag of 200 mother and calf pairs, heading for the US Forest Service boundary.
And water.
There had been a few trickles thus far along this deep hole in the ground that someone long ago labeled Pig Creek. The sketchy waters were enough for a cow to perhaps wet her whistle; but it was hardly enough to sate her on this hot desert day. I think the hardest thing about our situation was that just 2 weeks ago, these very mountains were covered with a new dusting of snow.
We were both reeling in shock over the sudden change of weather. I think the horses and cows were feeling the same.
To add insult to injury, I underestimated the time it would take us to trail them up and over Pig Creek, but all I had was the contour lines on a USGS topo map to guide me across this untrailed and unknown landscape. I had never been here before on this blank spot of territory on the map, and only by dead reckoning with my compass and identifying landforms around me signified by the corresponding brown elevation lines on the maps was I able to guess where we were.
I folded my map again, and placed it into my pocket. Then, I looked up at the long thin line of Mama cows and their babies—in single file—undulating over hill and sagey dale for over a half mile before us. But then my attention was immediately jerked to the ground underfoot.
"Snake!," Tim cried out. His gelding had inadvertently knocked a good-sized rattler down the steep hillside above, and a small landslide of tumbling rocks. An angrily rattling snake made straightaway for us, driven by rocks and gravity.
My mare, Missy, acted first, and skipped lightly ahead of me, tugging at the lead rope I had her with, as if coaxing me to get with it and move fast.
Rattler rolled by us, and coiled away into the dust, as the landslide settled. It was one of several we would see that day. I think the snakes, like us, had enough of the heat and were getting cranky. Their rattles actually speed up in the heat, and become a frenzied high pitched buzzing rather than a rattle.
After all, they had to be heard above the roar the cicadas. The seventeen year cycle of the cicada happened to be this year, and their telltale perforations of eruption holes dotted the pavement of the high desert. The soprano pitched buzz was continuous, so much so that your mind filtered it out from hearing.
But it still had a way of weaseling its way deep into your psyche. I was wondering if Tim would crack under the heat and howl of the locusts. The cows hadn't yet; they somehow trusted us, and knew that there was hope ahead. I think the old girls trusted me more than I trusted myself. I didn't dare tell Tim that I was only about 50% sure of our position and the correctness of our direction. We had been going this way for 7 long hours already; and had stopped several times to give the herd a break to graze and chew cud, and just lay down.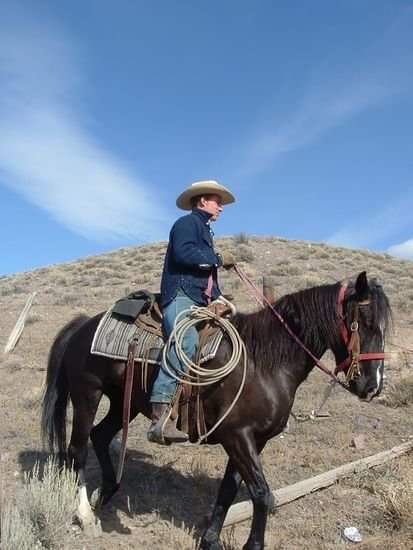 Just four weeks ago, Tim showed up on the ranch. He was our newest hire, on an internship, from a town near Buffalo, New York.
I recalled our interview back in April. "What have you been studying in college, Tim? I see on your resume that you'll have a four year degree in a few weeks."
He was on speakerphone, and both Caryl and I were on the call. "Um, I have a degree in Organic Chemistry."
Bomb Dropped. Caryl and I silent, pensive. We hear Tim Grant, chemisty major, breathing over the speaker.
Caryl broke silence. "So that was at State University of NY?"
"Yep."
"So why would you want to work for us?" Caryl asked.
"Well, uh, I wanted to learn about raising grass fed beef. And you guys seemed like you were doing a good job of it, from what I learned on the web." Tim paused. "You see, I live on a small farm here in Western NY. I raised a nice Hereford steer for 4H. I really enjoyed it."
He was starting to talk faster now.
"I realized I really like cattle. And I've been reading about grass fed beef. And my brother here has a farm, and has some cattle. So I was wondering about selling beef to people that isn't grain fed, but grass fed. And you guys seemed like you got it figured out."
"What about chemistry?" I asked.
"I don't know." Tim paused again, gathering his thoughts. "I guess now would be the time to try something. I can always come back to chemistry."
Full disclosure: Caryl and I really didn't prepare this, our first intern on our newly acquired Pahsimeroi Ranch for all that he would be exposed to when he got here. Weather. Desert. Wild animals. Remoteness. Uncertainty. Wilderness. It could and would be hard.
And it is undeniably a different world from Buffalo NY.
Employer failure. Make note to the file for subsequent hires.
Tim showed up on the ranch at the end of May. Problem was, we had to leave the ranch—Caryl, all the kids, and I, and two horses for a rare plant survey contract in Southern Idaho's remote and desolate Owyhee desert for a week. We had committed to it, and needed to perform the terms.
That left NY Tim all alone on a 47,000 acre ranch in the middle of nowhere of Idaho with only a phone number to call us on and a motorcycle (he knew nothing about horses). He was in charge of about 400 head of cattle scattered to the winds on an untracked piece of mountain wilderness called Hat Creek.
Obviously not at all overwhelming.
Just kidding.
He was flat blown away. I remember taking him up Deer Gulch to show him where the cows were. We stopped our dirt bikes (the quickest way up there, and besides, he had a lot to learn about horseback yet), and we got to a high point where I intended to give him the lay of the land. We had been going up a little two track for several miles, when I pulled over at the vantage point.
Tim: "Is that it? Cause that was a lot of country we just rode through."
Me: "What do you mean?"
Tim: "I mean, is that the whole summer range? We've gone several miles."
I pointed to a distant pyramid shaped peak. "See that peak?"
"Yep."
"That is Taylor Butte. It's about 10 miles from here. That is halfway to the west boundary."
By the look of Tim's face, he thought I was kidding. By the look of mine, he knew I wasn't.
Beyond the high point of Taylor Butte rose a distant and imposing granitic dome of Taylor Peak. It was glistening with snow. "That is the end of it, at the snowy peak. It's our western boundary, nearly 20 miles away."
The day had dawned warm enough. But as we looked over at Taylor Peak, I realized that we might be in for a change. I glanced at Tim as he looked at the two summits. "Looks like we might be in for a little June snow."
Tim Grant from Buffalo New York was speechless. And completely overwhelmed. And Glenn and Caryl were really bad employers. This kid might—just might—with good reason, grab a one way ticket back to Buffalo, NY.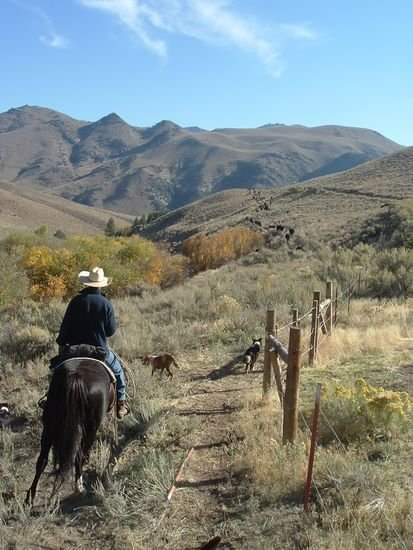 I looked down at the topo map, a steady stream of sweat droplets leaking from my hat, making spots on the worn white surface of it. I tried to decide on a route. Tim waited patiently on Gus, peering ahead, a little catatonic from the heat. There were no satellite imagery photos or Google Earth landscape-scale maps to peruse in those days; only the USGS plain paper topo maps. All I could do was to plod on. There was no way we would go back down the snake infested canyon. Thankfully, we had yet to have a calf or cow bit, but I wanted nothing more than to ascend above the brain cooking crucible of upper Pig Canyon.
Why Pig? No idea. I've asked many an old cowboy. None of them herded hogs, to be sure. Perhaps a rock formation? Perhaps it had to do with what happened to my head: others likely were too stubborn to turn around, and rode the snake filled convection oven to the bitter end.
That can be classified as Pigheadedness. Hence, Pig Creek. Maybe the pigheaded simply died there.
There was hope ahead, as I saw the fold of the canyon lessen, and broaden into what the map showed as one Bear Basin. Yes! As we approached, I could see a slant in the volcanic ashy dust column that rose from the leaders of the herd. There was a breeze on the tablelands of the broad Basin country that the steep defile of Pig Canyon finally yielded to.
I swung sweaty body back onto Missy's broad back.
The problem was that all features faded off my map when we entered the more gentle sagebrush roll of the Basin. I would have to rely completely on compass now. Pulling my neck wrapped lanyard, I extracted the compass out from my sweaty chest, made a new sighting through the viewfinder, and set a new azimuth as best I could off of the map.
It would have to do.
Tim said little. There wasn't much to say. The incessant buzz of breeding bound cicadas dominated all conversation, and held at a fevered pitch. They had waited seventeen years underground in a larval state for this, and finally emerged for a few weeks of flight to breed, lay eggs and die. They seemed in denial about the last part. For now, they were letting it all hang out. The party was on.
Occasionally one of the monster flies would land on Tim or me. It was easy to freak out. They had ovipositors that could drill holes in wood, after all. Why wouldn't they pull out their drill press on us, if stuck in our hat or slipping down our sweaty sternums to a tender spot in our bellies?
I often caught Tim on the verge of freak from the dinosaur dynasty bugs—but he wouldn't crack. He was surprisingly tenacious. I was just waiting for an outburst of sorts:
"Where the heck are we going here?" Or, "Do you have any idea what you are doing?" Or, simply, "That's it. This is stupid!" (Now shouting over the cicada din) "I am outta here!"
But such never happened. Tim kept at it. I was worried about him. Despite the heat and the uncertainty of my position, I was still enjoying myself. I was a little stressed about the cows, though. They would need a drink before we could stop for the night.
Over several hours, occasionally freshened up by a little breeze, we made our way across the grass and sage of the broad basin. We swung a little to the west, as my compass corrected course, and as we did so, I spotted a tiny rectangle in the heat shimmer far ahead in the bottom of a low draw filled with dark green grass. I stopped and grabbed my binoculars, and smiled.
"Tim. Check this out!" I handed the glasses to him, gleeful. We couldn't have stumbled into better fortune. "A stock tank!"
Tim looked, and at first said nothing. Sweat dripped off of his bushy eyebrows. His new straw hat bore a new feature: a sweaty, grimy blemish in the band area.
"Yep." He said, handing my binoculars back.
But as we approached, I noted that something was wrong. Tim stopped his gelding, because he was seeing it too. The young man flashed his unimpressed eyes over toward me for a moment, as if I had something to do with this. The lead cows trotted up to the tank, spotting it from several hundred feet away, in happiness with their good fortune.
But then, one after another, they poked their heads briefly over the rim, sniffed for a second or two, and continued their march into the now lowering sun. Uphill.
The tank was dry. It was a dead spring. Senesced. Dried up. Some springs did that after our last earthquake. Underground plumbing gone awry.
The sun cooled as it dropped near the horizon. The sinister taskmaster ball of brutal fire was succumbing to the jagged horizon of rocky peaks, now with a rosaceous, more innocent face lighting glow. I checked Tim out; he looked like he had been crying. The sweat had left tracks in the cake of his dust permeated face. He no longer looked boyish.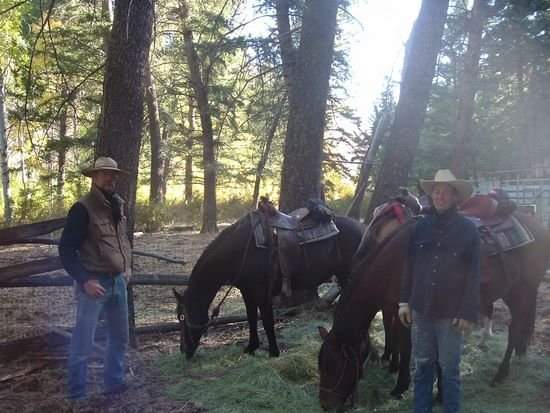 Instead, the dirt, sweat and low light freshly chiseled his features, and added a good twenty years of appearance to the young man from Buffalo. We had been riding for nearly 13 hours, and finally, we were cresting the ridge in a low notch at the head of Bear Basin, which by my map reckoning would provide us with access to our goal: the lush green grasses of the higher, and cooler part of the Hat Creek country. There were abundant clear and cold bubbling creeks, and thickly formed forests that bore cool breezes, even on the hottest days.
We broke the ridgeline saddle with the bunch, and rested, and looked with joy. There, spread out before us, was the most rewarding panorama of lush green and pasture forested bounty that I think I had ever seen.
We trundled over the ridge, the sun now down, in the glow of a rosy sky. There was a gate in the barbed wire US Forest boundary fence. Map and compass proved right, after all. The cows and calves happily, but quite tired, wandered through. The silvery stream of Little Hat Creek lay below. All would be well for them this night.
And for us humans as well. Tim got off of Gus, closed the gate, and remounted. We watched the cows graze the thick green, as the cool of evening set upon us with a gentle down mountain breeze. The air was thick with the fragrance of pine and fir.
We rode back up to the ridgeline notch on our happy to turn toward home mounts, and paused at the summit. The Pahsimeroi Valley unrolled before us in the fading light, thousands of feet below. A ranch light or two flickered in the gathering dusk.
Tim Grant gazed at the vista. He would remember this: the heat, the hardship, the tenacity required of the job at hand, despite the 15 mile ride back to the drop-point where truck and trailer awaited. We would arrive at the ranch sometime in the wee hours of the morning. We'd care for our horses, putting them on water and fresh green, and fall into the bunks ourselves soon after.
His butt would burn with saddle sore, and joints would ache for days until they hardened. But he had prevailed, and would find satisfaction in that he did.
I touched heels to my mare, and we cut into a quiet trot through fragrant sage. The cicadas had quieted for the night, and the snakes would coil in the cool, quiet until the heat once again warmed their cold blood tomorrow.
It was two thirty as I climbed into bed with my bride. Caryl rolled toward me in her semi sleep. "How did the new kid do?" she asked.
I thought for a second. "He'll do. Yep. Tim Grant will do."
*************************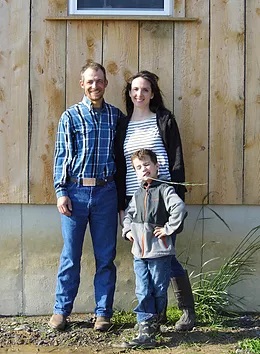 Here's Tim Grant today, with his wife Rachel and son Micah. Today they own and operate Stand Fast Farms Exclusively Grass Finished Beef in Fredonia New York. Tim and Rachel started this successful farm from scratch, building on the knowledge he gained on Alderspring, and have a solid following of educated and loyal supporters in their region of Western New York. They are grass fed pioneers there, and we are so very proud to know them. When in the Buffalo, NY region, be sure to ask for Stand Fast's excellent grass fed fare!
Happy Trails to you All!
Glenn, Caryl, girls and cowhands from Alderspring.
For 26 years, handcrafting unparalleled flavor and wellness while regenerating wild landscapes. Wild Wellness Delivered.