Driven by cowboys and cowgirls on foot, 25 head of horses came stampeding into the round pen yesterday, bucking and whinnying in a cloud of corral dust. After a winter turned out on Alderspring's big pastures, we brought them in to start getting ready for the work that the summer will bring. Most of them haven't been around humans for nearly 5 months, and they get a little wild from just being on their own all winter. Ethan and Joshua started with the feet; some would need trimmed up to prep for their new shoes that will go on in several weeks.
Most of our horses will go through two sets of iron horseshoes in the rocky, dissected terrain that defines the Hat Creek Ranges, because in total, they will cover over 500 miles during the summer while herding Alderspring beeves across that pristine landscape. Surprisingly, in spite of the distances and topography, there are a few of our horses that won't need shoes, even though they will be up traversing volcanic slide-rock and cliffs just like our other steeds.
These few horses will remain barefoot. And they likely will never even need a trim. Their diamond-hard hoof walls won't even yield easily to a well-honed hoof knife. Their hooves are shaped as if they have been carefully trimmed and manicured weekly by their fussy over-attentive owner. How can this be?
Call it genetic history. It's from generations of horses that have run on these wild ranges, horses long ago left or lost by Spanish explorers or Native Americans. It is a clear result of natural selection. The ones with poor feet simply could not keep up with the herd. They became wolf food. They likely went lame, and fell behind in the brutal winters and disappeared. Safety in wild horse herds is in numbers, and being able to travel long distances to good forage. Because those with poor hooves died, the genetics of their feet did not get passed on.
Good foot genetics can live a long time in a mustang herd. They'll have many offspring, and the better the feet, the better the nutrition. One such mustang from the Challis wild horse herd lives on Alderspring. Melanie named him Chance; it was an appropriate name for the terrible condition he was in when she found him. He was a tiny orphan colt on the range in the middle of nowhere some 35 miles south of the ranch. Melanie was in a remote drainage working on a range plant inventory with Caryl, and stumbled on the 30 lb coal-black bag of bones in some tall sage. He clumsily galloped away—but not very far. Mom was nowhere to be found.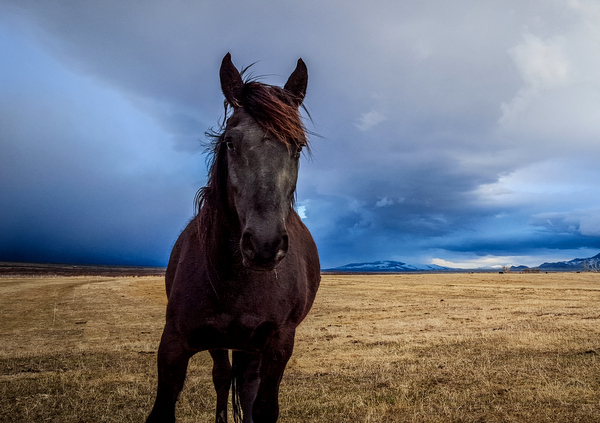 She reported the orphan to Leigh, the wild horse guy at the local BLM office. The next day, Leigh called back. He relocated the miserable looking critter, ambushed him and stuffed his tiny horse frame in the back seat of their government pickup. Leigh was calling to see if Melanie would adopt him, since his mare was still a goner, and little blackie would be dead in only a day or two if not cared for. Melanie took Leigh up on his offer, and Chance is a full grown gelding today, with the best set of feet on Alderspring. His hooves are flinty hard, and perfect in shape. He's a natural for range work. Nothing bothers him, and he is gritty as his feet are hard. This will be his first year up there, as he is finally old enough to run with the rest of the working stock up there.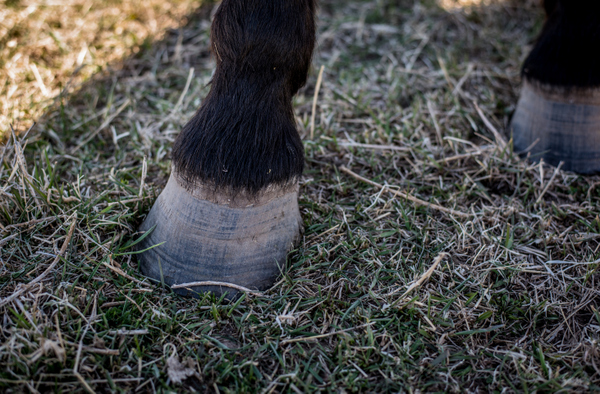 Fitting horses to the work they have to do in our mountain country is key in our selection of them. We want animals that will fit the environments that we place them in. The same goes for Alderspring's cattle. We are careful to select animals that will travel efficiently in the high mountain landscape; we try to pick smaller framed, athletic cattle with a tad of wildness about them. We want cattle with their animal survival instincts largely intact. Contrast these cattle with their bovine polar opposites: Holstein dairy cows. Yep; those are the black and white stereotypical cows you see on milk cartons, proudly displayed with Farmer John and Jane's arms draped over them. They are easily twice the size of our beeves and would have trouble even walking up the roads on our ranges, let alone up the rocky trails to the luscious alpine meadows that Alderspring beeves frequent. They often have trouble breeding again after having a calf and when they finally do have a baby many of these spotted mamas have no instinctual maternal traits that even make them interested in their little bovine bundle of joy. Dairy hoof trimming is a booming biz in North America, but in contrast, I know of no beef trimmers.
Like the poor footed horses of prehistory, these big dairy bovines would quickly disappear on our wild landscapes. I'm not sure that the wolves would even enjoy their unmarbled flesh, but regardless, without the coddling treatment in their posh, mechanized, grain fed existence, their bloodlines would abruptly end. Meadow Gold no more.
The selection pressure that made them so completely unsuitable and vulnerable to our wild landscape grazing environment was caused by no natural pressure. It was us: Frankencow breeders bent on creating a cow that produced more pounds of milk while sacrificing nearly every other trait that a wild animal would need for survival.
But there's more to creating nutrient-dense protein than selection of the animals that harvest it for us. It also has to do with the plants they eat. It turns out that alpine and subalpine vegetation in temperate climate latitudes may have its own environmental adaptive strategies. Several studies* completed in the Swiss and French Alps indicate that grazed vegetation at elevations between 3700' and 6200' has elevated levels of Omega-3 fatty acids. It is hypothesized that this may be due the fact that O-3 fats solidify at lower temperatures and may act as a sort of plant antifreeze, keeping metabolic processes intact longer in the harsh montane environment. As a result, Swiss researchers studying high altitude milk cows found that their milk contained significantly higher levels of heart-healthy antioxidant (cancer fighting) Omega-3s and conjugated linoleic acids (CLAs) compared to their low altitude counterparts.**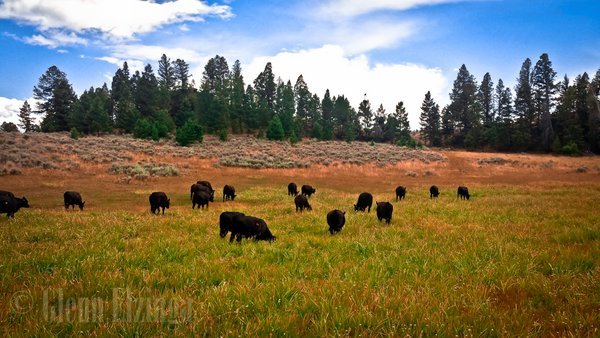 For some years, epidemiological studies demonstrated that there was a significantly lower incidence of heart disease in people living in those high altitude Swiss and French villages, in spite of the fact that they had higher cheese consumption than low elevation people with higher incidence of heart disease. Finally, at least one of the causes of this puzzle fell into place. It was the cheese itself, long thought to be the cardiac killer, serving instead as a protective food. It's why the study that identified elevated levels of CLA and O-3 is called the "Alpine Paradox."
What does this mean for Alderspring other than the fact that our friends Ernie and Jen at Lifeline Farm grow their delectable dairy products at nearly 3700 feet, and may have some of the same benefits? Let's take this one step farther from "udder" to the "other" parts of the cow: the muscles, and that fat that covers them. It seems to follow that beef animals consuming similar forages would also concentrate higher levels of these important fatty acids, a nice added benefit to the likely greater nutrient density overall due to grazing native grasses on wild, mountain soils. These are soils whose nutrients have never been permanently extracted in that soil-mining process that is typical of conventional agriculture.
So…in case you are wondering: Alderspring's genetically robust beef cattle harvest their grass year round from un-mined mountain soils at elevations ranging from 5000 to 9000 feet elevation. And I think you can taste and feel the difference. Who knows? Perhaps someday, there will be an epidemiological study that researches those healthier eaters of high altitude beef. You could volunteer!
Happy Trails!
*Jana Kraft, et al; Differences in CLA Isomer Distribution of Cow's Milk Lipids.  University of Jena, Institute of Nutrition, D-07743 Jena, Germany, Lipids (Impact Factor: 1.85). 07/2003; 38(6):657-64. DOI: 10.1007/s11745-003-1111-z
**Christa B. Hauswirth, MD, et. al; High ω-3 Fatty Acid Content in Alpine Cheese
The Basis for an Alpine Paradox; Circulation; 2004; 109: 103-107