The wind blew our half mile long lane to the main valley road shut with drifting snow again today. This is the second day without mail; we are effectively stranded. It's a good morning to put some observations to paper about life on earth as I see it. As a rancher, things can sometimes look pretty simple on the surface; the cycles of birth and death on the ranch seem largely intact. But when we look deeper at all of the parts—even those we cannot see, canaries begin to sing less happily in our view of the coal mine of agriculture around us in these United States.
****************************************
The pinpoint glint coming from the volcanic gravels on the ridgetop first caught my eye as I trotted up, horseback. Two foot tall clumps of lush, green, ungrazed bluebunch wheatgrass shivered in the brisk June wind. There it was again. I rode up to it, and peered down to gravel from my tall mount through the shimmering grasses. Just as I thought. It was the calling card of Duane Miller, the former rancher that ran in this country before we acquired it. Left behind by him on his lunch break around 35 years ago, the sardine tin caught my eye because of the dull reflection of the sun off its curled up lid.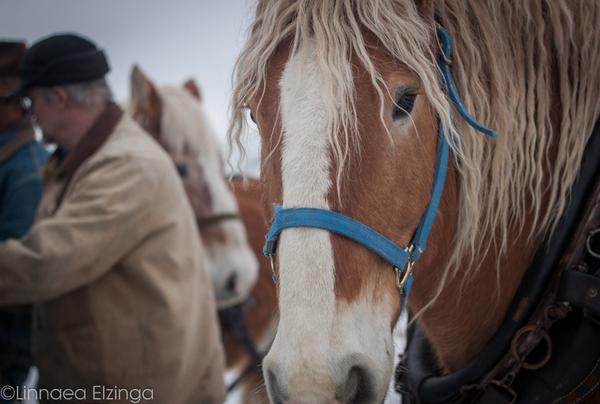 I stepped off my mare, Ginger to grab an apple from my saddle bag, grabbing a break as well from riding over this high and remote windswept ridge. The rocky spine of ridge where Ginger and I rested formed the divide between two watersheds on our summer range. I picked up the tin and stuffed it in the leather pocket of my saddlebag after I finished my make-do lunch, swung a leg over, and proceeded on the ride in search of stray Alderspring beeves. We were down by a few head on this cool summer day, and I wanted to find them and take them higher up to abundant green in the forest above.
I had found a nearly a dozen of the tins over my years on the range. They were always on some ridge where Duane, like me, would likely get off horseback, stretch his legs a bit, and scope out the lay of the expanse of country before him. In the broken outback of the Central Idaho mountains, one could easily see over 70 miles while looking over mountain range after range rearing up from the Earth in 12,000 foot tall waves, pushed up by the ancient collision of North America with the Pacific Plate.
In different eras, he in the 20th century and I in the 21st, we both stood on one of these ragged and rocky waves and learned what the country could teach us. Duane knew these Hat Creek ranges better than anyone I had met. I only wished he was still alive so I could fast-track my learning of the land better, but a huge cottonwood tree got the best of his 85 year old still-working frame while he tried to cut it down, and there he found his end; his family found him several hours later.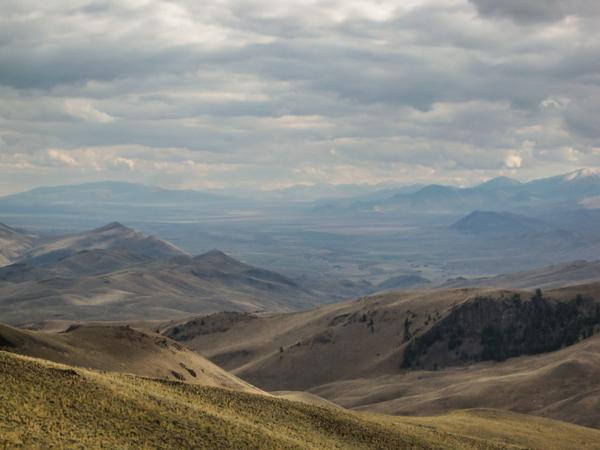 I remembered him with a smile. One of the most ornery old boys I had ever met, his armor piercing gaze was the undoing of many that heard his gravelly voice that played symphony to his stare. But I got along with him despite his incessant cussing, and learned whatever I could. And his sardine tins actually told a story all their own.
It was a story of where he liked to range his cattle, because where Duane was, his cattle were. I know this because it is reinforced by the presence of cow pies. Yep. I'm talking cow manure. Crap. Dung. Whatever you call it. Now, I've been all over the 70 square miles of country we call the range, and those ubiquitous aging gray and white, dry and crusty piles can still be found in the country; every day up there I'll see one or two piles of them under some spreading fir tree. And they, in turn, exactly document where the cattle roamed under Duane's deployment of them.
And therein, my friends, is where my story actually begins. I was giving a presentation this week to the Central Idaho Rangelands Network about how our unique approach to herding beeves across their summer ranges went last summer. As many of you know, we live with our beeves as they walk some four to six hundred total summer miles across wild and pristine ranges. This keeps them on the best grass for the best wellness benefits (and for yours as well), keeps them safe, protects sensitive habitats like wetlands and stream (we keep the beeves out of them) and lets wolves know that we humans are there. The wolves tend to stay away from humans, and as a result, we eliminate any wolf/cow conflict and avoid having to take lethal means against this top level predator. We share the country instead.
The full time herding gives us a chance to completely control where our beeves go. Most other producers just turn them loose, and find them in the fall.
Anyway, in the meeting I briefly mentioned the cow pies that I still occasionally find in areas on the range I know we never had cattle go in our 13 years up there. They were Duane's cows, and some of those cowpies may have been 40 years old. Dried, whitened, crusty and brittle. It was my wife, Caryl, the always thinking PhD plant ecologist, who spoke to me about it after our presentation. We were walking across Main Street in downtown Challis, Idaho, where you don't really have to look before crossing, because there's usually no cars (actually pickups) coming. I could tell she had the "why" question in her head, even though I had no idea what the "why" was about. She had never heard me tell the tale of cow pie before.
"Why are they still there?"
"You only find them in dry areas. Like in the sagebrush, or under a big fir tree. So maybe it's the dry climate."
"Yeah, but do you see any from your cows up there? I mean, in places you've been with our beeves, do you find cow pies up there, lasting for years?" I think she already knew the answer.
I had never thought about it before. There were many instances that I observed, even on the dryer parts of our range, that cow pies from our cows were completely broken up by bugs and birds in a matter of days. "Well, no. I've never really noticed ours hanging on like that. Beetles and flies get right after them. Then the birds go after their eggs or larvae that they laid in there. On the valley ranch, cow pies often do not get through a day without being totally broken down by other animals."
"Why?" Yep. That "why" question again. She does that a lot, to all of us. I could just trot on by a feature on the landscape day after day, even if it was a smoking meteorite the size of a Volkswagen, even noticing it, and forget to pose the "why" of how it got there. She looked at me with that look that said she already had an answer, and my lightbulb began to turn on. It took a while, but pretty soon, I had 200 watts of incandescent power showing up in my brain (we warm and soft light old fashioned firelight lovers hate those CFLs and LEDs for their obnoxious blue white harsh illumination by the way). I remembered a phone call about a year ago from a friend working on a 600 cow ranching outfit in the next valley.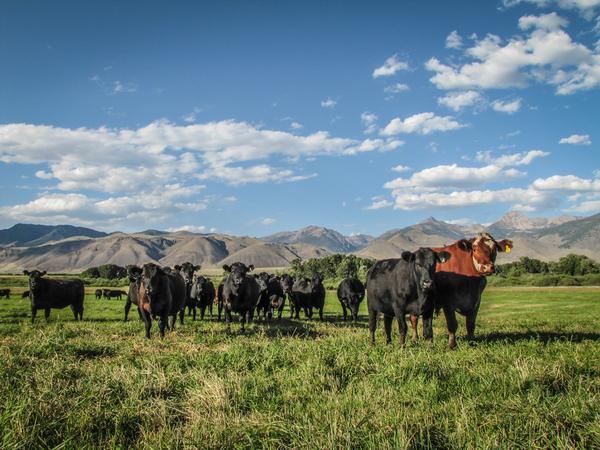 "We got these cow pies are piling up. They just don't break down. Ever since we started using that long lasting version of that Ivermectin-type wormer, the flies and birds just leave them alone." I told him that between the iridescent green manure bugs and the birds, many of our cow pies didn't last a day.
It's a story of elegance, really. To see that incredibly rich delicacy of nutrients, minerals and bacteria that comprise a cow pie to be incorporated into the food chain—immediately.
You know that we're certified organic, but you may not realize how different the organic production paradigm is from the typical means of raising beef. We use no chemical tools. No wormers, insecticides, pesticides, antibiotics, hormones or anything. These are not allowed if we want to maintain our certification, and they don't fit with how we want to ranch either. We use the template nature provides, and the symbiosis of bovines, bacteria and grass is pretty dang hard to beat. It's beautiful. And it's more than just the effects of chemical use on manure, a completely unintended, unexpected, and unrecognized effect of pouring chemicals on the backs of bovines to kill the parasites within the animal. Chemical use also disturbs so much of the functionality in what we cannot see in the massive living microbiome that is under our feet in our soils.
Grassland, grazers and the host of animals associated with them blanketed about 14% of the land surface of Earth with a verdant carpet of waving green prehistorically. Early humans and other large predators harvested plentiful protein from them. But there was something more going on. In addition to connection within the food chain, it turns out that the unseen connection via lowly bacteria is even more pronounced. The human gut, bovine rumen, and soil profile contain hundreds of similar species of bacteria whose circle of life is connected by the gravity of falling cow dung.
So we have this complex interrelationship that has millennia of symbiotic development inherent in it, and in 60 years, western animal agriculture completely disrupted it by creating a manure pat that can't break down and feed the soils, and then the plants, and then once again the bovine. Duane Miller used chemicals as a matter of course on his animals, likely without much reflection. It was what you did if you were a good rancher in the 70s and 80s. Dow and Monsanto were perceived as good buddies of the rancher and farmer.
Caryl went looking for research about agricultural chemicals and cow pies. Indeed, a paper published in 2002 reported that the topically applied parasiticides (known in the industry as "pour-ons, and used almost ubiquitously on U.S. cattle, grass fed or commercial, but prohibited on organic cattle) increased the time of "disintegration" but she found other studies that showed no effects. A more recent (2016) study in Switzerland found impacts to nearly all types of dung degrading biota, but the impacts were highly variable over the course of a season, and appeared to be affected by a number of factors such as weather, timing of pour-on application, and season.
I do know what I have seen- lots of exit holes and larvae in cowpies on our ranch, and untouched cowpies on others. I also know that I'm not the only one observing problems with cow crap. Small market garden farmers from over an hour away have called wanting our manure, because the conventional manure they've sourced from more local ranchers seemed to damage their plants rather than help them. Unfortunately, we don't have manure piles. Because our cows are always on pasture, their manure is broken down now, right where the cow judiciously placed it. Sure, we have some that ends up in the sorting corral, but we use that for our garden to great success.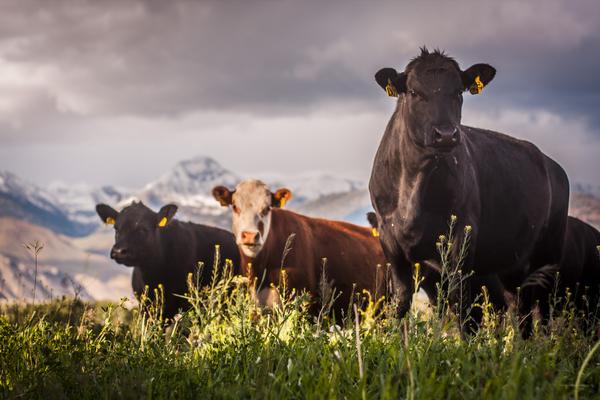 Whatever the mechanism of cause, we've inadvertently broken one of the only parts of the cycle of life on earth that we can actually see with the naked eye and grasp. You'll find only a few glimpses of insight into the understanding of soil microorganisms as related to plant and animal health for two reasons; first that the complexity is enormous, and second, that funding for such research has, until recently, been limited. Studying the complexities of the living soil is a science in the most infantile of stages.
We do know now that there is an unseen microbial network on which all of life on earth finds its roots; some call it "the microbiome." The soil has a microbiome. Our cattle carry a microbiome in the amazing ruminating factory of the gut where grass is converted to energy. We have a complex microbiome, each of us carrying around 5 pounds of bacteria in our gut. Our human network of gut and brain function is intertwined with it. Seventy percent of the neurons in our body outside of our brains are found in our intestines, and are hardwired to the brain via the vagus nerve. Its delicate balance and functionality are tied to the bacterial and nutritional resume of what we eat.
It's not something we want to mess with. In a recent paper published in the journal Cell, researchers led by Sarkis Mazmanian of the California Institute of Technology may have an explanation for that connection. Working with mice, they discovered that changes in gut microbial diversity and population may play a role in causing Parkinson's. And that gut microbial population and diversity is closely related to what foods you consume. "We found that the bacteria that live in peoples' guts are surprisingly responsive to change in diet," states Lawrence David, assistant professor at the Duke Institute for Genome Sciences and Policy. The Duke researchers showed that in just 3 days of dietary shift, the composition of gut bacteria in a given person could change dramatically, and the shift have effects in unexpected ways, such as brain function.
In short, we are what we eat. Even to the point of effecting our mindset; our intellect. Even the person, the personality of who we are. And I predict that in not too many years we will find a direct connection between the health of the soil microbiome and the health our human microbiome via the food we consume and the soil that it comes from.
***********************************************
Lucy the milk cow lives for now in our front yard. It's just a grassy front yard, although Caryl has plans for more elaborate landscaping in the future. Ethan milks Lucy the cow every morning, and her calf Nellie Oleson (any Little House on the Prairie fans?) stands by in a nearby pen, ready to have at mom when Ethan finishes with her. Lucy is an old style Jersey cow, a breed that originated on the Isle of Jersey, that British Isle that seems like it should have belonged to France (one could swim to France over a distance far less than the Channel).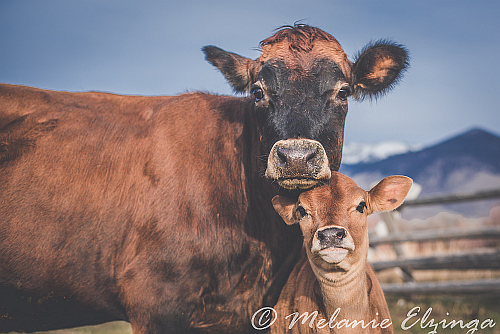 The cow enjoys Alderspring's lovely green grass hay just 75 feet from our front door. She wastes some hay by laying on it. She also wastes it by letting a small herd of whitetail deer eat it with her. The snow in her pasture is deep enough that she really doesn't venture far beyond her haystack and the spring (Alderspring) that she drinks from (it never freezes and bubbles out of the ground at a tepid 60 degrees even when the air is 30 below zero). She enjoys that warm water a little cooled where the stream of it finally flows out from under the log rails of the fence we built around the spring.
It looks like we should have a manure problem, especially something to turn into a stinky problem of a winter accumulation as the weather warms. After all, 2 bovines eat and live happily on our front lawn, and crap away. But there's very little of the brown gold out there on the front lawn. Where does it go?
The magpies, our resident avian scavenger friends, work it over every morning. They rototill it, and consume whatever they can before their delicious version of pie freezes. Each day's manure pats are nearly gone, and particles are downward bound into the hungry but largely inactive winter soil profile. Those millions of microbial soil residents will get their part of the meal when the ground thaws, and we happily received ours in delicious daily cream and milk. The unseen circle of life called the biome lives in us and around us. As it should.
Happy Trails.
Glenn, Caryl, Girls and Cowboys at Alderspring