As I step into our fulfillment warehouse, near Salmon, Idaho, I turn to check out the early morning light that bathes rugged peaks of the Continental Divide. A rosaceous predawn light outlines the snow-encrusted silhouettes of the Rocky Mountain uplift before me. I never get used to looking to these sentinels above. They are familiar friends; Caryl and I lived in their shadow during our first 6 years of marriage. In those, my younger days, we scaled most of the 10,000 footers: Freeman Peak, Monument, Copperhead, and Ajax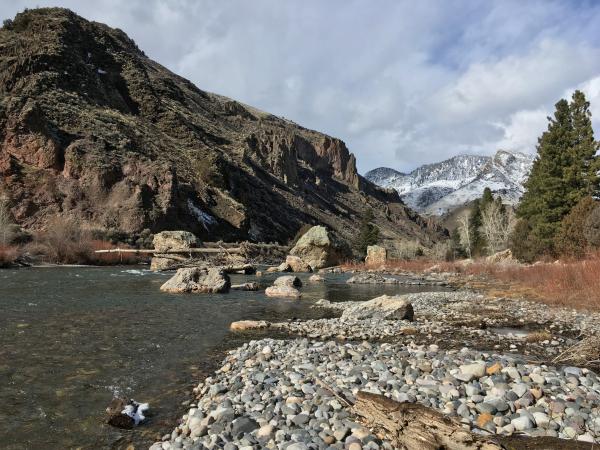 I thought of the Mason jars that could be found in the barren and wind-blasted rocks on most of their summits, high above treeline in the alpine zone where life consisted only of lichens and occasional arctic-alpine plants nestled between the rocks. In each tightly lidded Mason jar was a pencil and small notebook. It was a sort of testament, a register of the few that had visited these high places.
In the hush and half-light of the valley bottom, I can hear the Salmon River, just several hundred yards away, bearing slush ice on this frosty morning. I couldn't have picked a better place to pack our beef. UPS loves it that we are here, near a town, instead of 55 miles away on the remote ranch of Alderspring. I look down from the peaks to a nearby ranch style house, right on the banks of the river. And then I remember another product that was processed and packaged in the basement of that very home: 17.7 million dollars of bills, each bearing the half-smiling face of Ben Franklin.
It was 1987, and the bills were the work of Wick Helmandollar. He was a 40-year-old typographer, who called the remote mountain community of Salmon, Idaho his home. In his home along the Salmon River along the foothills below the very peaks we used to scale, Mr. Helmandollar perfected the reproduction of 100-dollar bills in $400 four-bill sheets after 16 years of painstaking effort.
Neighbors and friends liked Helmandollar. A family man, he fathered 4 children and passed away just two years ago in 2016 in Salmon.
The Secret Service, when asked about the quality of the bills said that "The printing technique is excellent… had it gotten into circulation it would have done serious damage." The only fault: the bills were printed on paper just a tad thicker than real bills and lacked the characteristic (and defining) red and blue fibers that were present in the real McCoy. Those flaws led to the eventual undoing of what would have been one of the most lucrative products ever produced in the logging and ranching town of Salmon.
Only an estimated $2500 reached circulation, and the attention of the Federal Reserve. It was that discovery, and an anonymous tip, that led to the apprehension of Helmandollar, and his accomplice, as they tended their other business, the sale of Christmas Trees in southern California. Apparently, they attempted to fence about 3.7 million of their bills to an undercover Secret Service agent in a California parking lot, and their attempt at easy money ended in arrest.
It was the largest counterfeit ring ever uncovered by the Secret Service. Over 10 million was later found in ammunition boxes, along with the plates and press in a crawl space of a Salmon, Idaho home. It was big news for Salmon, Idaho, and the talk of the town for a few weeks. But then, the continuance of life in a town built around ranching and logging resumed, and Mr. Helmandollar's last attempt at printing was soon forgotten. So much for easy money.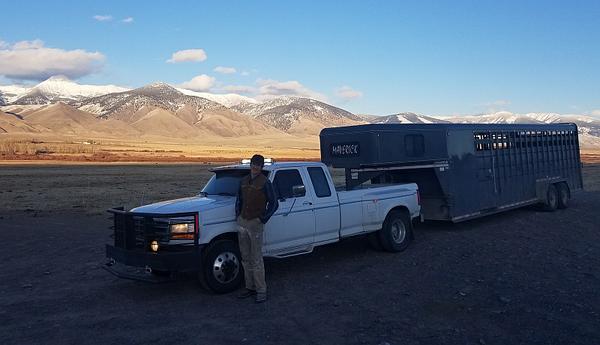 Underneath the new dusting of snow was a mantle of solid ice; of that I was sure. I had just encountered a near miss with the force of gravity on cowboy boots turned skis on the same surface. I edged my 45-foot-long pickup and trailer combination carefully toward the loading dock. I knew that if I locked my wheels up, I would slide right into the building.
I was at my certified organic beef processor in Montana. It was January, and their parking lot was worthy more of hockey than driving a loaded trailer. The fact that it was built on a hill further pushed my rig toward the concrete of building. Somehow, with the help of trailer brakes, I managed to creep my way to the door, and orient my loading door toward their dock. There, 100 cases of fresh cut Alderspring beef awaited by biweekly pick-up. I was to bring them back to Salmon, where we would spread each ribeye and New York cut individually for blast freezing.
I set the brake and got out, hanging onto the side of the truck as I edged over to the loading door. Jake, one of the cutters, came out of the door, waving his arm. "Glenn! Hey—we have this pallet of stuff in the way!" He pointed at a tall, black blanketed pallet near the door. "We gotta move this first!"
I turned around, started the diesel up again, and slowly worked truck and trailer around for a second time in a slow circle, so Jake could get a forklift (with chains on the wheels) in to move the errant pallet. I circled in close behind, as he directed me back in. There. Once again, a bullet was dodged as I did not slide into the building. I set the brake, told my little black and bitchy (mean to strangers) Kelpie to stay in the cab, and we were good to go. She wagged in anticipation, because she knew I would be back with fresh beef bones.
Jake and I commenced to loading my truck. Jake gently lofted each 35 lb box into my waiting hands up in the insulated trailer compartment. He knew impact was tough on our fragile cargo, and expertly directed each box through the air to where I stood—when I was ready. He tossed, I caught. We'd never dropped one yet. As the beef transferred from pallet to truck, we talked.
"What was on that pallet, anyway, Jake?" I wondered because of the black wrap around the contents.
"Beef primals. From Australia."
"For you guys to cut up and vac pack in portion sizes?"
"Yep. Certified Organic and Grass Fed." He stopped for a moment to catch his breath after tossing me box number 44.
"For who?"
"Montana Grassland Beef." (not their real name)
"What? Are you kidding?" I didn't hold my hands out for the next catch; hands on sides, I was waiting for the straight story.
"Yep. We re-cut it, re-package it, and put their label on it. It says Montana Grassland on it." Jake smiled. "It's not illegal, you know."
I did know. It was USDA organic, and grass fed, most likely. But Australia's grass lands were a heck of a long ways from Montana's. With the repeal of COOL (Country of Origin Labeling) 2 years prior, there was no requirement to tell the truth about where the beef came from.
When I got back home, I checked Montana Grassland Beef's webpage. Here's a quote (somewhat disguised to protect the guilty): "All of our meats are grass-fed and grass-finished and come from the best cattle grazing country Montana has to offer." Yep. I guess that's true, alright, if Australia is part of Montana (I've been all over the state but have yet to visit that part).
The fact of the matter is that it's a counterfeit. Not illegal, but nonetheless, totally misleading to the unknowing consumer of said Montana Grassland Beef. Unfortunately, since Caryl and I are in the business, we see things like this all the time. I could write a book about food counterfeiting. But it wouldn't be fun. It'd be too depressing.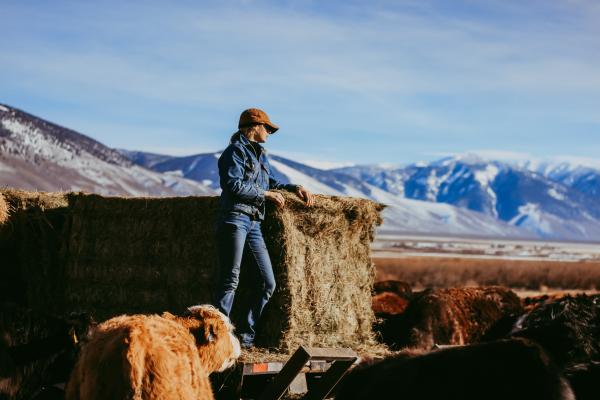 The problem is that in this day and age, consumers are too busy to find out. They don't have time to dig a little deeper, and just want to 'check the box' of organic or grass fed, because Dr. Oz told them to, and they move on to the next item. It's a salve to their food consciousness and mitigates their guilt about feeding themselves and their family. And the meanwhile, back at the ranch, the producer looks for that easy money scheme. Our not-so-friend in Montana knows full well that Aussie beef is as much as 30% less in price than Montana beef; that all converts to cash in his pocket. The siren song is too much to bear.
We hear the same siren serenade all the time. It's background music in all we do. There's hundreds of ways to cheat. And the fact is that in agriculture, we have yet to see an "easy money" scheme that also carries with it the word of integrity. It seems that everyone who honestly goes about the practice of growing food never finds that pot of gold at the end of the rainbow. The key word there, of course is "honestly."
It's a lovely day to be on Alderspring. The peaks around the ranch were just whacked by an overnight blizzard; all but the steepest cliffs and rocks are covered. Fresh avalanche tracks have already torn the blanket of white. The chill air drains off the high peaks and vaults down in squalls of occasional snow flurry fury. Then, blue sky windows stream across the valley floor, bearing bright sunshine over cattle and grass, interspersed with cloud shadow. Air is not just air on a day like this. It's transforming, rejuvenating. I breathe of the draught deeply.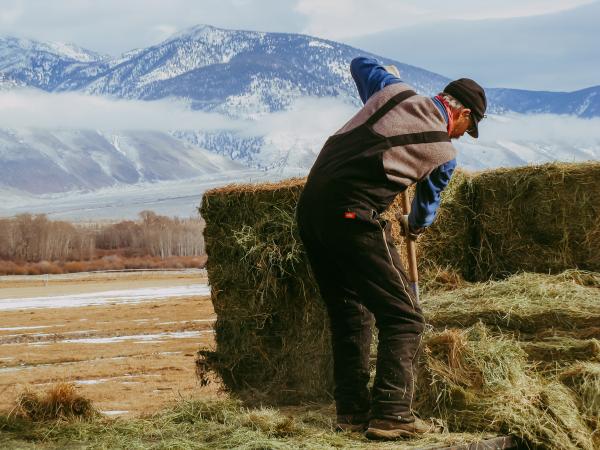 This, I realize, is our unfair advantage. Our "easy money" scheme is laid out right in front of me as I write this, looking out the window: In a few minutes I get to go out in it, and will spread hay out across the same meadows and be part of the scene. It's quite like stepping into a calendar photo that others hang over their desk. I'll share and live in our image with my kids and companions. I'll flake green hay off the wagon to the beeves, who gallop with joy across the open meadows to lick it up as if they've never seen it before.
We are blessed to walk in beauty.
This is the best money. No, it's not easy, to be sure, but it is more rewarding by far than greenbacks from the basement or laundering of Aussie beef on the cheap. Our wild protein comes from our hands and the land on which we walk.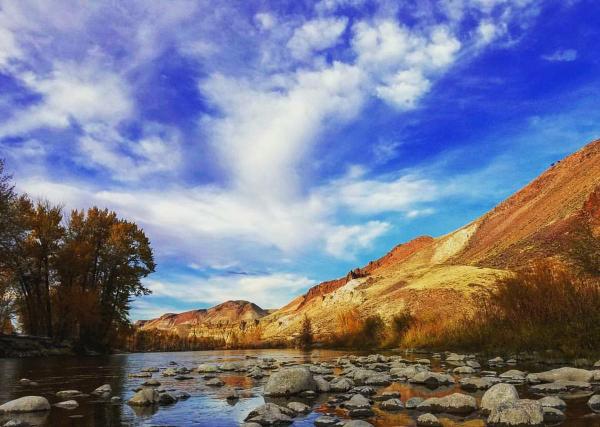 And the added benefit: I sleep well at night.
Happy Trails.
Glenn, Caryl, Cowboys and Girls at Alderspring