I felt the pulse of the helicopter before I heard it. The thumping seemed to reverberate through the ground on which I stood, and then, in a blast of rotor wash and noise, the Jet Ranger erupted over the ridge just below me. The ship swung into a curved trajectory aimed for the head of Horse Basin.
It was a July clear blue sky day in the big dry of the Corral and Horse Basin country. I had arrived about an hour earlier, driving a pickup stuck behind a dust-raising empty cattle semi-truck on a roughly potholed two track road. The volcanic ash dust was nearly thick enough for headlights and windshield wipers. Windows shut with air on full couldn't quite keep it all out, even though I had jammed the handcranked windows as tight as they would allow. I was just a naïve 23-year skinny lanky kid with longish dirty blonde hair jutting out from under a ball cap, asked to help with something I knew absolutely nothing about: a wild horse roundup.
I was a fresh out of college forester guy, after all. I knew something about trees, but this wide open desert of sage and cactus was completely out of my element. When we arrived at the gathering corrals, I pulled up next to the dirt crusted Peterbilt I had followed in. The driver was just climbing down. I recognized him, but he didn't me. He was one Buck Adams, a big bearded local and tough looking hombre who eyed me suspiciously, unsmiling. I had seen him rattle in on a massive D-8 cat, in the middle of the night on a huge wildfire just 3 weeks earlier, covered with impregnated dirt. He took one step toward my partner and I, and without removing his eyes from mine, he spit a long streak of tobacco juice into the dry Idaho dirt, as if saying 'that's what I think of you college kids.' A tiny puff of dust rose up on impact. What I didn't know then was that Buck would become a friend and free giver of horse wisdom 10 years later.
It was my timber crew work partner, John, and I who showed up to help that day, but the horse wrangling crew wouldn't have us. They thought the same of us that Buck did. So they just assigned us a 'scouting' job on the butte, several hundred feet uphill from the corrals and trap where the horses were hoped to be captured in.
I guess they figured we'd be in the way.
We turned to head up the hill. One of them, a cowboy hatted gent named Bob, yelled after us. "Hey—you boys keep yer heads down! And better watch out for them shakertails!"
John and I turned back to face him. "What?," I asked.
"Shakertails." He nodded. "Yep, they'll sure raise hell at this time of year. There's a bunch of them on these hills. They'll hide under some bush, outta the heat." Pause. "Then, they'll latch onto you 'fore ya know it." He nodded, grinning.
John and I looked at each other, and looked blankly back to Bob.
"What–you kids never heard of rattlesnakes?" He shook his head and turned to go back to the horse trap. We could hear him go on with the other wranglers. They were talking about us.
Stupid college kids. Don't know nothin'. Yep. Not a dang thing.
As we climbed the hill, we both realized we'd struck it rich. The butte offered a wonderful panorama of the whole expanse of the broad Horse Basin. It was a big bowl in the rolling hills of endless sage; there wasn't a tree in it, and it was about 6 miles from one end to the other. Countless folds and dry subcanyons forked off of Corral Creek, creating a corrugated landscape.
The helicopter was making the rounds at the head of the basin, evidently looking for its quarry. Then, the flight pattern changed; it began sweeping back in forth, in broad and slow arcs. From our vantage point, we could only see the helicopter, working back and forth above one of the many draws of the valley.
And then, as if the hillside sprung a leak, a mob of multicolored creatures spilled out of one of the canyon bottoms into the broad reach of the basin.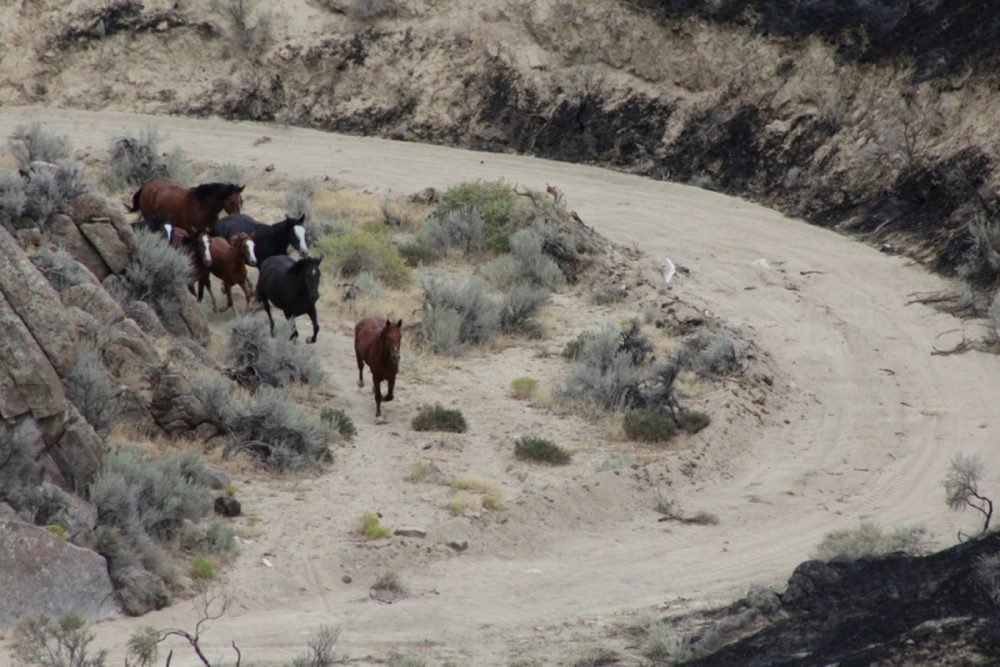 They had been discovered; hide and seek was over.
They were mustangs, or wild horses, and they were heading our way.
Still several miles off, they weren't coming fast. It looked painfully slow, from our lookout. But their direction was steady, and whenever they tried to change it, the chopper pilot artfully dipped into the void of their intended escape.
As they came closer, I noted that many of the mustangs were coming in only at the slower pace of a brisk trot or a slow lope. The helicopter pilot was persistent, yet pressure was fairly relaxed. Horse Basin Creek necks down into a fairly tight canyon, and two wooden drift fences formed a large V, whose vertex ended in the brush in a set of heavy fenced wooden corrals disguised with piles of hanging brush. I could see large pieces of canvas or tarps over some of the fences and gates from my vantage point; apparently they would provide cover for humans who would assist in closing the gate of the "trap."
The horses were beautiful. They sported long flowing and wild looking manes—some reached nearly to the ground–and tails. There were bays, sorrels, blacks and several grays. A broadly muscled stallion brought up the rear. All were sure and certain on their feet as they loped across the broken country without thought. It was the main reason why, I later learned, that helicopters were used. Wranglers on horseback used to gather the herd. But the surefootedness of the mustangs and the familiarity with their habitat made for a difficult go to gather without risk to domestic horse and rider.
The chopper was close now. Some of the horses knew something was up, and attempted to cut back. The pilot was low and slow now, and keeping agile to read any changes in the would-be escape movements of the herd. He was well practiced in this regard; he was a veteran horse roundup flyer who had performed many similar gathers in Wyoming, Idaho and Nevada.
And in an instant, the lead mare bolted through what looked like an escape bottleneck in the willows ahead. The brush would certainly provide cover and safety from the incessant drone and rotor blast of the helicopter.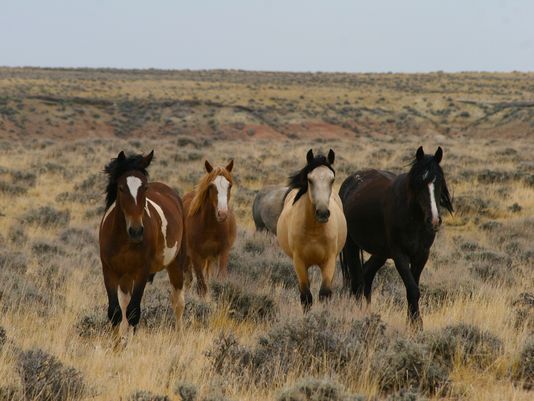 The herd dutifully followed the lead mare, stallion close in tow, now breaking into a gallop. In the dust and tumult created by the Jet Ranger, humans leapt to life from their hiding places and surged forward with the camouflaged gate. Latch chains were looped and clasped shut just as the herd surged back upon discovering the dead end and trap.
Not all of the herd would be removed from the wide wilderness of Corral Basin. Many of the best looking phenotypes would be sorted off and re-released. The entire process began in an attempt to maintain wild horse herds at sustainable levels through offering mustangs up for adoption, and it was soon realized that improvement of the bloodlines was key to the public wanting to adopt them.
And so, nearly 100 mustangs were loaded in semis that day. Horses were trucked to Salmon, Idaho, where processing corrals and an adoption center were located. In just over a month, most of the captured mustangs would be adopted by individuals (many of them ranchers) looking for additions to their own working horse herds.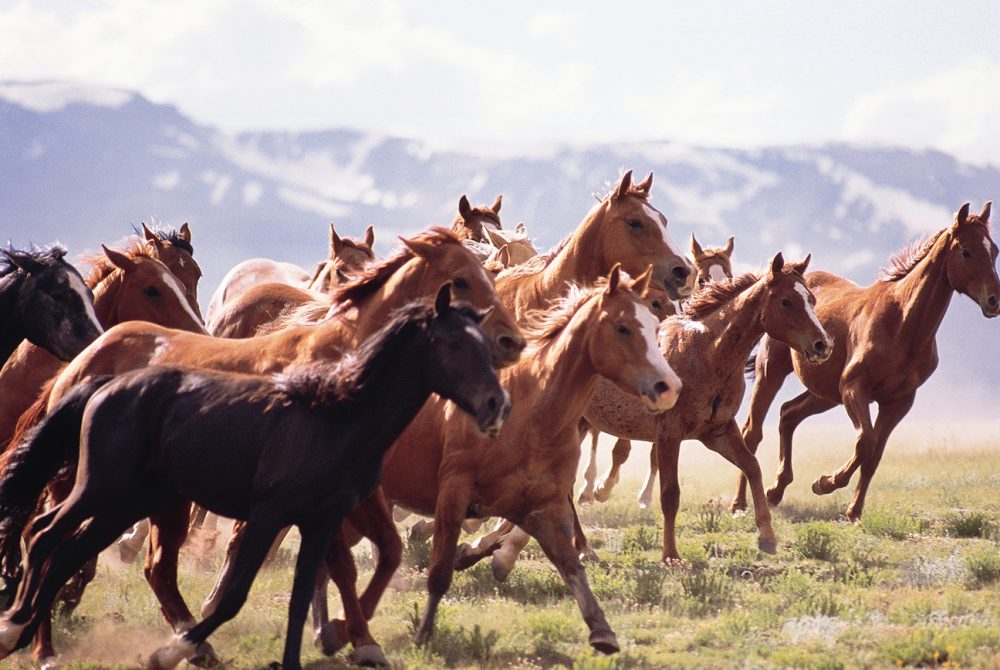 The cows were about to start calving, and by the way the clouds were forming up, there could be snow on the horizon. It was March on the first Alderspring Ranch in the Lemhi Valley, and a chill wind was building velocity from up Agency Creek. It was where our worst wind came from, forced into submission by basin and range topography that created a trench between big mountains. It was a wind tunnel.
The heavy with calf mama cows were in the thick cottonwoods at the bottom of what we called the bar fields, the most distant piece of then Alderspring. I couldn't blame them, but we needed to get them out of there and closer to home. I had 8 year old Melanie with me, aboard the older gray mare Bonnie. I rode Sally, the younger quarter horse. We drifted down to the cows, and loosed them from their comfortable beds. We would have ample time to gather them and drop them off the break before a squall hit if we moved fast.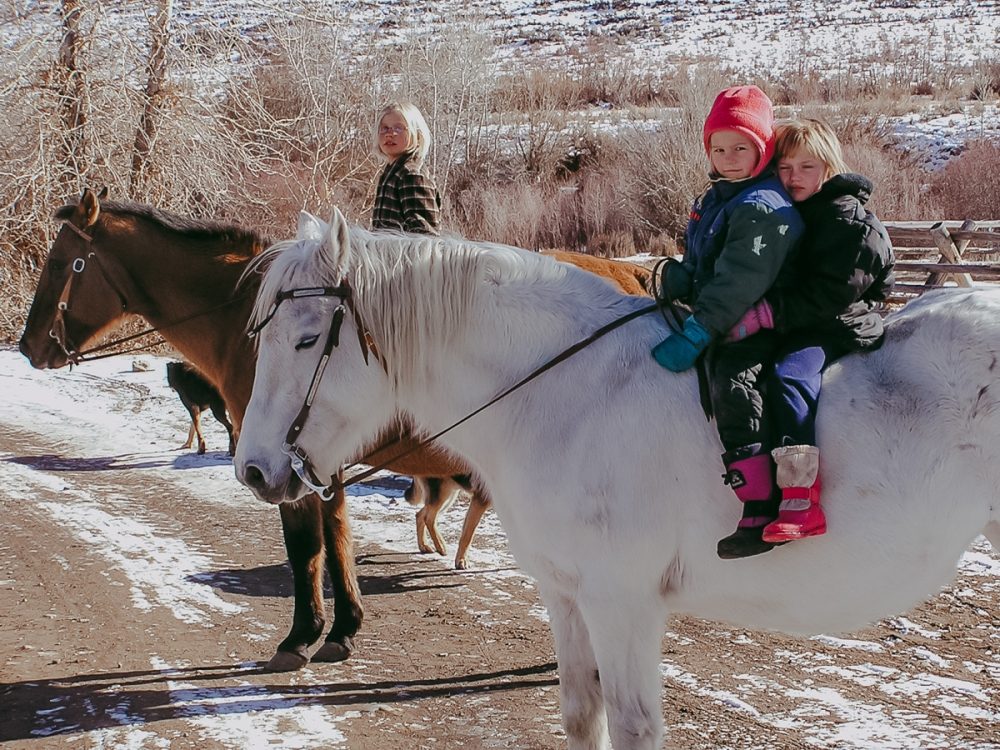 The problem is that fast and cows usually are polar opposites.
And this day was no exception. We were halfway to our sheltered destination in the willows before the squall hit. Big flakes of horizontal snow plastered us and the cows. Our two whitish grey mares became invisible; black Angus cows became Holsteins. Worse, we were taking them into the wind, and they didn't want to go.
The ground grew white in minutes. Visibility went straight to zero.
We had just achieved a gather, and it was no time to give in now. Despite the howl of the blizzard, I could hear Melanie whimpering on the other side of the herd, and yet her mare, Bonnie, was stoically staying firm beneath her despite the blinding pelt of great snowflakes. Melanie, like her mount, knew that despite her discomfort, we had a job to do, and it needed done. I could see her form, ghostlike, as if floating in the air over her invisible mare, through the thick snow that now coated our black cows in white.
In another 100 yards, the cows finally bent to our will, as they learned our intentions; they knew what lay ahead: shelter and quiet from the storm blast in willows and cottonwoods along Agency Creek.
They knew the ranch, even in whiteout conditions, better than we. And they upped their gait concurrently, as they skipped down the trail off the bleak plateau down into the safety of the bottoms.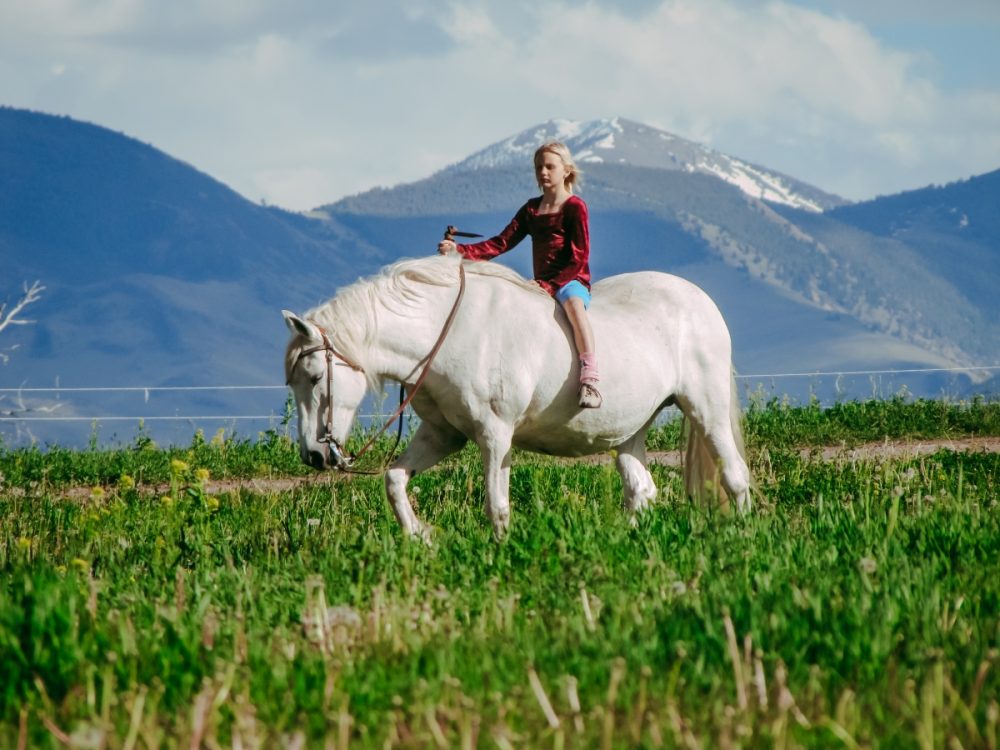 Bonnie, Melanie's mare, would essentially raise our kids on horseback. For each of them, the wizened gray was their first ride. After many more rides on the oft-times plodding aging mare, they would graduate, and another of the 7 girls would jump on her bareback.
She was always kind; she never bucked or wiped kids off as some of the other crafty and bitchy mares would under low branches or thick timber. She always stood quiet to be mounted, and in off-work times, would allow capes and wildly fluttering princess dresses in the make-believe wonderlands that girls would create when girls were girls.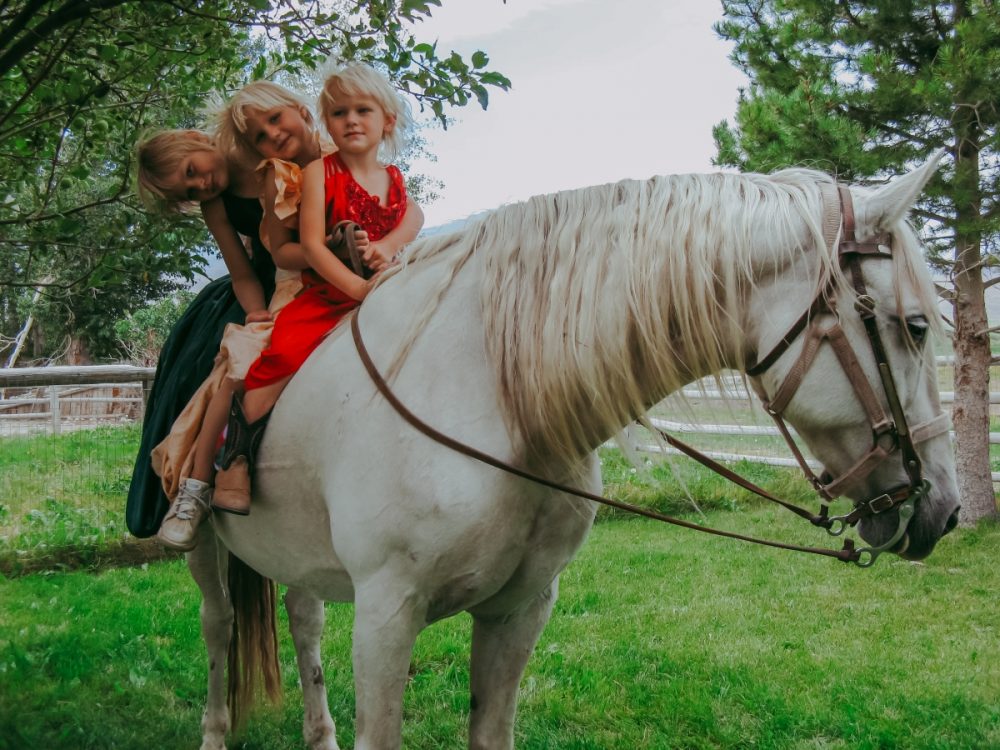 And she was long lived. She was over 35, we thought, when I had to put her down quietly. One day, her legs gave out, and she couldn't get up.
You see, dear reader, no one knew quite when Bonnie came to be, because no human who counts days was there.
She was born outside of time, one spring day in the wild and rolling hinterlands of Horse Basin, in a place where the wind blows free, and the coyote howls. Her first breaths and bites were of the fragrance of high rangeland wildflowers, and her first drink was from the spring snowmelt waters of Corral Creek.
She had lived in the wide-open outback, through brutal midwinter blizzards, high desert shimmering heat and late August thunderstorms that rained not water but lighting.
She had flint-like feet, and never wore iron on them. Such was the wild horse foot she wore; nature had created through selection the best feet in a mustang. Those who didn't carry the genetic of strong hooves in that wild and rocky country would simply cease to exist; they would fade away, never to keep up with the herd they found security in.
And their poor footed bones would bleach as a testament to that which would not fit in such rugged and unforgiving lands.
But Bonnie's didn't. She was strong, and full of grace and go on that day when that noisy intruder from the sky showed up. Like the others, she submitted to the trap of men.
And a wise outfitter named Bill Bernt gathered her up in adoption, to place in his pack string. Unlike many, Bonnie was willing to yield to the quiet hand of Bill, and became accustomed to the utilitarian life of packing camp and elk meat out of the high country for Aggipah Outfitters.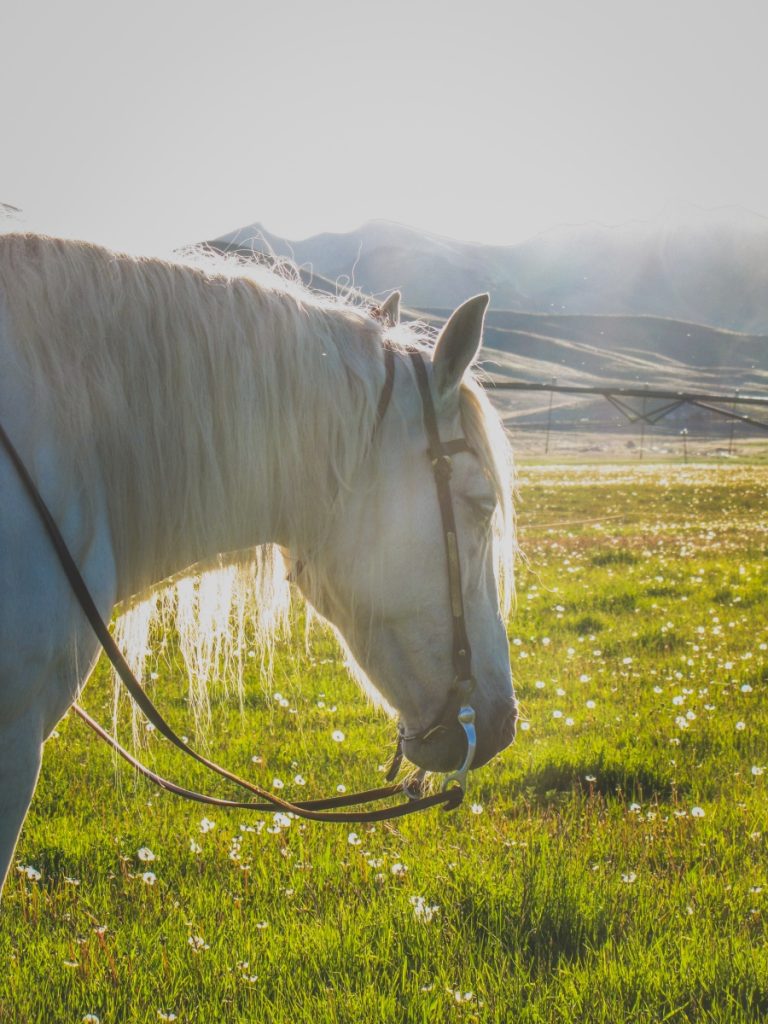 But one day, Bill retired her, and our neighbors Tim and Erica ended up with her. She was already 20 or so, and Tim and Erica's three girls had a horse. And when they grew out of her, we were next in line.
And so, I reflect thankfully when I recall that day on that hill above Horse Basin. Because, as best as I can put it together, I believe that one of those grays descending into the mustang trap that day was none other than Bonnie. And that horse-ignorant youth with longish hair and a skinny form would learn from her—and trust her to care for his own offspring daughters—this one from a wild land outside of time.
Oh, and one more thing. There was one other lesson to take from that day: I knew from then on to watch out for those shakertails.
I hope you do as well.
Glenn, Caryl, girls and cowhands from Alderspring.
For 26 years, handcrafting unparalleled flavor and wellness while regenerating wild landscapes. Wild Wellness Delivered.