The Brumbies are back. These wild horses of the open range first stole into camp back in Bear Basin two weeks ago and tried to make off with our own cavvy of horseflesh. Some of you probably read about it on Instagram. If you haven't, here's a take on that tumultuous night from crew boss Linnaea's (3rd oldest Elzinga daughter):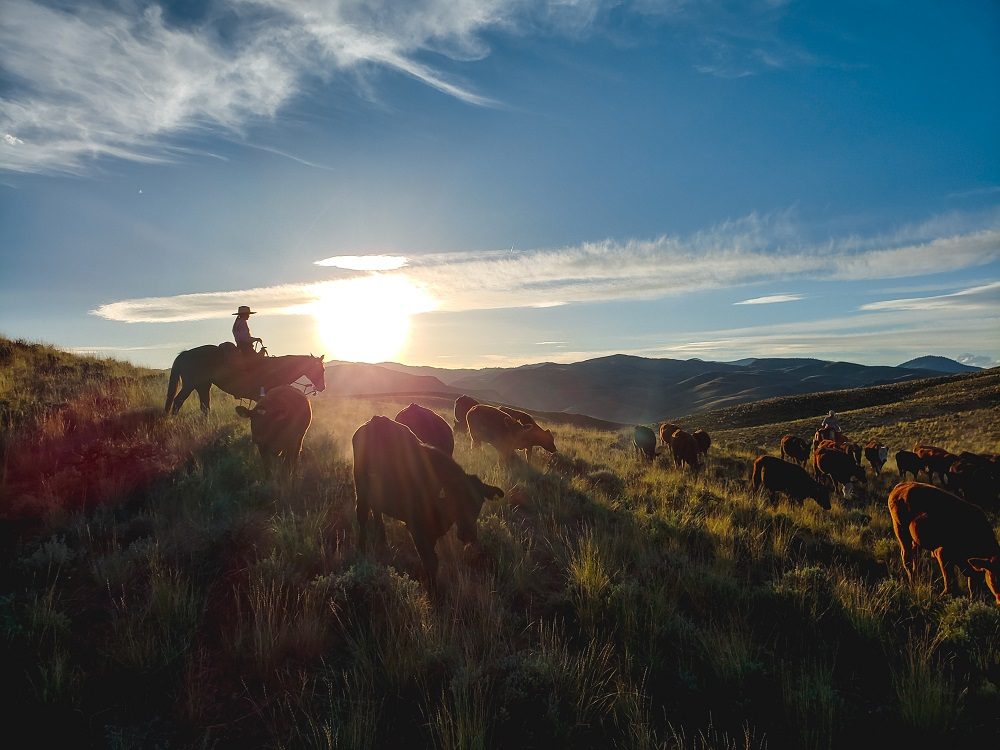 "We'd made it back to camp before dark, closed the cattle up in the night pen, and put our horses away in their own small hotwire paddock. It was finally time for us humans to eat, so Nate, Rebecca, Colton, and I had settled down for a nice 10 PM dinner by lantern light.

"The sky was still light from the sunset, a dark blue backdrop hinted with pink and a few stars. That's when I saw them: Three horses, then another three, running across the ridge above camp before disappearing below the hill.

"Colton said later that the horror on my face made him freeze mid-chew. My first thought was that these were our horses, somehow escaped from their paddock. The night ahead flashed through my mind: hours spent tramping in cowboy boots after contrary horses. But then I realized they were going the wrong direction. Our paint mare, Roxy, always has the pastures of home on her mind, and regardless of the thirty miles to the ranch, I knew Roxy would have led a band of escapees that way.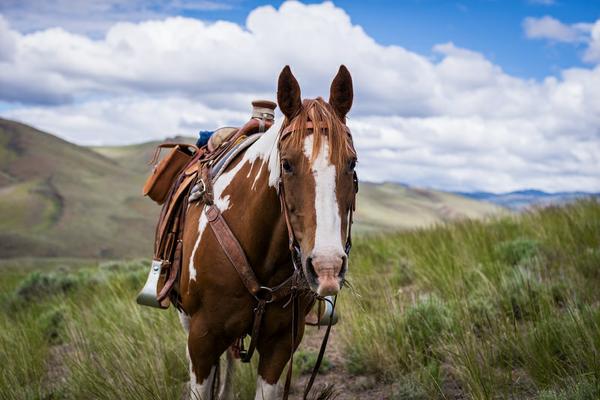 "Then I realized: The brumbies had found us.
"Brumbies" is a term we've adopted from the Aussies for the band of feral horses that roam our rangeland. They aren't mustangs, rather domestic horses gone wild. They're led by a huge black stallion. He's an impressive sight.

"I finished my dinner, then, unable to shake some concern about our own horses, walked by moonlight up the hill to the night paddocks. I could tell, even from a distance, that things weren't right: the cattle were mostly standing, shifting around nervously.

"Then I heard angry squeals, the kind that comes from a grumpy mare (we have several of them, Roxy included), who has just met other mean mares. In the darkness I spotted the brumbies, and our own horses, sniffing and biting (the traditional horse greeting). I was relieved to see, however, that both groups were still on opposite sides of the fence. The brumbies hadn't run right through our hotwire.
"I turned on my flashlight and charged, yelling and waving my arms. They turned and ran. I chased them until they disappeared over the ridge, then stood there in the darkness, waiting. The cows in their paddock stared. Maybe they enjoyed the unexpected entertainment. 
"I heard the hoofbeats, trotting back. They came over the hill, heads up, sniffing for our horses.
"Flashlight came back on, and so did the running and screaming. Then they were gone again. 
I made my way back to camp and crew to explain the situation. In the darkness, the four of us climbed back onto the hilltop to assemble a tent, staking it down against wind and storm (we could hear distant thunder, and see occasional lighting in the clouds). Nate volunteered to take watch, despite the possibility of a windy night on an unsheltered ridge. Camped next to the horses, he'd be able to hear the hoofbeats and whinnies if the brumbies came back to try and steal our horses.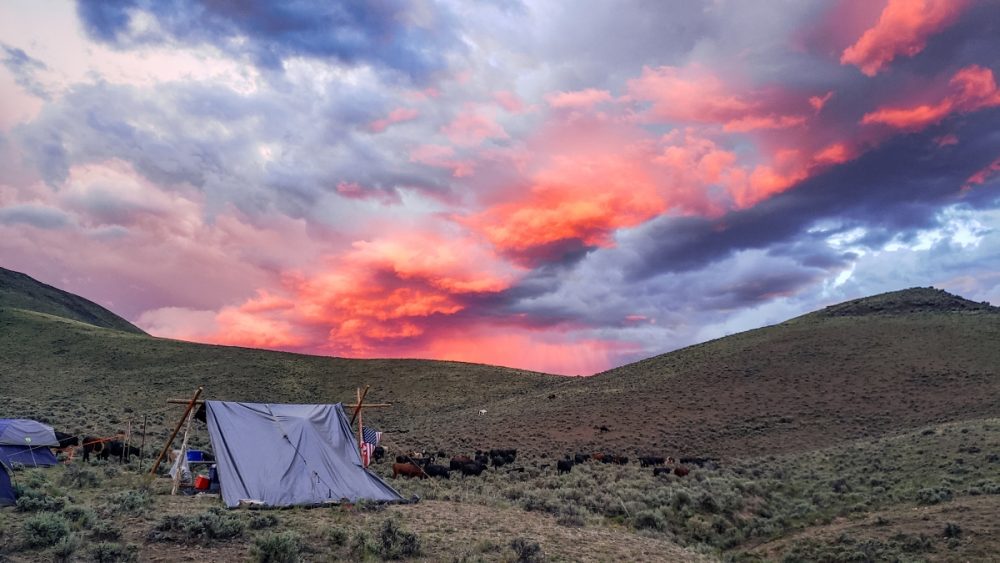 We left him settled in his lone tent on the hill, and by around midnight were all in our own tents in cow camp.
"Nevertheless, we all slept lightly: I was aware of the rain when it finally came at around 2 in the morning, and my ears picked up the occasional whinny from the ridge. But all was well. We were greeted by a smiling Nate the next morning, who reported that the brumbies never returned.
 "For the next few days, we all kept our eyes peeled. We spotted them once on a hill side, miles from camp. There was a black one in their midst, maybe the big stallion. But they never ventured back to bother our horses. I would like to say it was because of my insane flashlight waving/screaming skills, but more likely, they took one look at Roxy or the lazy, mild-mannered gelding George, and decided it wasn't worth the trouble."
I didn't hear about it until they got back. Linnaea was never one to ask for help when things go awry.
So, thanks to Linnaea and her great crew (and night watchman, Nate, spiked out in the tiny tent on that wild blasted knoll), we still have all our horses. At least, I think I do. There is no cell service from here to cow camp. Melanie (oldest daughter) is crew boss right now, and there is no quick way to get word out. She is a solid two hour drive from headquarters, even though we can see where she is from the ranch house with binoculars. She does pack a texting only satellite phone for emergencies.
But she was never one to ask for help if things did go awry, either.
I had taken over the crew in the Beaver camp last week, and we knew the brumbies had already staked some claim on our territory. There were fairly fresh tracks in the mud along the margin of Little Hat Creek, but the most obvious indications of their occupancy in our new terrain were the stud piles.
They are calling cards left by the black stallion, or lead stud horse. They mark territory, and define boundaries where he will run with his harem. I found some fairly large ones around Beaver camp, strategically placed on high ridges, a thousand feet above the valley where we resided.
Dear reader, you may wonder what this particular territorial marker is. They are quite simply described: they are, in three words, piles of poop.
So a particular stud holds his bowel materiel and strategically deposits droppings in accumulating single piles, as to say: "Don't mess with me or my mares. Ever. As this pile is massive, so am I."
I mean, he will actually revisit piles. He knows where they are, and holds his deposits until he returns to individual marking areas. We see them on ridges, every quarter mile or so, demarcating territorial boundaries.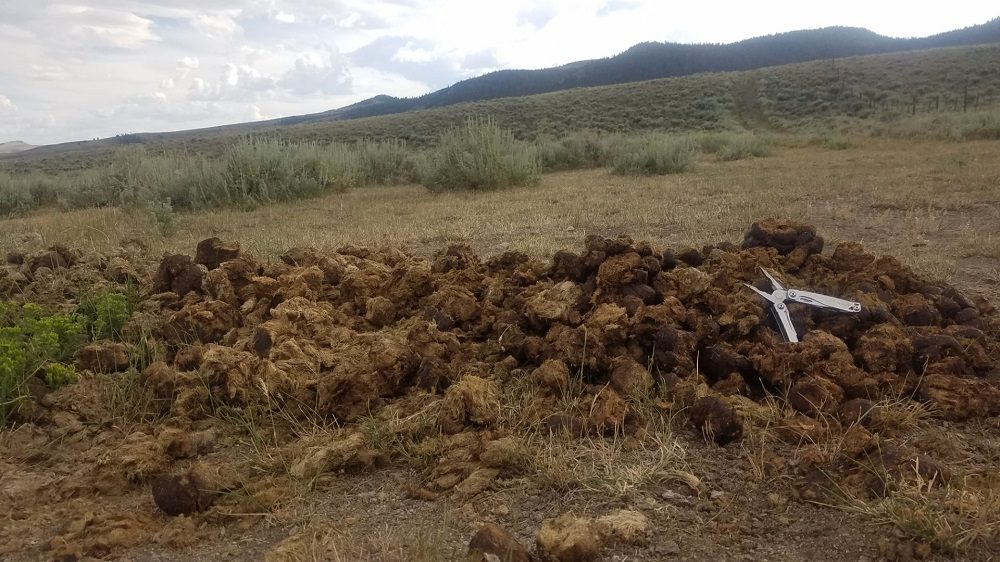 You see, in the millennia over which horse and horse habit and behavior became embedded in the genome, in the mysterious meanderings of the male mind, a reality materialized in these studs and stallions. It was that the dude with the biggest pile of poop was king equine.
And somehow, I think, he even led himself to believe that females were impressed by said highest heap.
Humans are no different. At the zenith of machismo post adolescence, men convince themselves that women are intrigued and enthralled by the most stereotypically unfeminine things.
I recall one year I was selling some Douglas-fir timber on the stump to one Eric, the logger. He was 23 years old and was owning and running his own business. He had 4 Stihl chainsaws, a Caterpillar bulldozer, a Cat 518 log skidder and a Peterbilt log truck. We climbed into his Dodge Diesel Cummins 12 valve crew cab pickup with the 4 inch lift kit that you needed running board steps to get into and cruised the perimeter of this stand of Idaho forest.
"Nice pickup," I said.
"Thanks. Put a lot of work into it. Figure I needed a babe magnet." He glanced over with a "you know what I mean 'cause yer a guy" look (I did).
Eric was a bachelor logger, and I guessed he figured he needed a wife to add to his equipment fleet. And that Cummins 12 valve pickup was going to attract her. With the lift kit.
A stud pile, of sorts. Bigger, louder, taller, more powerful. A lot of money. A lot of material.
I've quizzed a number of women over the years about their possible attraction to loud, powerful, black-smoke belching diesel pickups with lift kits.
I have yet to meet one attracted thusly.
So, I'm guessing mares really run unimpressed by the pile of crap that this great stud produces, and perhaps as their human counterparts do, participate in more than a little girl to girl eye rolling when said stud does his accumulating business. However, I am guessing, that as with Dodge diesel pickups, some lesser poop producing studs are duly impressed at the volume of certain stud piles. So, the ruse works to some degree. Small pile producing stud keeps head low to the ground and stays clear of harem mares. Runs alone in the next canyon. Watches wistfully from adjacent ridges. And keeps distance.
I saw him a couple of weeks ago. The black one. Massive half draft stud. Wind blowing long mane, and tail long enough to reach the ground. I was on a dirt bike on a lonely dirt trail at 7000 feet, riding the skyline, near the height of the clouds, coming from cow camp.
I shut off the bike and stopped, getting off. He turned toward me from 100 feet away, facing me head on. Nostrils flared as he tested my scent. In instinct, he slowly turned broadside to me, and arched his neck with his front feet placed strategically uphill. The wind now coursed over his flanks, as long and wild mane caressed half of his body, and his jet black tail streamed far behind him. He was a stud, and the king, and he knew it. He flexed his muscles, intimidating any and all who would watch him.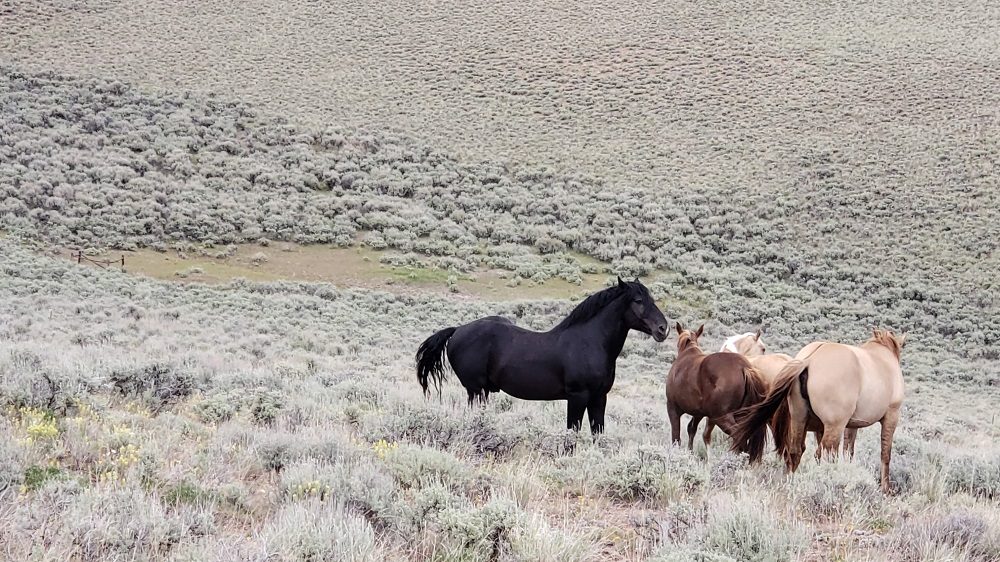 And I was. He is a hero of horse, and appropriately rules these windswept and wild ranges. He prevails through lightning storms that pound in a relentless dance across the barren lands of the sagebrush ocean in the high heat of summer, and leads his harem to good graces of the deep grasses cloaking the canyon bottoms in midwinter when snow crusted all, and the arctic blast of winter brought frigid cold.
He was prevailer, provider and prefect of horse for these mountains. He was what the knights and armies of the ancients sought for as the best companion for battle, as chronicled in the book of Job:
Have you given the horse strength?
Have you clothed his neck with thunder?
Can you frighten him like a locust?
His majestic snorting strikes terror.
He paws in the valley, and rejoices in his strength;
He gallops into the clash of arms.
He mocks at fear, and is not frightened;
Nor does he turn back from the sword.
The quiver rattles against him,
The glittering spear and the javelin.
He devours the distance with fierceness and rage.
At the blast of the trumpet he says, 'Aha!'
He smells the battle from afar.

Job 39:19-25
This stallion, this one I stood before, he was and is black majesty.
As we brought the cattle herd on the high ridge above beaver camp, I could see calling cards left by our friend as we grazed through. I scanned the distant breaks, looking for the brumbies, but found nothing. And then, I found out why.
We had been looking in the wrong place. On an ashy white ridge across the entire upper Little Hat valley, miles away, a string of multicolored pearls caught my eye as it was making its way down toward Beaver camp, and our rest horses contentedly grazing there. One particularly large black pearl made its way at the end of the mob.
I could never make it in time to beat them down there and haze them off our riding band, and I knew we were in trouble.
Thankfully, the off shift crew boss Anthony showed up just then with the 4 wheel drive pickup and some camp supplies.
"I have some stuff for camp," he said as he hiked up from the nearby road.
I pointed to the problem unfolding. He knew just what to do, and immediately ran down to the idling truck and made it fast as he could over the 4 miles of broken two track to the camp at canyon bottom.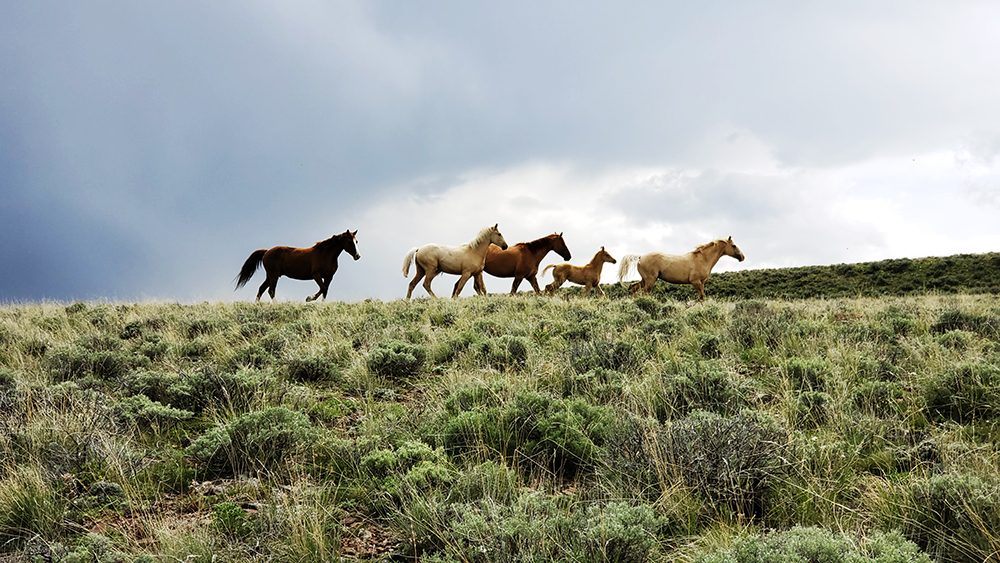 In minutes, bead of pearls reversed their long stride for camp and their newfound would-be companions, and Anthony successfully hazed them upward, back up a thousand feet of canyon slope to the next drainage. I breathed a sigh of relief from the back of my mount, as did my crew members. None of us wanted to try to capture far traveling kidnapped horses on the distant reaches of the range by moonlight that night. They could easily drift 20 miles, and we knew all of us, including our mounts would be tired at the end of a normal day.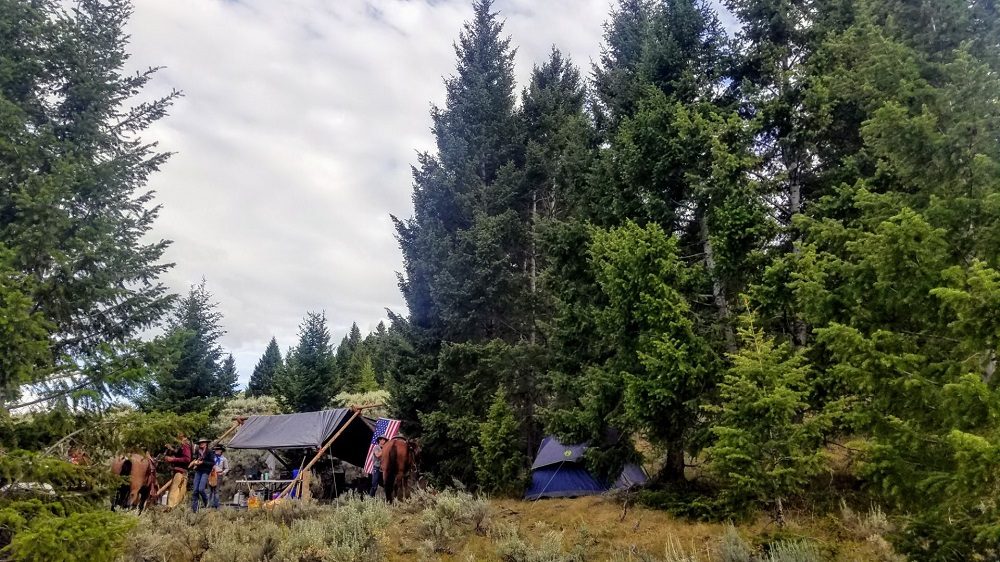 We moved to Moose Camp yesterday. It is about 8 miles away from Beaver camp, and quite a few more from where the Black Stallion likes to run his bands. Besides, we are hitting higher elevations, and darker timber. Here, stud piles are fewer, as the stallion and his band seem to prefer the open and windswept.
There, they can see danger, such as hungry wolf packs, who could easily separate and ambush a part of the herd in dark timber (it is part of the reason we live with our 350 beeves up there). And errant humans, perhaps, keen on capturing them. And so far, they haven't succeeded. We've been ranging in these mountains for almost 15 years, and have yet to hear of humans claiming or reclaiming ownership of any horse from these ranges.
They run free. Like the herds of wild elk that we share our ranges with, they are here.
And we live with them all. We, like them, have become wise to the goodness of this hard, wild grass found on these pristine landscapes.
You experience it too, as eaters of the wild protein we raise. We believe it is unlike any other, with the native plants and primeval soils it is raised on. You sense it in flavor. And then, I think, our bodies sense it in wellness.
Thanks for partaking.
Happy Trails.
Glenn, Caryl and Girls and Cowhands at Alderspring
P.S.–Check out the video below that Anthony took of the black stud!