The year: 1849. The place: Pahsimeroi Valley, Idaho. It is a late September day in the broad valley, and you are standing in tall basin wild rye grass, about 6 feet tall, just up from the extensive complex of willows that defines the Pahsimeroi River bottoms. The grass is robust, and thick. Its quarter inch diameter stems will rub skin raw at this time of year, and settlers to these valleys would give up trying to find cattle in the bottoms until spring, so dense was the sward going into winter.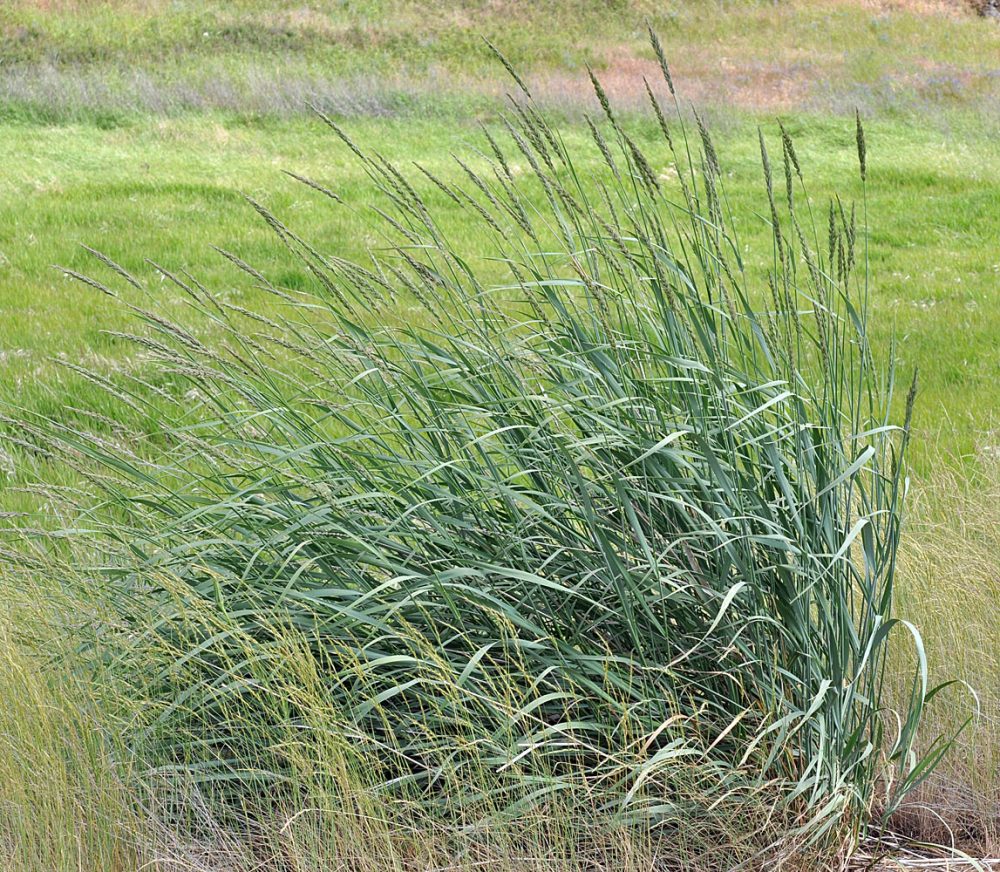 The river is choked with returning-to-spawn Chinook salmon, traveling 900 miles up the wild and free running Columbia, Snake, and Salmon rivers to this place 8 miles up from the confluence with the Salmon River.
You are alone, and note little sound, except the quiet tumble of waters over beaver dams in the nearby river and the swish of the tall ryegrasses around you. An occasional eagle flies over; they are one of many feasting on the dead and dying salmon that drift along the shallows and bayous of the river.
You are alone, from a human standpoint. There is no railroad, no sound of wagons, no hoofbeats here. But things are in motion in California, and even in the southern part of this, the intermountain West, not yet known widely as Idaho.
The motion was people. Thousands of them. They were seeking the glow of the color yellow that they hoped would end up in their hands after a short labor of easy digging. It was gold—quick money—they looked for. There would be 300,000 would-be miners making the trek to San Francisco and the "gold fields" of California. Gold was discovered at Sutter's Mill just a little over a year ago in 1848. By 1850, the Golden State would be so deluged with humans that statehood would be declared.
But they had not yet come here. There were native peoples—the Agaidika, and the Tukudika, loosely knit familial Shoshoni bands living in and around the valley, but they were in no way farmers. The land and the animals and plants on it remained intact and undisturbed in their hunter-gatherer culture. Even bison herds, the symbol of the open and untrammeled West, occasioned the Pahsimeroi up to 1849. There were only a few European settlers in central Idaho.
But the same fever that infected the masses that descended on California would quickly change the face of the land forever in even remote Central Idaho.
When the easy gold ran out in California, hopeful (and often desperate) miners set their sights elsewhere. Word of strikes in the virgin highly mineralized wilderness of the northern Rockies reignited their fever and set them bound for places with beckoning names like Orofino, Idaho (Spanish for "fine gold") and Last Chance Gulch in Helena, Montana.
The central Idaho Mountains, with its granite foundation and abundant quartz rock formations, proved to be a fairly abundant source of gold. The city of Salmon would be transformed by gold discovered throughout the hills around the city of Salmon, and the population exploded. Just the Chinese migrant miner population was estimated at around 3000 at the height of gold mining in the late 1800s, about the same as the current total population of Salmon.
The opportunity of hungry miners with gold dust in their pockets brought the first farms and ranches in the area. The first settlers to the Pahsimeroi were ranchers, capitalizing on the abundance of this very grass you are standing in: Great Basin wildrye. The grass blanketed much of the lower elevation part of the valley floor. It was indeed a land of tall grass, which Pahsimeroi is said to be the ancient word for.
You kick the soil underfoot. It is black. There is thick organic matter here, the result of a cycle unbroken for millennia; rye grass thrives and either feeds infrequent grazing and trampling by bison herds or is set fire by lightning or by indigenous peoples. And then, it grows back, thicker than before. The plant taps its root reserves, ready for such disturbances.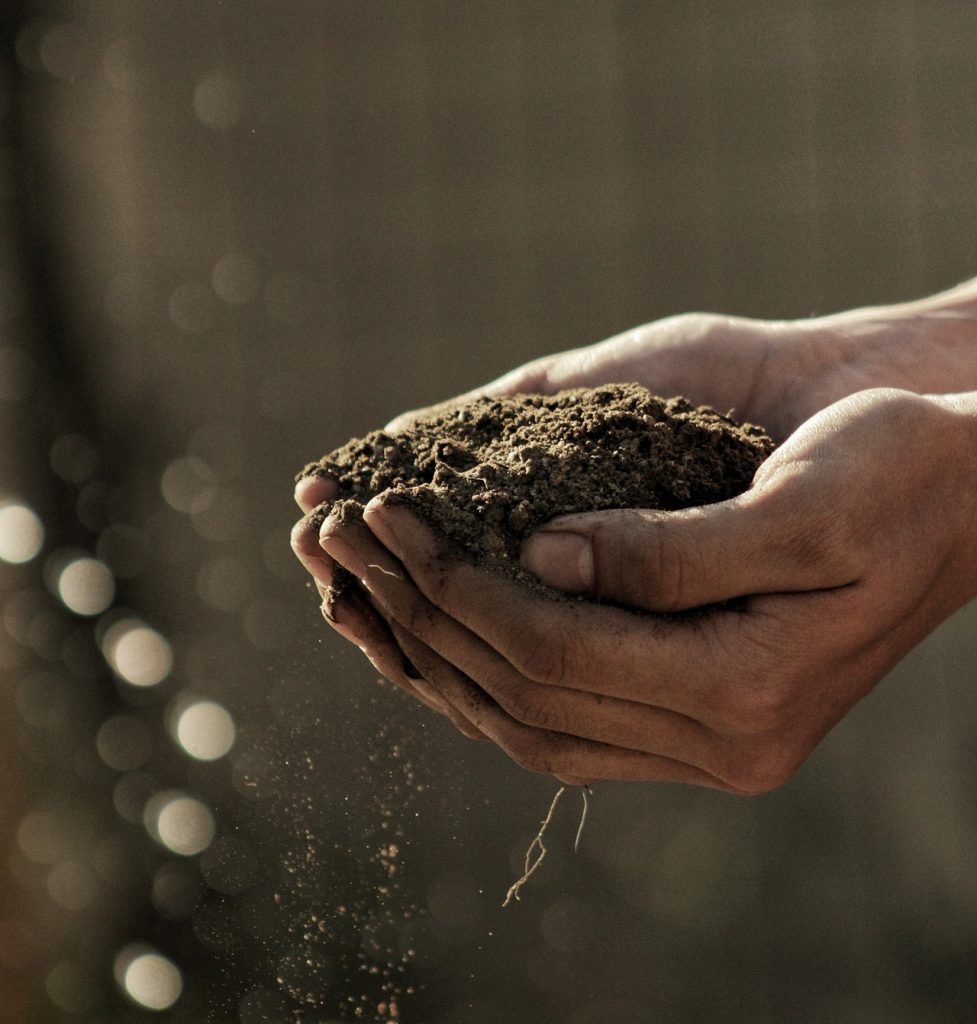 But the riches of these native soils would change in short order. Just as the color gold became a rarity in the nearby mountains, the color black would likewise disappear in the valley soils between those mountains. The settlers approached grasses unwittingly just as their extractive miner counterparts did wittingly. Because it was a plant, they believed it would grow back. But it didn't; root reserves disappeared under continual grazing and plants succumbed to use by the settler's livestock herds.
The mainstay, the foundation of an entire ecosystem, great basin rye, was all but gone in a few short years.
Matters became much worse in 1888. It was shortly after the ground on which you stand was homesteaded, and it was by a family named the Carpenters. Here, they made a claim. From logs pulled by teams of horses from the high timber above the ranch, they founded a hand-hewn cabin for their burgeoning family (still standing on present day Alderspring, now for over 100 years) and a small stock barn (where Ethan milks his cowherd today).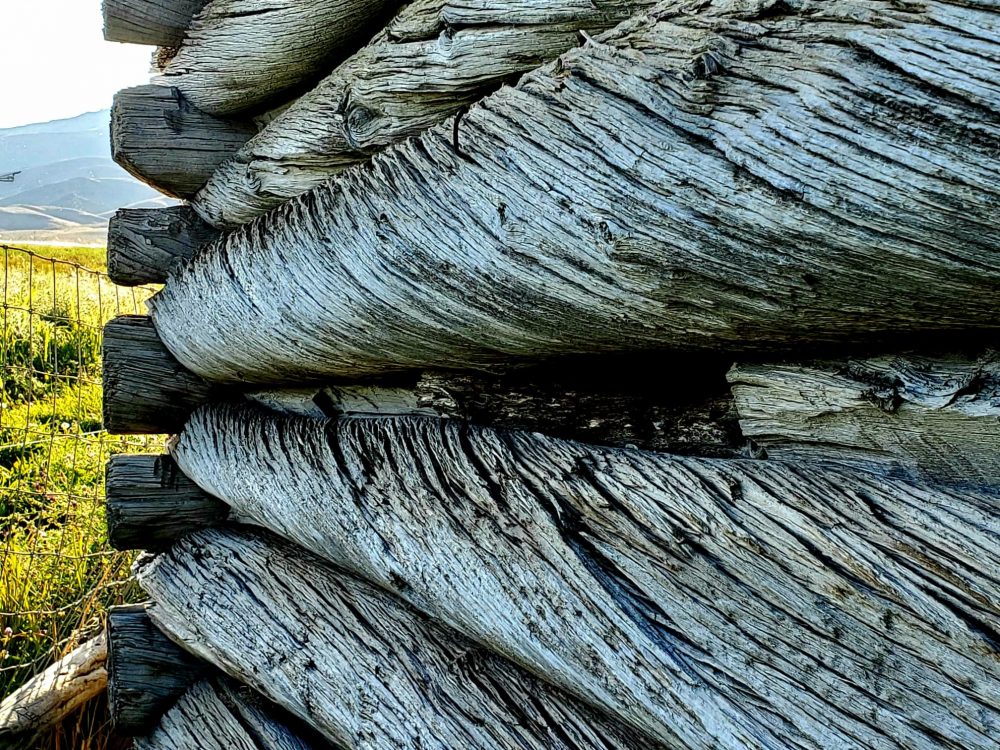 The proceeding summer of 1887 was hard: spring rains never came, and the lesser bunchgrasses that barely hung on shriveled up under the hot sun of summer. Dry winds exacerbated the already grim situation, blowing the thin mountain topsoil around into drifts along the sagebrush bottoms, where basin wildrye once stood, amber, and waving.
Now there was only dirt.
Haying had not yet been adopted. The valley had yielded abundant winter feed for cattle for the earliest settlers. But now, the perennial tall grasses were gone. And this year, the normally ubiquitous bunchgrasses had literally blown away. Stockmen desperately tried to eke out more grass from the mountains, staying on the ranges later. But it wasn't enough.
Winter came early. Wet snow fell thickly through December of '87. And then, brutal arctic cold descended from Canada. The snow turned to concrete. The cows, the sheep, and even the wildlife could not break through to find anything—woody plant or brush. And they died.
As much as 90 percent of all livestock died. Stockmen of the day quipped that "You could walk across the whole 5 mile breadth of the Pahsimeroi Valley on carcasses." Deer and bighorn sheep holed up into canyons, looking for food, and relief from the bitter winds.
And also died.
Most stockmen quit, despondent and broke. Those that stayed on vowed never to let that happen again, and so started a haying revolution in the high Pahsimeroi.
Ditches were dug to water the areas that had once grown the native wild rye. The plants that grew weren't as tall and productive as the rye grass, and weren't as drought tolerant, but they were adapted to grazing and cutting. Ranchers piled tall shocks of hay, the size of barns in stacks with stacking technology borne by logs and poles harvested from the forests. Beaver slides they were called, and teams of horses and mowing machines dotted fields in August, harvesting insurance against winter woes.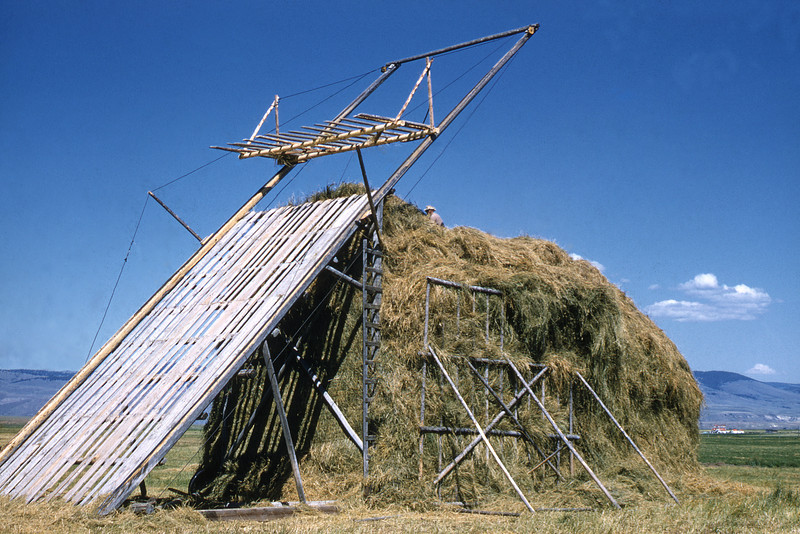 And such losses of stock never happened again. Stockmen were ready.
And so it went for another 120 years. The Carpenter ranch went on for all those years, irrigating, haying, stacking and feeding. It changed hands many times, and the last change happened in 2005, when Caryl and I stood on that very ground I placed you on in your mind's eye over 100 years prior.
The basin wildrye had recolonized since in tiny patches along roads gullies. But the soil never really pulled it back together. Gone was the black clayey loam that typified these bottoms since the ice age. Years and years of slow extraction of beef had resulted in a soil depauperate of organic components. The net biomass removal, year after year, of protein for over 100 years had taken its toll. Even where fertilizer amendments had been placed in these high valleys, organic matter was still greatly reduced from what it had been.
And that means less life. And less living. Organic matter means carbon storage. And water storage. For every 1 % change in organic matter, soils can hold about 24,000 gallons of water. This is huge in a semi arid environment, for not only plants, but the animals, the ecosystems that are founded on the fabric of soil. Also with organic matter comes greatly increased fertility and natural productivity due to beneficial bacteria and fungi that provide water and nutrition to plants.
The black: organic matter. Decaying roots, grasses, and duff. Living and dead worms, arthropods, bacteria and fungi. We'd seen the organic matter in pristine creekside basin wildrye stands on the Hat Creek ranges. Deep. Fragrant, and crumbling to the touch.
In 2009, we sampled our fields. Actually, the government did it. Natural Resources Conservation Service, NRCS sent a tech out to sample our soils. We were redesigning our sorting corral system, and they were helping us with part of it. They wanted to know what the adjacent soil fertility was around our sorting pens.
Our average organic matter: a slightly disappointing 2.5%. Many ag soils in the US run under that; we should have been happy, I suppose. Many run an abysmal 1.5%. But those basin wildrye stands in primeval condition? No-one knows, but an educated guess would be between 8 and 11%. It made the dirt black. Carbon black.
But we had just transitioned the land to organic, and we had high hopes. Sure, our yields weren't very impressive, but we were just starting.
And so, we incorporated more pasture diversity, and hay diversity to our pastures. We ran pastured cattle all year on the ranch, using planned holistic grazing techniques. Previous owners just hayed the ranch in the summer.
Caryl and I had seen a positive animal effect on other places we tended. We knew animals were important. We just didn't know how important.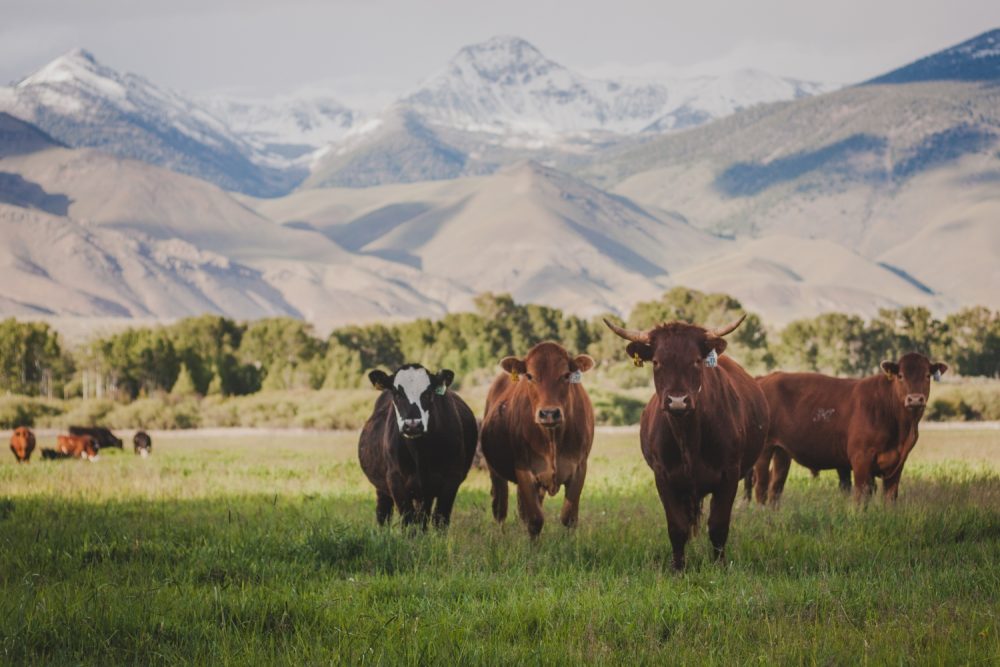 Then, we stopped exporting hay. Most previous landowners had sold hay off the abundant hayfields on the ranch. We saw it as a net biomass removal where we were already removing beef.
And so, drip by very intentional drip, many more steps than I could enumerate here, we worked to improve the land. Could we increase our organic matter by these methods? Could we carry more cattle? Could we make a major increase in productivity both above and below ground with an increase in soil life, converting more raw soil into living soil?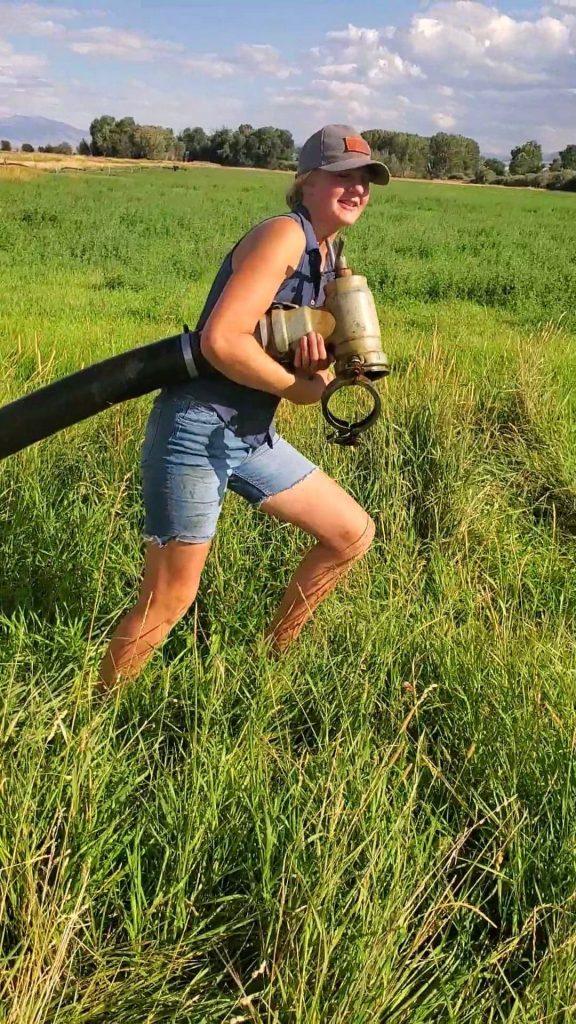 And now, in a climate context, could we sequester more carbon than before? Could Alderspring be carbon harvesters, reversing the carbon equation that typifies agriculture? Could we nearly or totally mimic that which happened before settlement with basin wildrye?
We took soil tests 2 weeks ago. It had been ten years. Rebecca, our Masters of Soil Science employee, fresh out of Iowa State, did our sampling. She chose the same fields the NRCS did a decade ago, and sampled following standardized protocol.
The results? Staggering for Caryl and I. We couldn't believe it. The lowest test of the three came out at 5%. We had doubled organic matter. It was our most regularly hayed field. The other two were 6.7 and 7.2! We had nearly tripled results in one field. We were approaching the organic matter that was there in the natural system!
We were so excited! And we were already reaping the benefits: this year, we've had 2 times the cattle on the place that we did 10 years prior, and our hay yield was similar to what it was then. The animal effect had proven true: soils need animals. And we already knew animals needed healthy soils. Our animals on organic soils were healthier than we have ever seen them. They had less fly counts, and almost non-existent respiratory and gut diseases.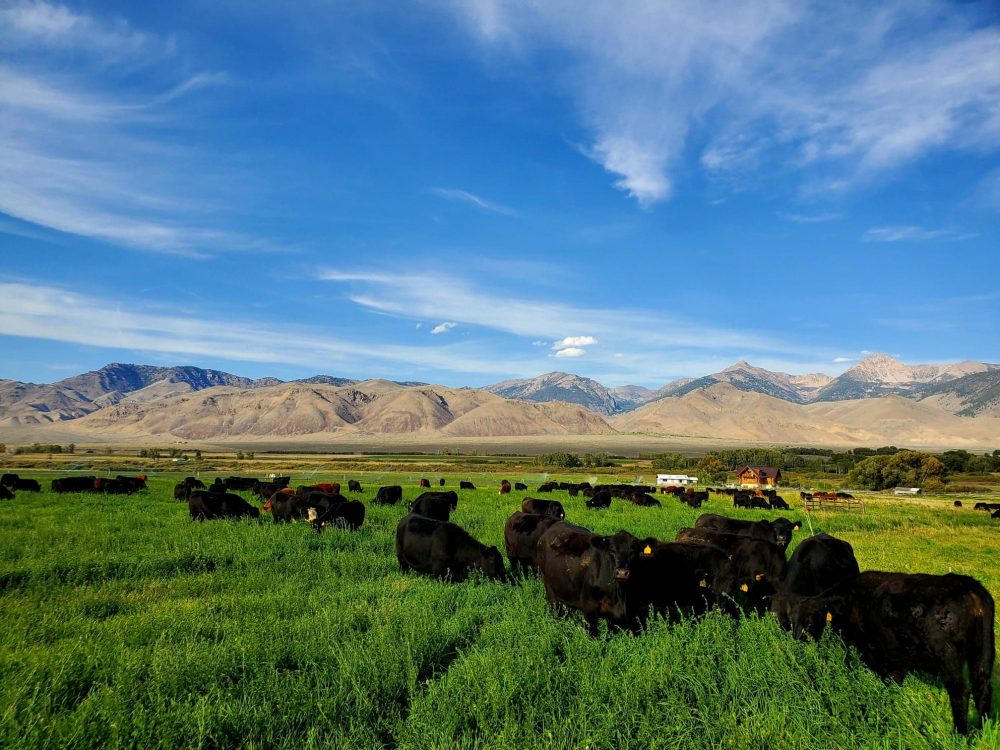 So, as you could probably guess, we've been really happy about all this over this week. I just wanted to share it with you. So next time you hear about carbon being a net loss to the atmosphere by cattle belching, think of our soils. They have doubled or tripled in their carbon holding capability. And they couldn't have done it without cows.
But there's more that made it successful. It is the total eschewing of a chemical-based agriculture. It keeps soils alive, and helps them thrive. I can only call it hubris to spray chemicals on the land when we have absolutely no idea what said substances do to the partners we have underground: bacteria, fungi, and the animals whose rooftop we walk upon.
As Dr. Jill Clapperton stated, "When we stand on soil, we're standing on the rooftop of another world." And that world is now teeming with life on Alderspring. Thanks for helping us do that. Because without your partnership in protein, all our practices would stop. We could no longer make progress on this land, for our health, our wellness and that of the planet's. It would be over.
Thanks again, and Happy Trails.
Glenn, Caryl and Girls at Alderspring