It was hot. Sure, we were at around 6500 feet elevation, near the summit of Little Hat Pass. But it was the early afternoon in early June, and we'd been grazing the beeves up the cool west facing slope leading to the pass all morning. But now we'd reached the height of land—the ridge of the low range of hills that separated the Salmon River Canyon from the Little Hat Creek drainage—and were on a slope that faced straight south. And we went from cool to hot in minutes.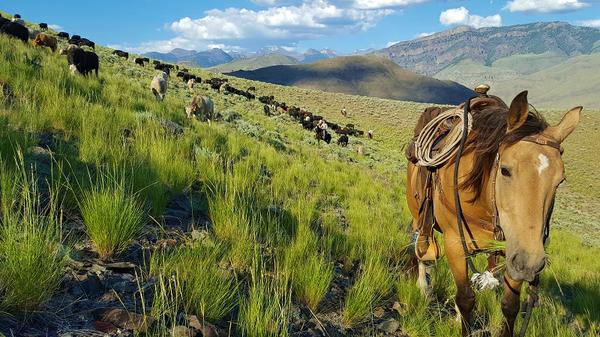 The beeves were hit by combination of midday sun and a full belly, and happily collapsed for a siesta to chew cud. The heat would only last about an hour at this time of year; the peaks above were still resplendent with deep winter snow, and the cool air from their heights would start cascading downward in the midafternoon.
As for me, I swung out of my saddle, and stripped off my oilskin coat. I was burning up in it, although I had needed it early that morning in cow camp. At sunup, while getting breakfast started, the coffee pot sported a thin layer of ice on yesterday's leftover coffee (Worry not, dear coffee loving reader; I would make a fresh pot. No reheating for this cowboy).
I tossed the oilskin over my cantle, and strung it up to the back of my saddle. My forehead dripped in the sudden heat, adding more to the sweat stain on my felt cowboy hat. It was high sun in high desert. Sagebrush sprinkled with deep rooted bunchgrasses and hundreds of forbs, most of which were blooming in the abundant, yet ephemeral soil moisture that typified the start of Great Basin summer.
My buckskin mare, Ginger, was ready to take a break as well. She didn't even want to eat, and created a nice shadow on the plant studded white volcanic substrate below her. I couldn't resist. A wave of siesta craving fell over me as I looked at the parked herd. I looked up to Melanie, also horseback, on the hill above me. She was parked too, watching over the herd.
I smoothed out the dirt in the Ginger shadow and spread out on the white and hot soil, tipping my hat over my face and tucking Ginger's loose lead rope under my back (that way I could feel her move and awaken before she got away). You learn to take sleep when you can, even if it feels like your brain can boil and the heat begins to burn through your chaps.
I was out in a minute.
Most of the time, my midday siestas last only 10 to 15 minutes. It's enough to reboot my brain, and give a spring to my step. But this time, it was cut short at 10, when the tearing sound of a steer grazing just 5 feet away woke me.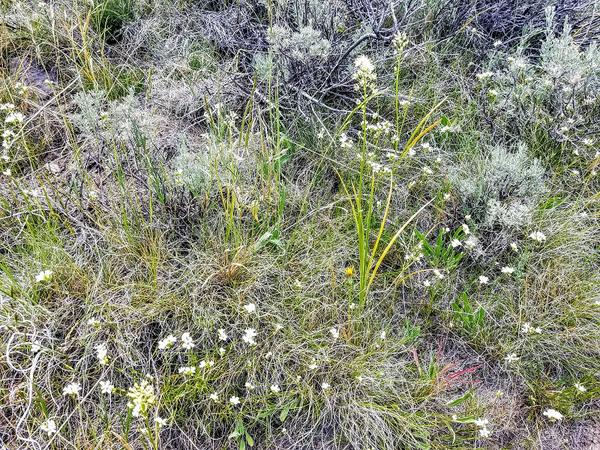 I turned my head sideways to see what he was so intent on. It was Arenaria, the tiny, petite flower, just 3 to 4 inches in height that had almost no leaves. It was a lovely rose-like flower with white petals in arrays of 5 around a golden center. Each flower was only about a quarter inch wide, yet thousands of them covered the ground in a sort of barely visible lacy lattice at this elevation on this particular spot on the Hat Creek Range.
I reached over and popped one of the little blooms into my mouth. And I could immediately see why the black Angus steer could not get enough. It was sweet as honey with a mineralized touch to it—like maple syrup.
It would never fill him, but he was after not fill, but flavor. It was just one example of many plants they gathered, wild-crafted for their own quest for flavor on the range.
At last count, it was five hundred and fifty. That's the number of plant species Alderspring beeves eat on our wild ranges. There are over 2100 total plant species up there; of those our steers graze about a quarter. Contrast that with Alderspring's certified organic valley pastures, which the beeves graze when they come back after their summer grazing foray. There, we have about 50 species, which for domestic ranch or farm pastures is a lot.
I did some research on the species diversity that is recommended for the raising of grass fed beef. Some articles recommended that you should have 5 or 6 different plants in your pasture; many recommended that you should move away from your monoculture of a single species and try to get 3.
Call it anthropomorphism, but I think my steers would like the chance to choose from a wide diversity of plant life. And I believe that it is a game changer for them and their own wellness.
Here's why: Alderspring beeves perform differently than many other producer's cattle do. Not as compared with other range cattle—that is apples to apples. I mean as compared to those private farm pastures, with low diversity. Here's how I have come to believe this: I travel several times a year to symposiums and conferences, sometimes to speak, but mostly to listen. Some of the greatest learning I take on is in the hallway on coffee breaks.
For instance, I presented a talk on how we graze cattle to finish on wild landscapes last week up in Northern Idaho. There were about 175 people in the audience and most of them were cattle producers. After speaking about the strategies we use with our young range riders to keep the cattle on excellent forage while protecting them from any wolf interactions (we have lost zero cattle up there to predation over the past 5 years; before that, we were losing an average of 4 head per year—and the wolves are not shot by us for cattle predation on our range, which happens in most of the Northern Rockies), there was time for some questions.
A middle aged cowboy in the second row raised his hand. "Can you describe your mineral program while you are up there in the mountains grazing?"
For many ranchers, a mineral program is believed to be essential. In fact, there were several cattle mineral/supplement dealers in the very next room. They were marketing everything from salt to custom made supplements of chemicals for the cows to eat based on soil samples on your farm or ranch.
We used to do that 2 decades ago. Everybody, including the county extension agent, said we needed to. But now, we just give them salt. It's Redmond Real Salt, and it's very simply mined out of an ancient seabed in Utah, and it is full of naturally occurring trace minerals from the shallow ocean that covered much of the West. It isn't processed in any way, but simply bagged and shipped to us. Animals need salt, just as we do. If you want to see, or better yet, eat what we use, just look for it in the spice section of your grocery store. It's called Real Salt.
We just weren't having any cattle health problems, so we quit all the supplements, especially after we turned organic. Our cattle were healthy, were breeding back, and sickness was nil.
So I answered the cowboy's question.
"We just give them Redmond salt. And we've found they have no interest in even salt on the lower elevations of our range. There's some salt-bearing plants like saltbrush and greasewood that they graze for the salt they contain. We offer Redmond salt to them, free choice, in cow camp. But they don't eat it."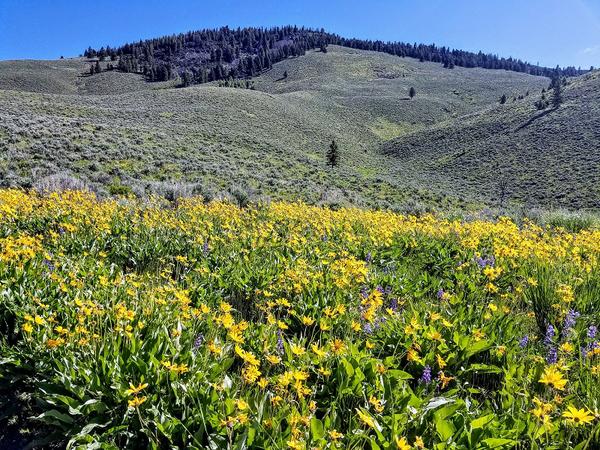 There was some nervous murmuring I could detect in the low light of the conference room. Another cowboy raised his hand.
"How do you deal with things you have to doctor for like pinkeye or foot-rot?"
Pinkeye and foot-rot are both bacterial infections that can plague cattle. I talked to one neighbor who had over 100 cases of pinkeye this year, and he was vaccinating for it (we don't). He doctored every one of them with antibiotics.
I've been there. I remember about 20 years ago, we were running yearling calves all together in a tight bunch in tall grass. I don't know what got it started, but it was a pinkeye wreck as it is highly contagious by flies or tall vegetation or proximity (all three applied to me at that time). I had about 50 head that came down with it, and captured about 40. The other 10 I never caught.
Ironically, the 10 got better on their own just as fast as the ones I doctored. Lesson learned, and not only would I drastically change management, I would also no longer put them through the stress of getting antibiotics in them.
That was then. Now, during the fly season, we are up on the range. There are hardly any flies up there in that wide-open country far detached from the likes of cattle farms and feedlots. But I think there is much more to it than that.
It has to do with the idea of choice. With 500 plus species of plants, Alderspring beeves have free choice over a wide variety of species to self-regulate their own wellness. I see them eat tiny leafy forbs that only Caryl (my resident PhD botanist) knows the name of; in fact, some of them have no common names—only scientific ones. There are great and conspicuous grasses that wave invitingly in the wind—of course, they eat them, but also, there are tiny plants only an inch or two high on a good year.
And they eat those, as well.
And those plants all offer different chemical compounds that contribute to the wellness of bovine. And he or she knows them not by name, but by flavor. Some are sweet on the palate; others are mineralized and kale-like. There are legumes, soft broadleaved forbs, and spiny cacti. There are woody and pungent shrubs the beeves strip some leaves off of.
But they all offer nutrition to the cow. These diverse plants are rooted on rich volcanic soils, and they curate and present needed micronutrients to the cow. And she walks healthy because of it.
It was time to answer that question, so I responded: "We've never doctored anyone on the range. We haven't had a case of foot rot or pinkeye up there, I don't think." I asked Anthony, who was seated in the front row. He was one of Alderspring's range crew bosses, who has been riding with us for 2 years up there.
"Can you recall any, Anthony?"
"No. I can't." Once again, there were sidelong glances and a little elbow nudging with nervous smiles from some in the audience.
"This guy's a nut-burger," they may have said to each other. I did get a lot of puzzled looks from the group, as if not having to doctor cattle was unpatriotic or something.
As I write this, going through my memories on the range, I think perhaps we have had one or two over 13 years and literally thousands of cattle up there. But we never had to doctor them with antibiotics. And it never spread to others. They all self-healed very readily, and never became chronic. As a result, they don't stick in your mind, because you have done right by them.
I can't help but believe it is because they are on the best grass, and in the highest nutrition plane they could be in simply because they have unlimited choice on how to self-regulate it.
At the end of the talk, there were those usual few that worked their way across the group to ask some more questions. And in some of them, I could tell they got it. Either they already had figured out the power of those wild grasses (that sustained wild animals and the Native Americans that ate them for millennia), or they had a light-bulb moment when I related how our beeves create their own wellness.
Like those Native Americans, you can enjoy those same fruits of the land, thanks to the technologies of the internet, freezing to preserve nutrition, and nationwide parcel transportation. It's a gift of good land, wild land, that we all can enjoy these days. Thanks for partaking.
Happy Trails.
Glenn, Caryl, Girls and Cowhands at Alderspring