This week's story comes from the third sister down, Linnaea. We've been reviewing applications and interviewing potential summer range riding interns for much of this week, so this account of a typical day up in cow camp seems appropriate. After all, green pastures and long, hot days are in our not-so-distant future.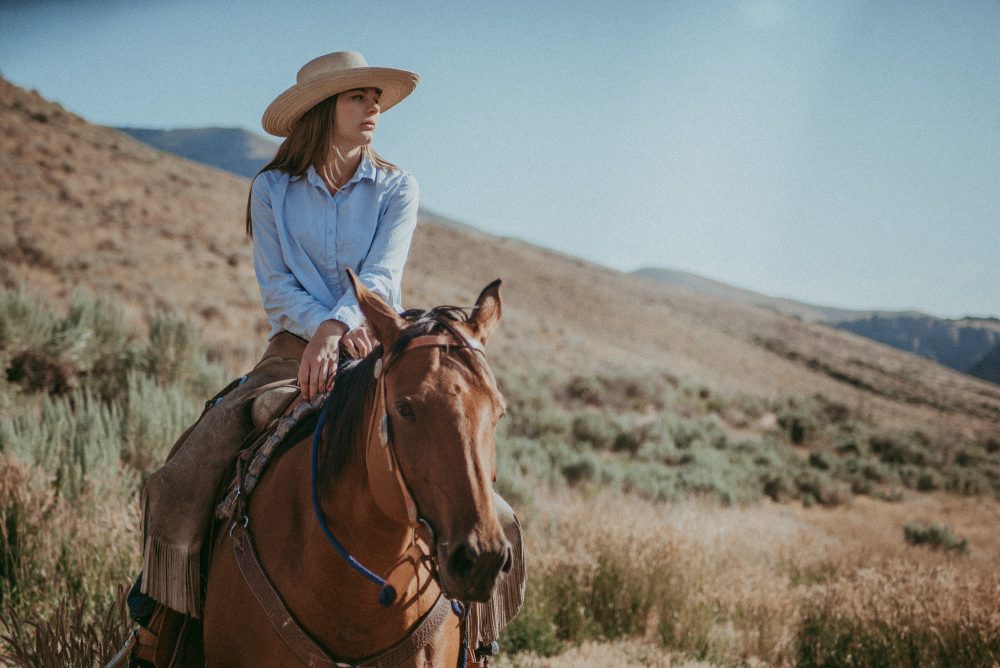 Waking up is hard. The ground, which seemed so uncomfortable last night, feels like a feather bed now. Gradually I crawl from the depths of my sleeping bag, reentering reality blinking and frowning. My face and hair are probably a mess, so as usual I just ignore hygiene completely and move on to my clothes: a pair of men's Wranglers I found for five bucks at a used store (girl's Wrangler's are cheap, tight, sweaty things that don't last three days up here) and a thin long-sleeved cotton shirt that will keep off the mosquitos and sunburn (another used store find). I learned long ago to never wear shirts or jeans in dark colors; you'll sweat for days.
Breakfast wakes me up. Sausage, eggs, and mushrooms in a pan with a little black coffee on the side. I normally don't like coffee. Today I drink it like it's ambrosia, hoping it will put some life in my veins. Then it's off to catch the horses. As always, I'm a little relieved to find them still in their temporary hotwire enclosure. They look at us in disgust as we come. "Really," my mare seems to say. "You again?"
Me again.
Saddling up is quiet. The only sounds are the occasional shifting of our horses and the woosh of leather cinches being tightened. Around me, the birds sing as they only do in the morning, celebrating a new day. The sun creeps through the trees. It is warm on my back as I gently ease the bit between my mare's teeth.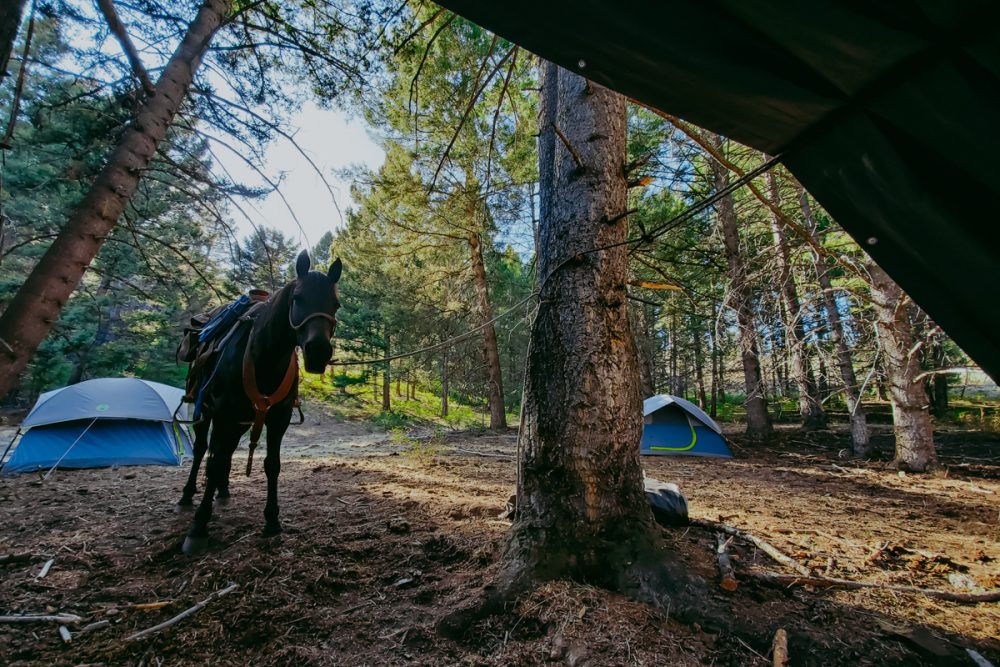 I check my pockets for the three things I've learned the hard way to never go without: a bic lighter, a pocketknife, and a flashlight. Then I slide my hat on, buckling my chinks. They will protect my legs from tall sagebrush on the day ahead, and if my horse happens to slam my knee into a tree, I'll have a little extra protection. Of course, they're not bulletproof: my sisters and I sometimes say a little woefully that our knees will never not be bruised. Our legs become a mess of bruises and scrapes during the summer from various run-ins with rocks, brush and evergreen trees.
Once all the riders have readied themselves and their mounts for the day, we open the gates to the night paddock. The cattle, quiet so far, begin shifting to their feet. Melanie and I head in to wake up the lazier ones, riding our horses quietly through the resting herd. The cattle slowly begin to move as a group, stirring up a million tiny specks of dust that light up in the sunlight. We have names for a few of the cows—the troublemakers, who are usually lined up near the gate in the morning, impatient to be going. Those are the ones you must watch carefully all the time. They are the searchers, the wanderers, always wanting better grass and to see what's over the next ridge. I think they're the smart ones.
Dad stands in the gate as the beeves wander by. He counts each one as it passes. We try to count the cattle at least twice a day and the best time to do so is when they're exiting and entering the hotwire enclosure where they spend their nights, largely immune to the inevitable siren call of wandering out into the darkness by themselves and risking a run-in with predators.
As the line of cattle move out into the open, I suddenly remember the near disaster of yesterday. It spurs me, and my horse, into action. We trot out of the trees and onto the sagebrush-covered hill. I lean forward as I see that the line of black cattle has moved faster than I'd thought. We can't run on this ground; it's too rocky.
When we crest the hill, I see that I am too late. The lead cow is almost to the creek.
Creeks can be disastrous. We keep the cows out of creeks except when drinking in carefully selected areas that are well protected against livestock degradation due to rocks and trees. There are two reasons for this. First, one of our primary goals is to protect the vegetation and habitats along the creek from damage by our cattle. Second, we live in constant, undying terror of creeks. Dad calls it The Dread.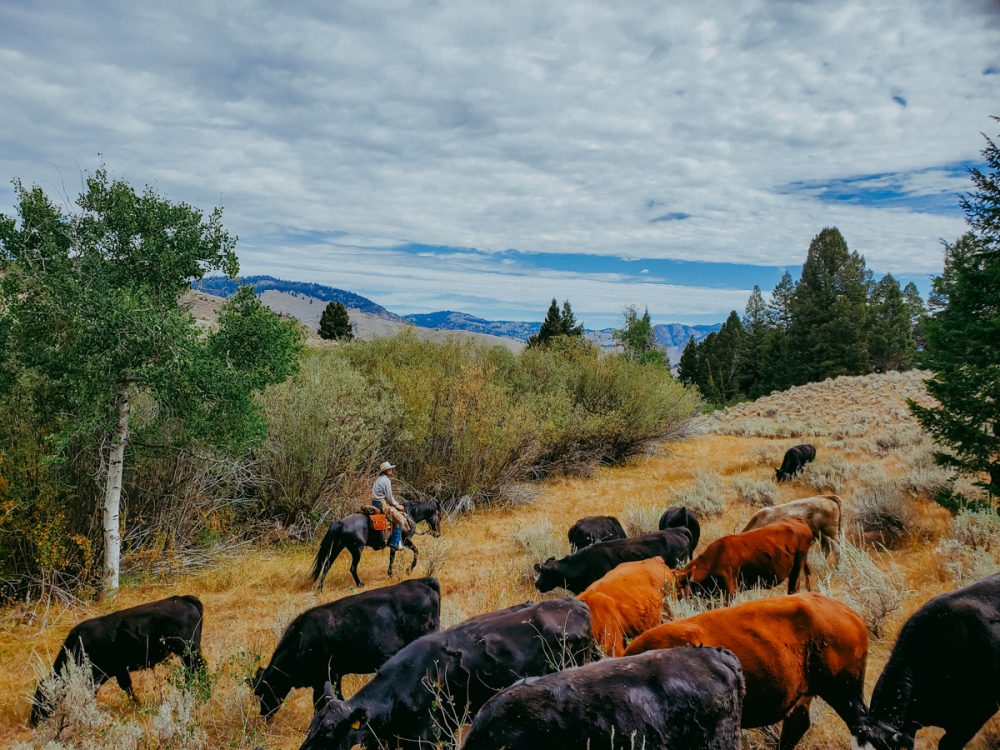 The Dread is not to be laughed at. It was born of experiences in creek bottoms that live in infamy, sticking in the recesses of our minds like a recurring nightmare. We even named those locations, a memorandum to the disaster that there occurred. For instance, there is "The Fire Swamp," "The Crawler," and "Narnia." The Crawler was so dubbed because we spent several hours there digging cattle out of willows too thick to even think of riding through them on horseback. We were literally crawling on our stomachs through mud, stinging nettle (the kind that gives you a nice itchy rash later), and thick brush to herd the cattle out of the swamp. Those are the days that give you a reality check; this job is not always glamorous or romantic.
That day in The Crawler was a very bad and very long day. It was four years ago. We still talk about it. It was the second hardest day I have had in years spent on the range. The hardest day I would prefer not to revisit. Suffice it to say it also involved misadventures in a creek bottom.
So, you understand that as I crest the ridge and see the cattle heading for the creek, a wave of The Dread rises in me. My mare knows too, and she and I run down the hill despite the rocks. But the first few cows have already entered the thick aspens along the creek.
I have found that the range reveals a lot about a person. Everyone has a breaking point, my Dad says, and on the range you're going to find it sooner or later. Probably sooner. Try getting trampled by your panicked horse in a creek and see if you don't come up spitting mud and swearing. Loudly enough that your fellow crew members hear, then look thoughtfully away.
Thankfully, my sister appears before I can go into full Dread Mode. Together, we manage to get the herd turned around and headed out of the creek. It is still morning, and cool, so the shade doesn't tempt them like it usually does. A bit of swearing ensues, but we get them out. Disaster averted.
As we come up the hill with the few last troublemakers, we can see that Dad seems to be pointing the rest of the herd towards some of the high meadows above the creek. This is usually how we communicate the plan, if there even is one: just watch where the head guy (or girl) seems to be heading the herd and help make it happen. It takes a long time to learn it, this silent conversation between people, cattle, and horses, the reading of animals and landscape. I learn something every day I ride, and yet every day I am more aware of how little I know.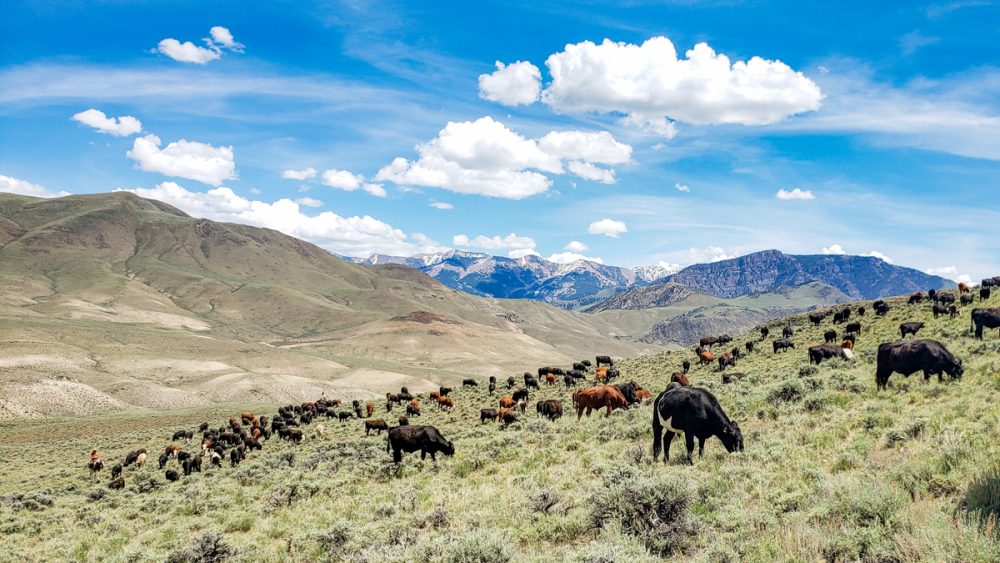 The journey to the high meadows is uneventful, punctuated only by the shuffle of grazing cattle and the occasional "c'mon, kids" to get their attention. In the movies you often see cowboys whooping and whistling, thundering hooves of cattle and horses running. All that noise is not much use. Pretty soon your cows will become deaf to the constant garble, and your fellow crew members will wish they were.
When we reach a green, untouched meadow, we spread out around the cattle, forming a sort of warped triangle. The herd continues to amble along sporadically in a general direction as they graze voraciously, and our job is to manage any dissenters breaking formation on the outskirts. If any cows wander into your part of the triangle, you gently turn them back into the herd. The unspoken rule is that you don't mess with your fellow rider's cows or territory if they have it handled; that's just plain rude. And you never ride between another rider and the cattle unless it can't be helped.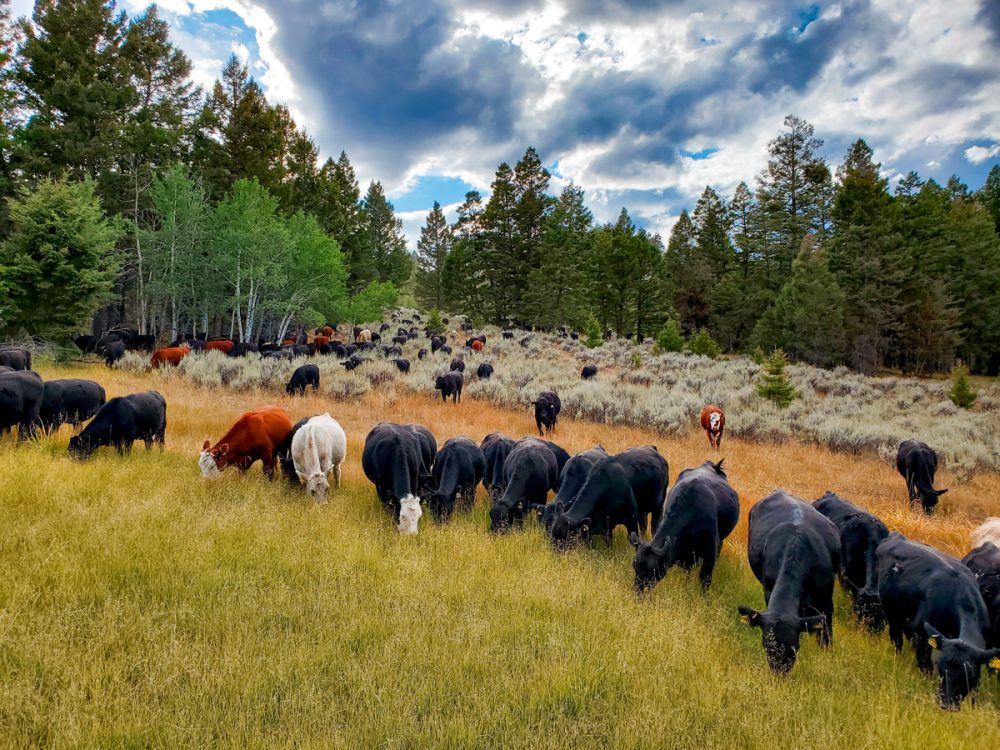 The cattle eventually stop completely and lay down to chew the cud. A swift, cooling breeze blows over the ridge, rushing against my hot skin. I dismount, sitting almost against my horse's legs to get as close as possible to the shade she produces. Lunch is a feast of lukewarm water, beef jerky, and Trail Cookies (my own recipe, the only rule being to cram as many calories as possible into each cookie).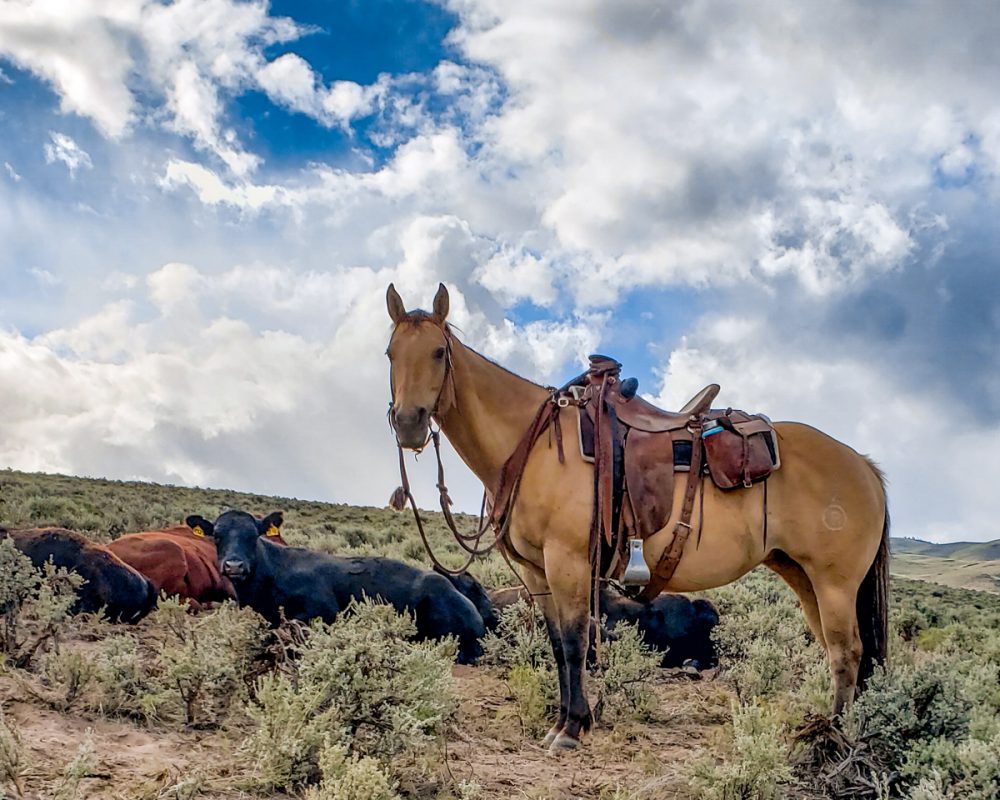 The day passes quietly. The thing about the range is that there is an occasional near disaster or high-action, high-adrenaline moment. The rest of the day is slow enough to drive you crazy if you don't keep your mind occupied. I usually pull a book out of my saddle bag to pass the time, sitting in the shade of my horse and glancing up occasionally to make sure the cows aren't running for the hills (or, God forbid, the creek). Sometimes I'll sit on my horse when the cows aren't laying down, because I know I'll have to go get a wandering one every ten minutes or so. At those quiet moments I swing a leg over the saddle-horn in a very undignified, un-cowgirl way and sit sidesaddle for a while in order to stretch my legs. They get a little tired of straddling my horse. Especially since she's a stocky little Quarter Horse, and I have rather short legs by Elzinga standards (at 5'7", I'm the family midget).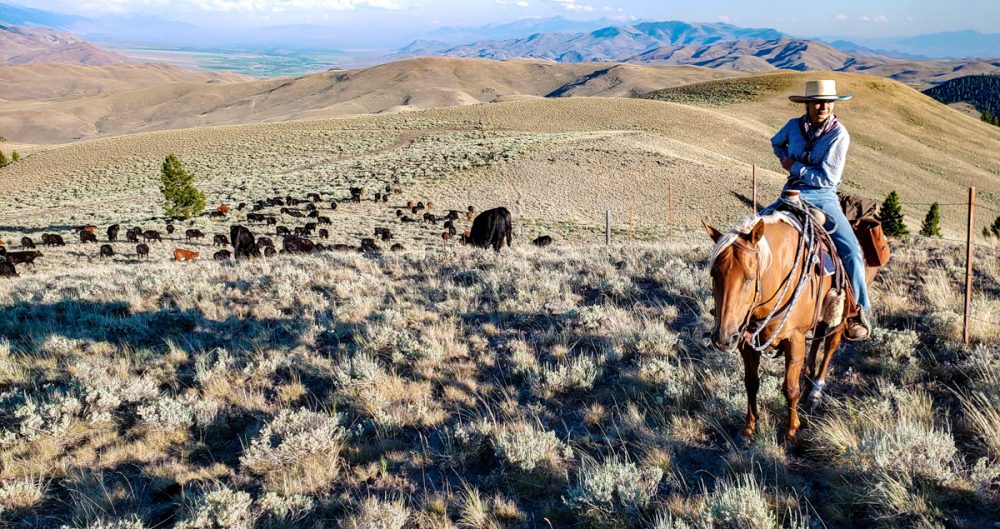 And so, the day passes. As the shadows lengthen and evening arrives at last, we herd the cattle back to camp. The last hour is always the hardest. You're tired, your horse is tired, the cows are tired, your crew members are tired. I like to think that cows demonstrate that principle of science that necessitates an input of energy in in order to get energy out. On those last few hills before camp, those slow-moving cows suck every drop of energy straight out of your soul.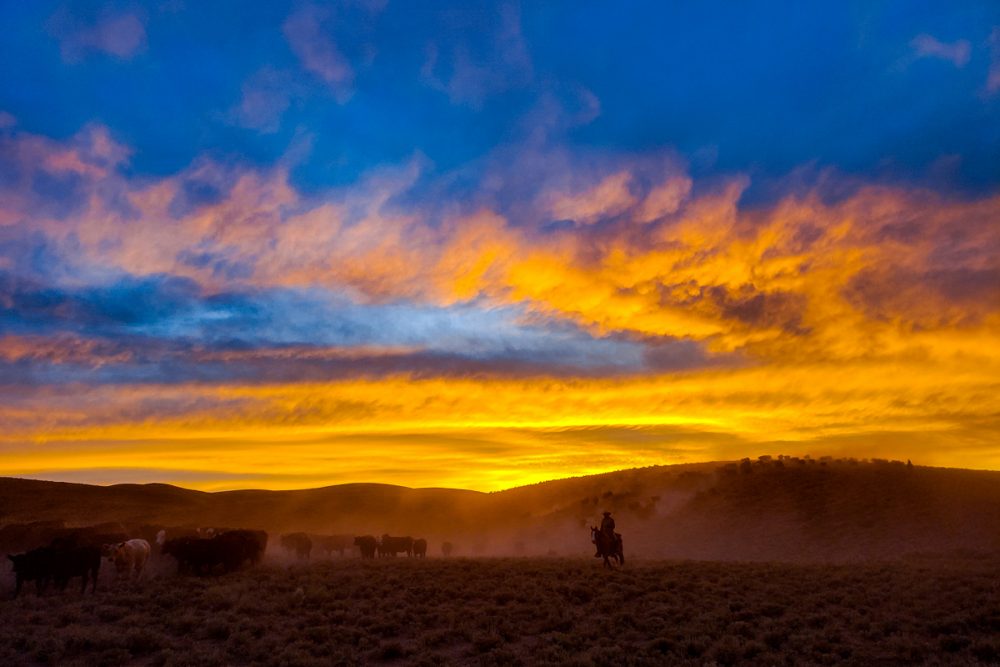 It's almost dark when they at last drift into the night pen, single file, shuffling lethargically past my Dad as he counts each one in the failing light. We dismount gratefully and certainly not gracefully. My legs ache with relief as I my cramped muscles unravel.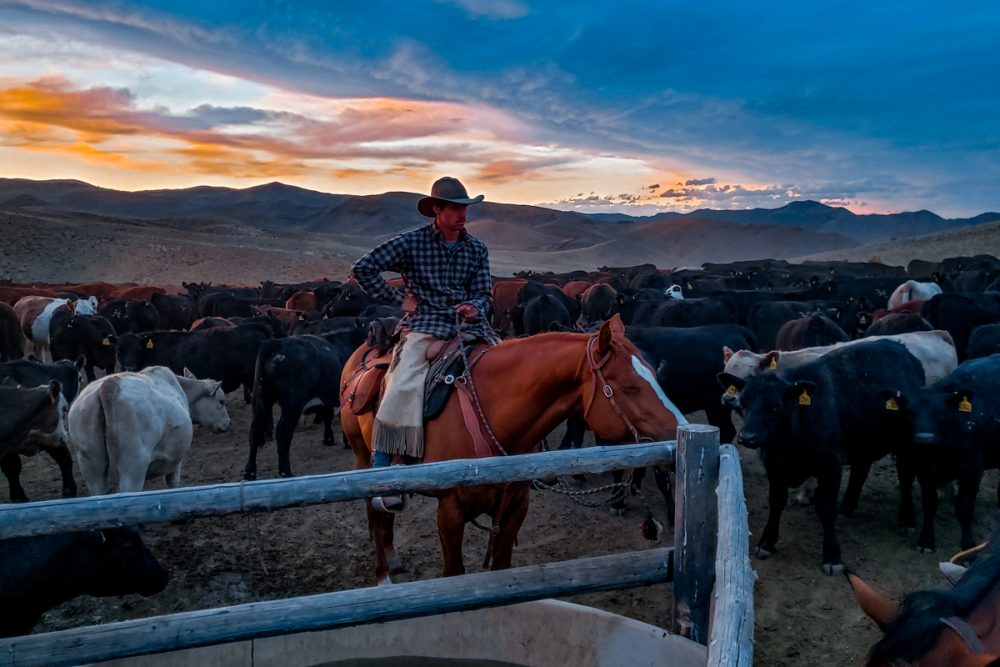 Our stint ends tonight, so the new crew is already in cow camp. They greet us fresh-faced and energetic as we set about putting the horses away. After, we eat dinner with the new crew, telling them about the ordeals of the stint. As one does, we make anything bad sound worse than it was. They tell us the latest shenanigans involving those remaining at the home ranch, catching us up on anything new and noteworthy that took place while we were in cow camp. None of the stories we tell are mean-spirited, but they are certainly entertaining. In a matter of minutes there is laughter floating over the silent ridges above cow camp. We show off any elk or deer antlers we found in the last few days, as there's always a good-natured competition over who can find the most over the course of the summer. In about an hour, we are ready to begin the trip back to the home ranch. Normally we'd spend the night in cow camp, but it's only 10 PM and we have things to do at home tomorrow.
We mount up, bareback this time and with halters for bridles, leaving our gear in cow camp for our next stint. The trailer waits about two miles down the road because this particular camp is too inaccessible even for that masterpiece of 90's era engineering and redneck welding skills that is our range trailer. And so, bidding the new crew farewell and good luck and see you in five days, my Dad, my sister and I begin the ride down.
We sag a little from exhaustion. We're quiet now as we ride. My horse's body is warm against my legs, the halter-rope soft in my dirt-caked hands. The night is not totally silent like we are. There is the dull thud of the horses' hooves and the nighthawks and crickets calling to each other in the darkness, amplified by the complete lack of other noise.
I have felt uneasy at night before. In a smoky bus station under flickering city lights. Walking empty streets heading back to my college apartment. On a lonely mountain highway where I know a deer could jump into the road at any moment. But never on the range.
On the range, the darkness wraps around me like a cool, familiar blanket. And when I chance to look up—endless adornment. We are miles from any light pollution, and millions of stars dot the black carpet above me. For thousands of years people have gazed wonderstruck at these glittering lights. For just a second, I feel timeless, and in awe. A tiny speck amid brilliant infinity.
That moment, and a million more like it, is why we ride. Perhaps in the past few pages, you've wondered why we put up with the long days, the beating sun, The Dread, the sometimes ornery animals, the boredom, the literal sweat and blood and tears. It's because no matter how far away I go, something always pulls me back. It's because life hits like a truck out here on the range. So profound. It teems around us, within us, in the very ground beneath our feet. And we're a part of it.
My sisters and I sometimes talk about that satisfaction in our stomachs at the end of a long, hard day. That moment when you look around camp to see the cows settled and chewing their cud and hear the occasional snapping twigs as our tired horses graze contentedly in the darkness. The knowledge that antelope dash lightly through the hills we grazed that day, barely eaten grass still waves in the wind, and insects crawl in living soil. They are undisturbed by our presence and will remain so if we do our due diligence as stewards of the land.
It is a sense of rightness. Of peace and quiet, of a corner of the world that is bursting with life under our care. Of a job well done.
It's why we ride.