"It's locked," said Tim as he shook the big padlock that joined the scrap of rugged log chain around the gatepost. A confusing, yet high functioning conglomeration of barbed and woven wire vaunted up the steep and rocky hill from the steel gate. On the downhill side, the same tangle of rusty wires disappeared into an impenetrable stand of golden leaved aspens that cloaked the creek bottom. There was no easy way through, and I wasn't going to pull trusty fence pliers out of my saddlebag to maul someone else's fence.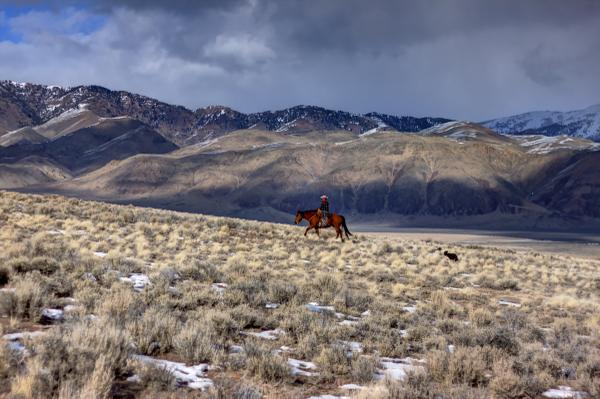 As we rode horseback back down the track to our trailer, parked where Corral Creek flows into Morgan Creek, Tim and I eyed the sunlit and snow-capped peaks around us. I didn't know this country as well as I knew my home range. This drainage was part of the neighboring allotment. But I knew I had a few strays there that had slipped through the boundary fence. And winter was coming.
The chill air of an autumn morning slipped in through our slickers. It would be several hours before sunshine would hit us in the bottom of the canyon and we both looked forward to basking in it as we rode. Both of us were guarded in our optimism, though; we were in the thick of wilderness mountain country and we were always aware that the weather could morph from warm to wintry in minutes.
The track in question was certainly the easy way up Corral Creek, but there had to be another way around. The day before, looking for strays, we took the high pack trail over Burnt Gulch. It switchbacked over those mountains, and it took several hours before the twisted and tiny trail drifted down into the headwaters country of Corral Creek. On the highest ridgeline portions, the trail tread was only 12 inches wide and pasted to a steep mountainside- not the most comfortable riding trail. The other problem with that route is that it would be an epic endeavor to bring any cattle we found over that mountain, and we came down the steep trail in the dark as it was. With cattle, we would lose them in the timber for sure.
Both of us felt the gravity of our gather. The aspens were aflame with the color of fall, and leaves had started to flutter downward. The sights and smells were telling us that winter was on the way. Furthermore, it was the end of October, and it had already snowed. Part of the Burnt Gulch trail was already icy. Any more snow on it would make for really risky going.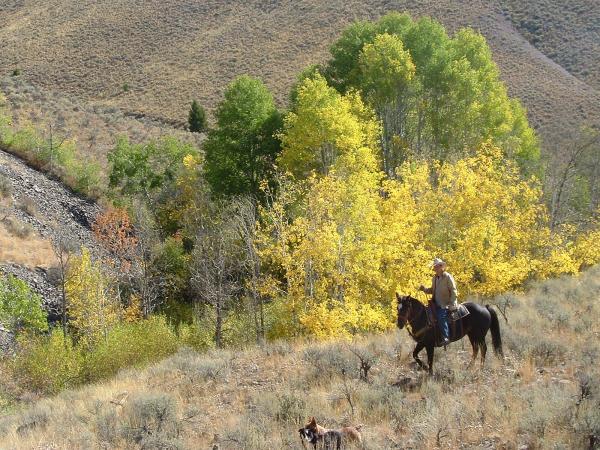 The good thing was that tracking was easy in these past few days with the light dusting of snow. We knew there were cattle in there; we had cut their tracks on the Burnt Gulch ride. But the country of Corral was complicated and broken and big. Many tributary creeks and timbered fingers dissected it; we fingered tracks and droppings to determine how fresh they were (prints froze at night, so if they were hard, they were left at least a day ago).
The other note of urgency was in the tracks we found in the mud along upper Corral Creek the day before. We had been seeing the sign of fox, coyote, elk and deer all day. But in the fading daylight that illuminated our last homeward crossing of the creek we spotted the big prints that belonged to the top of the food chain: wolves. They were unmistakable simply because of their size. Each footprint was 4-5 inches across, with their large claws clearly embedded in the mud. The prints suggested that there were three of the big canines.
They were not frozen.
The only other possibility of an impression that size was a mountain lion, but they usually travelled with claws retracted on easy ground like this, and they rarely traveled together. It was Canis lupus for sure. Tim and I both knew that they upped their hunting game this time of year, with the onset of winter casting the peaks with white powder. They were in search for easy food, and black Angus fit the bill quite nicely.
We had been dealing with them all summer, and on two occasions, saw wolves on our grazing country on the other side of the Corral Creek ridge. But wolf packs had been sighted more frequently on this side of the boundary ridge, and now some of our strays were in the middle of them. It was because of our weak fence; I knew that the wire was compromised in places along that ridgeline; we were trying to stay on top of maintaining it, but there were over fifty miles of barbed wire and wooden jack fence around our 70 square mile of summer graze, and it was hard to keep up. Snow avalanches and herds of elk continually flattened both kinds of fence. And so, our beeves slipped through. If they wanted to, they could walk for hundreds of miles. But their needs are few; all they are looking for is some nice grass, cover and clear water to drink.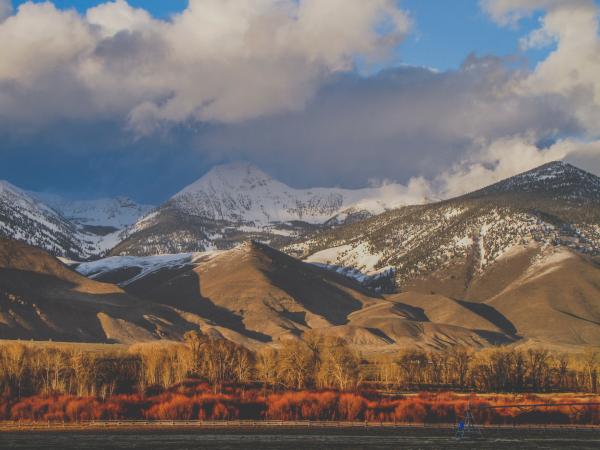 We stopped at our truck and trailer, slid off our mounts, and considered our options.
"We could head up Sawmill Canyon, and try to find a way into Corral that way," I noted.
Tim nodded. "We rode that last week, and it didn't seem to be any easier than Burnt."
"Yeah…you're probably right. And besides, we'll have to likely cut and mend fence up there to get cows through. I don't think there are any gates up there." Corral Creek Ranch, situated near the bottom of Corral Creek, was owned by an absentee landowner. Upstream of the ranch was public land; wilderness. It was where our cattle likely were. The home cabin was locked and boarded up for the season. And there was no-one to call. Cell phones were useless in the mountains, and we were over an hour's drive away from our headquarters ranch.
My eyes drifted up Morgan Creek in the still half-light of early morning in the bottom of the canyon. A wisp of fog drifted lazily through the golden aspens that lined Morgan Creek. Our border collies laid down at our feet in the frosty grass as our horses picked on the forage around the dogs. A morning breeze tickled the quaking aspens up the canyon. On it was borne a scent—a trace of wood smoke odor that tickled my senses as I considered our options, and then, I realized that the fog I had spotted was not anything of the sort. Instead, it was smoke.
I swung a leg up over Missy's back, and Tim did the same on April. We followed the smoke…and our noses as we rode up the canyon. As we came around the bend, we saw a stovepipe pumping out a blue stream from burning lodgepole pine. It stuck out of a tin roof, a little crookedly, mounted on a tiny one-room cabin in the quaking aspens, on the banks of Morgan Creek. I jumped off my mare, walked up to the door, and knocked.
We heard slow steps across the cabin floor; soon the drop-latch opened cautiously, and the surprised face of a graying old gentleman eyed me up and down. The thick and warm scents of frying bacon and coffee hit me unsuspectingly in the chill air; it had been awhile since Tim and I had eaten. He stood with spatula in hand, battered cowboy hat tilted back, and was wearing time-faded blue jeans held up with threadbare suspenders over a chambray shirt. He didn't have angry or crazed eyes (I'd met several of those kind of hermits—and you had to watch them).
"Frying some side meat, are you?" I said, smiling. I reached out my hand. "I'm Glenn. This here's Tim."
The old boy took my hand, after switching spatula to his left hand. He shook it firmly. "Name's Ralph." His eyes drifted over what we were, covering all the country between my boots and hat. He paused for a moment at the six gun on my belt, although not nervously. He just took it all in, carefully filing information. Likewise he looked over my shoulder at Tim, my mare, our gear and tack on board of our horse's backs.
"Well, Ralph, we picked up that old Moen Ranch in the Pahsimeroi, and we run on that Hat Creek Range. I think we got some cattle drifting through Corral Creek, but we're having a heck of a time getting in there." I gave him a minute to absorb this info.
"You got Duane's place?"
"Yep. We picked it up a couple of years ago."
"And you own it?"
"Well, yeah. The bank and I do." I grinned.
He didn't grin back. He was still assembling data. "What do you want?"
"Well, Ralph, we were wondering how you'd advise us about how to get in there, on that ranch." I pointed back to our truck and stock trailer, the top of which you could barely see through the quaking aspens. "We tried the gate back there, but it's got a padlock on it. And we rode Burnt the other day, and it took most of the day to get around that ridge. Now, it's getting pretty dang icy up there, and that's not going to work real well today." I turned back toward Tim, who smiled at Ralph.  A scent wafting through the door made me turn back to Ralph and say, "You need to turn that bacon, Ralph?"
"Not just yet," Ralph said. "I don't know what to tell you boys. There's no easy way in there. And I don't have a key for that padlock. Yer gonna have to ride up over that Burnt country again. You better get a move on—you got miles to put behind ya."
"Well, thanks anyway, Ralph," I said, while tipping my hat. Tim did the same, as he mounted up on his gelding. "Sure appreciate your time, and it's good to meet you." I thrust out my hand. He took it. I smiled. "You best be getting' to that side meat, Ralph. It's smelling about right."
He looked me in the eye once more, and closed the door between us
."Well, pard…" I looked at Tim on his horse, and swung a leg over mine. "I guess we got some miles ahead." As we turned our mounts and pointed them toward the Burnt Gulch country, we looked up at the sunlit heights. Likely both of us were wondering how icy that trail was up there after last night's new skiff of snow; I know I was.
We touched our heels to our mounts and trotted onto the Morgan Creek Trail. Just as we swung into the first bend of the creek, we both drew up our reins into a stop. "Did you hear that, Tim?"
"Yeah. I heard something." He turned, and gazed back down the trail. "Dunno what it was, though."
"I thought maybe it was Ralph." We turned our mounts, who were obviously happy to go back the way we came. They had both been up Burnt the day before, and like us, didn't want to go that way again. As Ralph's cabin came into view, so did he. He was standing there, waving a spatula at us.
We pulled up to him, and I said "What's up, Ralph? Everything OK?"
"I just wanted to tell you boys that I don't have a key to that lock." His face was deadpan, as it had been all the time we talked.
I didn't even know how to respond. I looked at Tim who was leaning over his saddle horn and met my eyes and gave me the slightest shrug of his shoulders. I looked back at Ralph dumbly.
"And I wanted to tell you boys that even though I don't have a key, I know where one is." Now, his eyes twinkled, and his mouth bent into the slightest bit of a grin. "It's under the big round rock, about 5 feet up the hill from the hinge gate post." Now he was grinning. "And you never heard it from me; you just figgered it out, you did."
Now it was our turn to grin. "Well, thanks, Ralph. We'll put it back right where we found it and lock it behind us." I gestured a thumb back to the gate, and turned back to face him. "So what were you going to say to us?" I grinned.
He returned my grin and waved us away. "You boys best get outta here. Yer burning daylight. You got cows to gather." And he turned, spatula in the air, bound for bacon. The wood smoke continued its curl out of the chimney, now illuminated in shafts of sunlight that spilled through the quakies.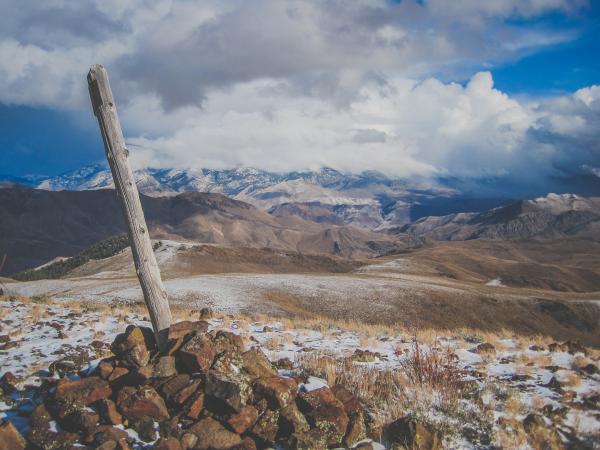 We covered some country that day, even splitting up, but all we cut were more frozen tracks. We spread out over 30 square miles and thousands of feet of elevation, but not a fresh sign could be found.  The cows—and wolves, apparently, had high tailed it to new grass.
Late that night, while unloading horses and pulling their gear back at ranch Headquarters in the Pahsimeroi , my phone rang. It was Jack, one of my neighbors in the Valley. He ran up in even more remote country than I, against the officially designated wilderness named on maps as The River of No Return. It was the largest piece of wild country in the lower 48, exceeded in size only by tracts of wilderness designation in Alaska.
We exchanged pleasantries that ranchers do, talking about the weather, cattle and how the fall gather had been going. Lately, the conversation usually drifted into how the big dogs—wolves—had been treating each of us. Then, we slipped into the object at hand; the reason Jack called.
"Hey Glenn—We got 6 pairs of your critters in the Morgan Creek Summit corral. We gathered them yesterday with ours, and we stuck 'em there in the pen in by that hunting camp up there. You might wanna get them tomorrow before the wolves do."
And so, Tim and I loaded up early the next morning and again headed up to Morgan Creek, much higher, this time, into some snow that graced the meadows and forests that blanketed the country up there. Weather was slipping in, and I was glad to know where the cattle were. It made us nearly whole, except for the few that the wolves got that summer.
An hour and a half later, as we pulled up to the ramshackle corral and old log cabin hunting cabin in the fir tree opening, I counted the girls and their now grown calves. Yep. There were 6 pair.
I was grateful for neighbors, though fairly rough they could be. We could trust them to do the right thing. They were people like Ralph, who, with carefully measured consideration, trusted us with something he didn't have to. In a sense, we were all in this together, trying to make a living in this wild and broken country. And occasionally, independent though we are, we needed each other.
Trust is still out there, even though it seems harder to find these days. People are suspect of widespread cons and scams. And I don't blame them; one has to be wary. In a second, your livelihood or your life can be in the balance. Or just your hard-earned cash.  But there's really nothing new under the sun. I've read countless historical 1800s tales of cattle rustlers and horse-thieves, who would quietly ride into herds by moonlight astride a handy horse and with a long lariat, quietly brand the unbranded and turn them loose again. They knew that once their mark was on them, they were theirs. Money was tight, and people always were gaming the system. Trust had to be earned in that day, as it does now.
We see a little mistrust with some of our new beef customers. Sometimes, we'll be out of stock in the larger size roast; we send a roast that's a little smaller than what they paid for. Our new internet buyer actually weighs the beef and finds it short. They don't check their email, and instead call or email me, already on the scam defense. Several vindictive new Alderspring customers threatened calling the Better Business Bureau. It took a while to calm them down.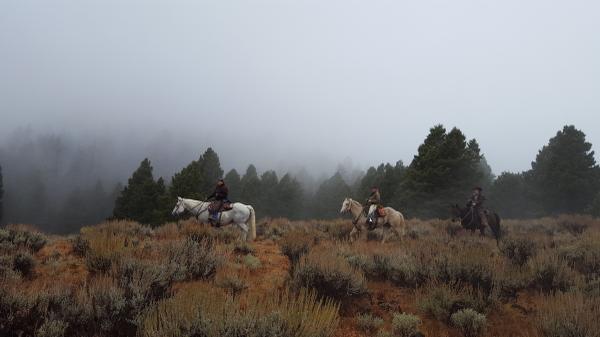 Kelsey, as it usually turns out, had already refunded their card for the shortfall, and emailed them in that regard (we weigh each roast before we ship it). They just didn't see it. Occasionally, we just flat make a mistake. In that case, I am very happy to make it right. So, like Ralph, in his little cabin in Morgan Creek, they don't yet trust us. But it all comes out OK in the end, and it gives me a chance to show them how we are different and win their trust.
And that's fine by me. I want to earn your trust. And we will do all we can–to do just that.
Happy Trails,
Glenn, Caryl, Girls and Cowboys at Alderspring.