Want to share this post or follow us?
This easy sirloin tip steak recipe is for a full lunch or dinner, paired with some easy pan-fried asparagus, roasted sweet potatoes, and an easy salad. It makes for a relatively quick, diverse meal that is also paleo, AIP friendly, and gluten free.
Click here to skip to the Sirloin Tip Steak Recipe!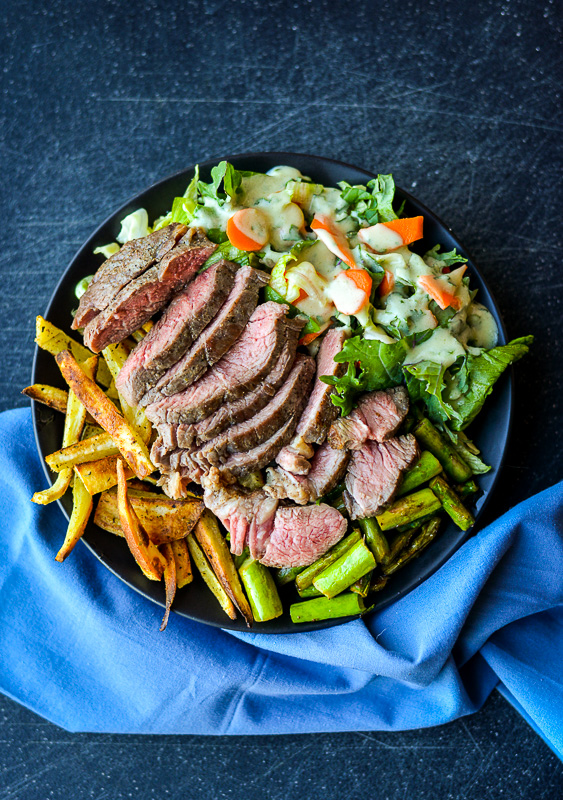 One problem that always seems to come up when looking for recipes is that it's not a full meal. Sure, you'll find a steak recipe, but then you need to figure out what you want on the side. It takes too much time and thinking and work, and everybody hates work, right?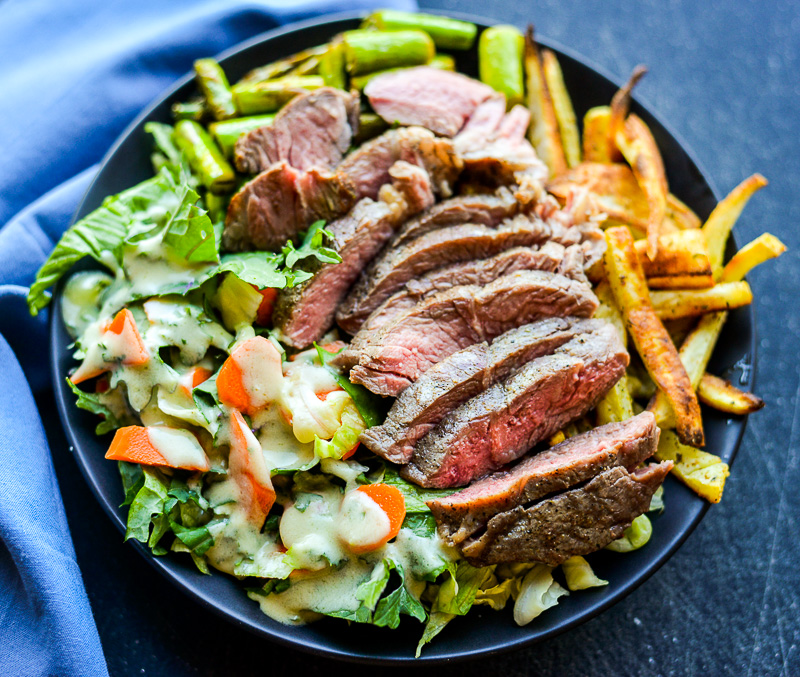 So here's a recipe for a full lunch or dinner with all the pieces. It's a pretty simple meal, but nice and fresh and varied. On the plate above: sweet potato fries, pan-fried asparagus, a sirloin tip steak, and a simple salad with some avocado cilantro dressing. The whole meal takes about 45 minutes to make.
So. I've given the exact measurements for this sirloin tip steak recipe for you direction-followers, but this is meant to be fast and easy. In other words, if you exactly measure every teaspoon of salt, you will be sad and miserable. If you sprinkle on until it looks and tastes about right then say "that'll do, kids," you will be happy and less annoyed with me and might even feel like a chef on the Food Network.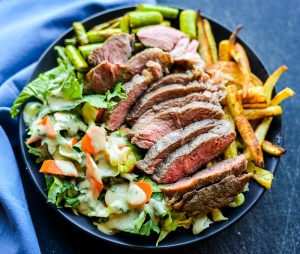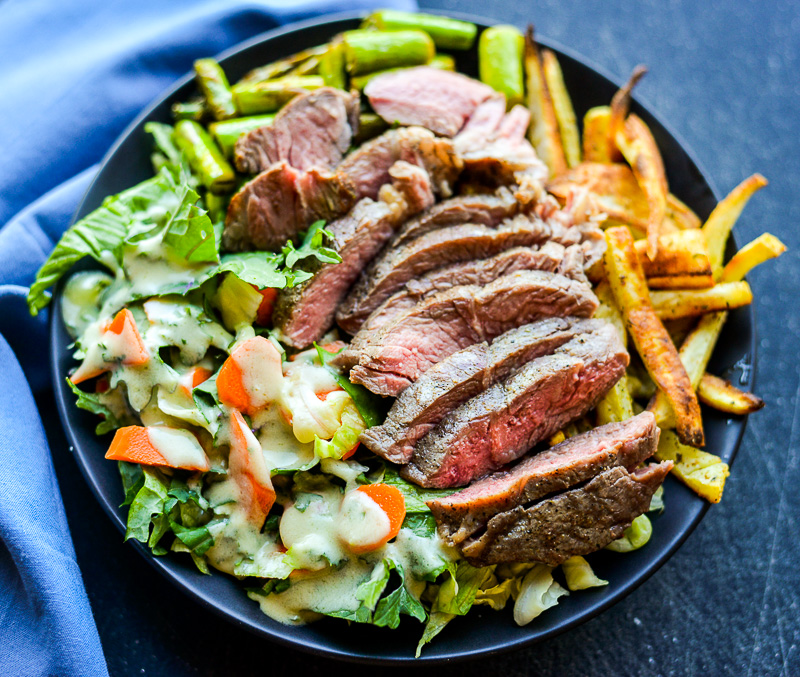 Print
Sirloin Tip Steak Recipe with Sweet Potato Fries, Asparagus, and Salad
Yield 2 servings
This easy sirloin tip steak recipe is for a full lunch or dinner, paired with some easy pan-fried asparagus, roasted sweet potatoes, and an easy salad. It makes for a relatively quick, diverse meal that is also paleo, AIP friendly, and gluten free.
Ingredients
Sweet Potato Fries
1 large sweet potato, or 2 small ones (I used a white sweet potato, but yams or yellow sweet potatoes also work)
2 teaspoons salt
1/2 teaspoon black pepper
1/2 teaspoon garlic powder
3 tablespoons olive oil
Asparagus
About 8 stalks asparagus
1/2 teaspoon garlic powder
1/2 teaspoon salt
pepper to taste
1 tablespoon lemon juice
1 tablespoon olive oil, plus more as needed
Steak
1 3/4 to 1 lb sirloin tip steak, London broil steak, or top sirloin steak 
About 2 tablespoons olive oil, for cooking
1 tablespoon coarse salt
1 teaspoon coarse-ground black pepper
Salad + Dressing
Greens (preferably from the garden!), rinsed and chopped, mixed with desired toppings
1/2 an avocado
1/2 cup whole milk or coconut milk
2 tablespoons water
1 tablespoon olive oil
about 2 tablespoons fresh chopped cilantro
1 tablespoon lime juice
salt and pepper to taste
1/4 teaspoon paprika (skip for AIP)
Instructions
First, start the sweet potato fries. Heat the oven to 400 degrees F and arrange a rack towards the bottom of the oven. 
Chop the sweet potato into fries less than 1/4 inch thick and place on an ungreased cookie sheet (use one with edges).
Sprinkle on the salt, pepper, and garlic powder. Drizzle on the olive oil. 
Toss on the cookie sheet until the fries are well coated in seasonings and oil. 
Transfer the cookie sheet to the oven. Cook for about 20 minutes, then use a spatula to turn the sweet potatoes. At this point, you can add the asparagus if you want to instead of pan-frying separately (save dishes)! Just rinse the asparagus and chop from the heads down into chunks just above an inch in length. You'll want to chop most of the way down the stalk, then don't use any of the lighter-colored, thicker parts at the bottom of the stalk.
Add the asparagus to the sweet potatoes (optional, you can also pan-fry separately). Drizzle on a bit more olive oil, and sprinkle on the salt, pepper, and garlic before tossing with the sweet potatoes. Then just skip the lemon juice called for in the asparagus section of the recipe and return the sweet potatoes and asparagus to the oven to cook for another 20 minutes, until sweet potatoes are golden and asparagus is tender. 
Meanwhile, if you opted not to mix the sweet potatoes and asparagus, heat a cast iron frying pan to just above medium heat. Chop asparagus as described above. Add the olive oil from the asparagus ingredients to the pan, then add the chopped asparagus and sprinkle on the seasonings. Stir with a spatula, then allow to fry, stirring occasionally, as you cook your steak. 
To make the steak, heat another cast iron frying pan to medium high heat, then add the olive oil called for in the steak ingredients. Remove the thawed steak from the package and rub with salt and pepper until covered. Place the steak on the hot pan (it should sizzle) and fry for about five to seven minutes per side (don't forget to watch your asparagus as this is cooking)! The steak will be done when it is well-browned and a thermometer reads around 130 F for rare, 135 for medium rare, and 138 for well done. When the steak is done, remove from heat and place on a plate, then cover and rest five minutes before slicing. 
As everything is cooking, you can assemble your salad and toppings of choice. To make the dressing, place the avocado, milk, water, olive oil, cilantro, lime juice, and seasonings in a blender or food processor, then blend until fully combined and smooth. 
And that's it! When the asparagus is tender, the sweet potato fries are golden, the steak is rested, and the salad is ready, just assemble on a plate and drizzle on your dressing. 
Notes
Substitution Options
Are endless! Feel free to use totally different seasonings or flavors. This recipe is highly flexible and really meant to be more of a guide than followed directly to the letter. And no, you don't have to measure everything exactly--as I said, it's a guide. I usually just add ingredients until it looks or tastes right. Painstakingly measuring each ingredient takes forever and won't make for any better results!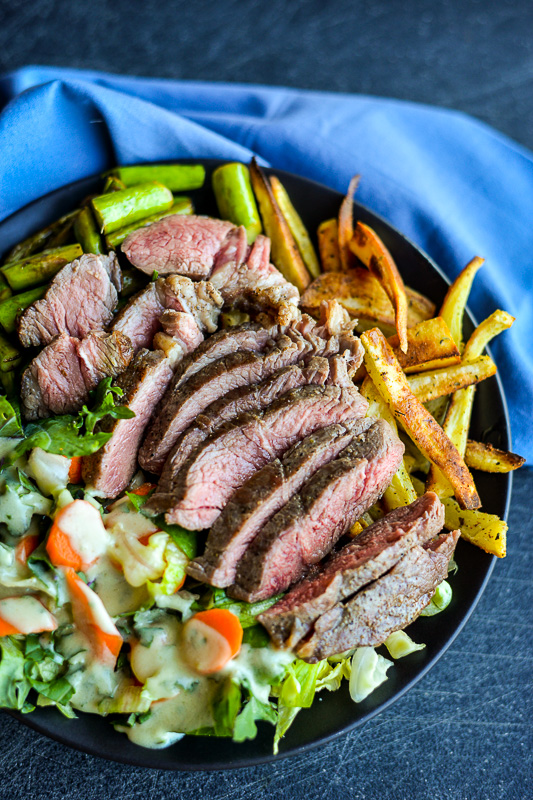 Want to share this post or follow us?