Want to share this post or follow us?
This simple paleo and AIP brisket recipe is made from just a few basic ingredients. Briskets are one of our favorite roasts because of the flavorful fat cap that melts into the meat during cooking and the almost sweet taste of the meat itself. The fruity notes of pineapple and cranberry in this recipe pair well with that sweetness. This is a recipe to warm you up this January.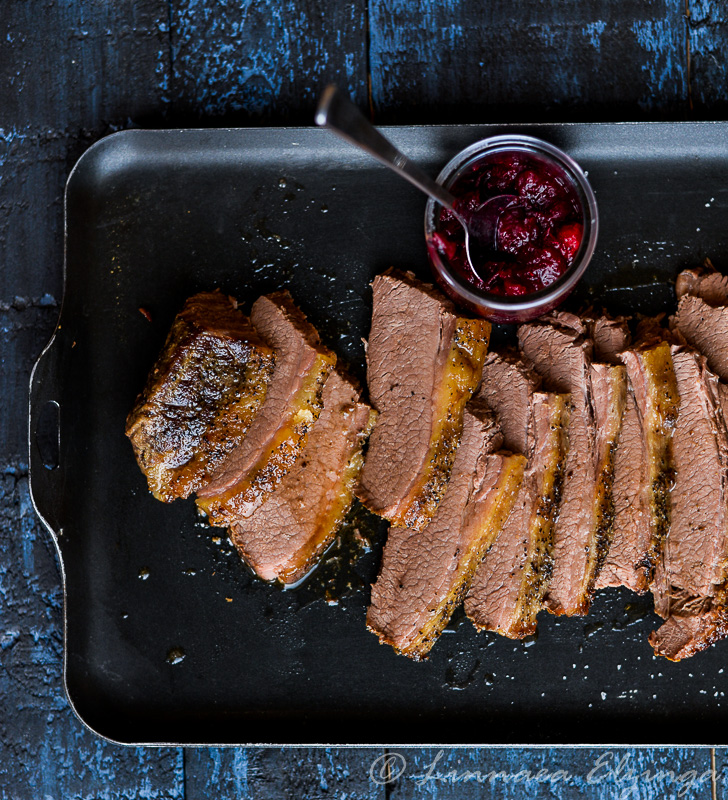 Though we often make our briskets with just a few root vegetables, the slightly sweet-tasting brisket is the perfect roast to absorb some fruitier or citrus flavors. Hence, a little experimentation with some cranberry sauce and pineapple. Though it sounds complicated and fancy (I know, right?) this actually only requires a few ingredients to make.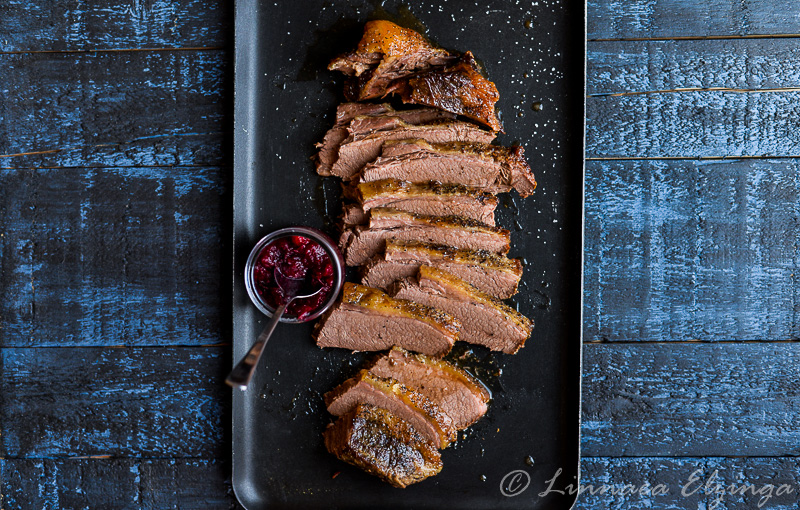 And it's also paleo for all you paleo dieters out there. Though is it just me, or has the paleo trend kinda gone out in recent months? Now all I seem to hear about is Whole30, but I don't know what that is. I'm pretty sure it's something along the lines of "You can only eat like 5 foods for a month, and guess what, none of those foods are good. But don't worry, it'll change or life if it doesn't kill you first!"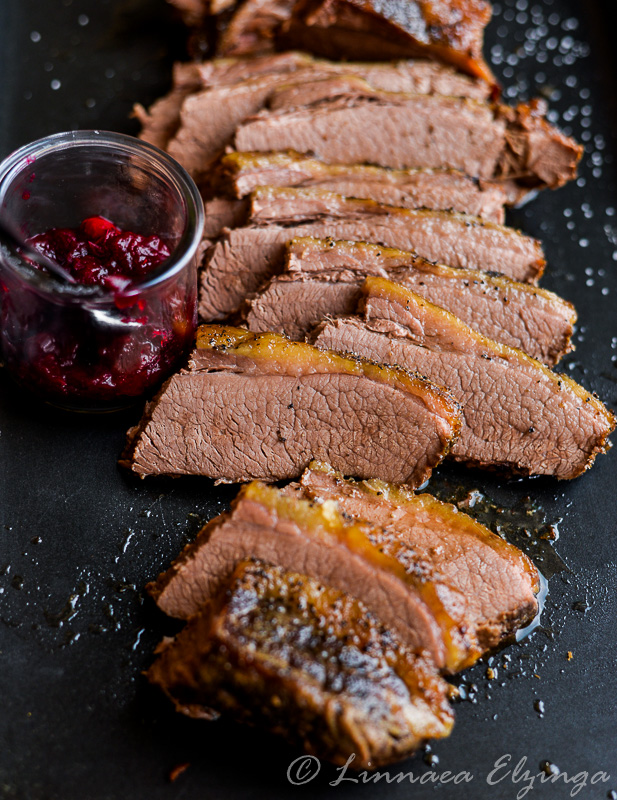 Anyway, back to briskets. This is the perfect winter dinner. And it's cold outside right now (at least where I am. Congrats to you Floridians and Californians). And besides warming you up in the coming January chill, this brisket recipe a great way to use up all those leftover fresh cranberries from Christmas Day. And if you don't have fresh cranberries, they're probably on sale right now. So, go to the store and get some, then come back and make some brisket.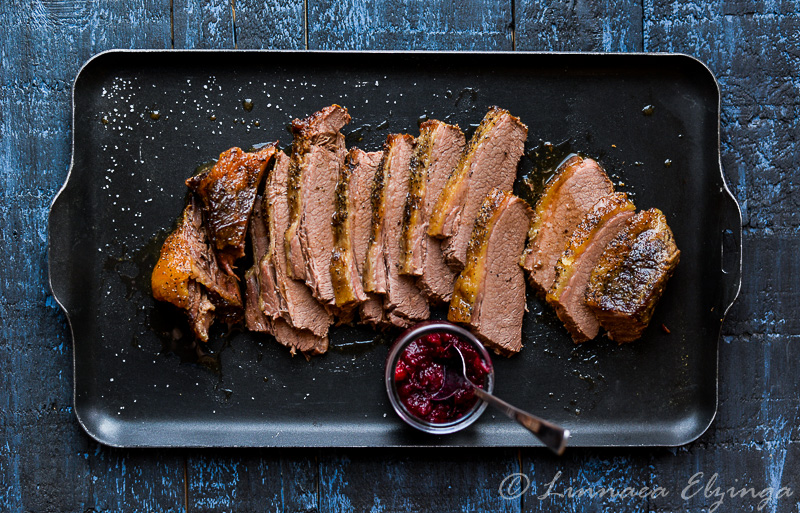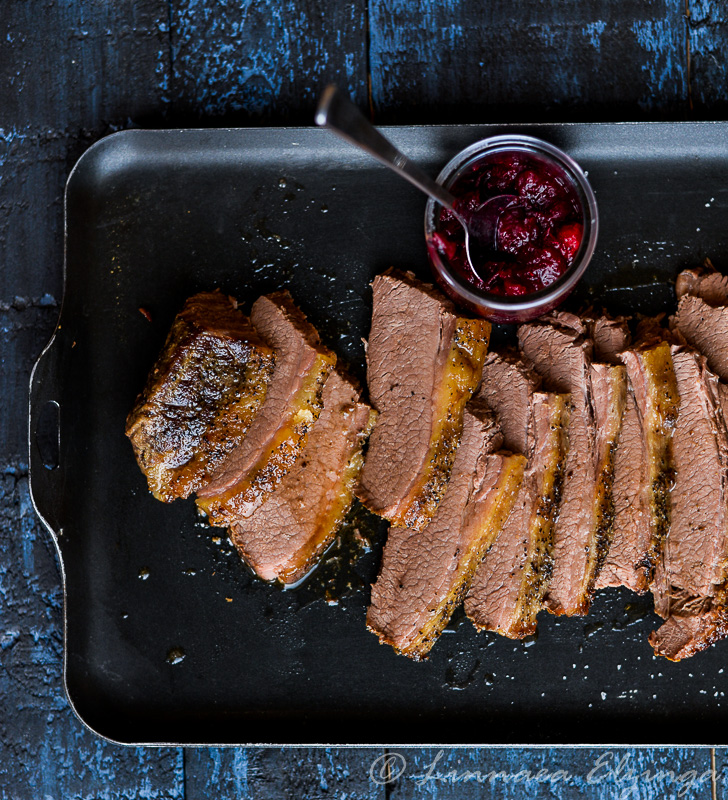 Simple Paleo Pineapple Brisket Recipe with Cranberry Sauce
This easy paleo and AIP brisket recipe requires just a few simple ingredients and a nice long cooking time. Fruity notes from the pineapple and cranberry sauce make this different from your run-of-the-mill brisket. 
Ingredients
For the Brisket
one 3-10 lb brisket (a smaller brisket will require a slightly shorter cooking time

coarse sea salt

as needed

coarse-ground pepper

as needed

6

garlic cloves for 3 lb brisket

12 garlic cloves for 10 lb brisket

1/2

a fresh pineapple

chopped into 1 inch chunks

Water as needed
For the Cranberry Sauce
24

oz

fresh cranberries

1/4

cup

water

1/2

cup

wild honey

or to taste

2

tablespoons

fresh-squeezed orange juice

pinch

cloves
Instructions
Brisket Instructions: 
Place the brisket fat cap down in your roaster or in the bottom of a cast iron dutch oven or baking pan with a lid. 

Sprinkle on the salt and pepper until the brisket is well coated. Rub the seasonings in. Flip it over (fat cap up) and sprinkle on salt and pepper, then rub in. Leave the brisket fat cap up for cooking. 

Peel your garlic cloves, then chop each one in half. Using a large, sharp knife, stab the knife about 3/4 inches into the fat cap. With the knife still inserted to keep the hole open, slide a garlic clove half into the hole. Remove the knife, and shove the garlic clove in until it's barely visible or has disappeared. 

Though the above image is of chuck roasts, not brisket, you'll insert garlic into the brisket using the same technique.

Repeat inserting the garlic until all the garlic cloves have been inserted into the roast and distributed evenly over the surface of the roast. 

Place a few pineapple chunks on top of the roast (4-8, depending on roast size). Distribute the rest of the chunks in the pan around the roast. 

Add water to the pan until there is about 1 1/2 inches in the bottom of the pan. 

If using a roaster: Turn the roaster to 400 degrees F and roast in the roasting pan, covered, for 45 minutes (30 for a small roast) to allow the fat cap to begin to melt down. After the 45 minutes, reduce heat to 175 degrees and cook at this temperature, covered, for 8-12 hours (overnight is fine). Maintain about 1 inch of water in the bottom of the pan at all times (or about halfway up the side of the roast, never above the surface of the roast). If you're cooking overnight, bring water level to about 1 1/2 inches before going to bed. When done, remove from heat, slice the roast against the grain, and serve sitting in the juices in the roasting pan. 

If using a dutch oven: Place the uncovered dutch oven on the center rack of a preheated 400 degree F oven. Cook for 30-40 minutes (30 for small roast) until fat cap has begun to brown. Then cover the dutch oven and reduce heat to 175 degrees F. Cook for 8-12 hours until meat is tender before slicing against the grain and serving with roasting pan juices. 

Note: you can also use some of the roasting juices to make a nice gravy. Just ladle into a saucepan and bring to boil. Once boiling, stir 1 tablespoon cornstarch with 2 tablespoons cold water in a cup. Pour the cornstarch and water into the boiling mixture and immediately stir. Stir continuously until the mix returns to a boil, then remove from heat.
Cranberry Sauce Instructions:
Pour the cranberries into a medium sized saucepan, then sort through and remove any very soft, black, or rotting ones. Don't be too paranoid about getting all of them, just be sure to get the worst ones out. 

Add the water to the cranberries, then place on a stovetop on high heat. Don't worry that the water doesn't cover the cranberries; the juices will soon come out of the cranberries and increase water level. 

Bring to a boil, stirring frequently. Once the cranberries are boiling, reduce heat to medium-low. Use a potato masher to mash the berries to your desired consistency. 

Add the honey. We prefer less sweet cranberries (I actually usually use only about 1/4 of a cup). I recommend adding 1/4 cup, stirring occasionally until the honey melts, and then tasting. If the cranberries seem to bitter, add more honey to taste. 

Add the orange juice and cloves and stir. 

Reduce to low heat and allow to simmer, stirring occasionally, for about fifteen minutes. 

Remove from heat and store in a jar or airtight plastic container for up to 1 week in the refrigerator. Serve on the side with the brisket. It's also delicious with other meats like chicken, pork, or lamb. 
Want to share this post or follow us?