These easy Hawaiian Barbecue Meatballs are the perfect healthy ground beef recipe. Instead of your typical Italian-style meatballs, these are cooked with some fresh mango and pineapple for an island-inspired flavor. Serve with salad and some tasty pesto fries (recipe at bottom of page) or over mashed potatoes or rice! 
(Gluten Free, Paleo Option, GAPs Friendly, Dairy Free, Refined Sugar Free, Nut Free, Grain Free Option, Egg Free, Soy Free).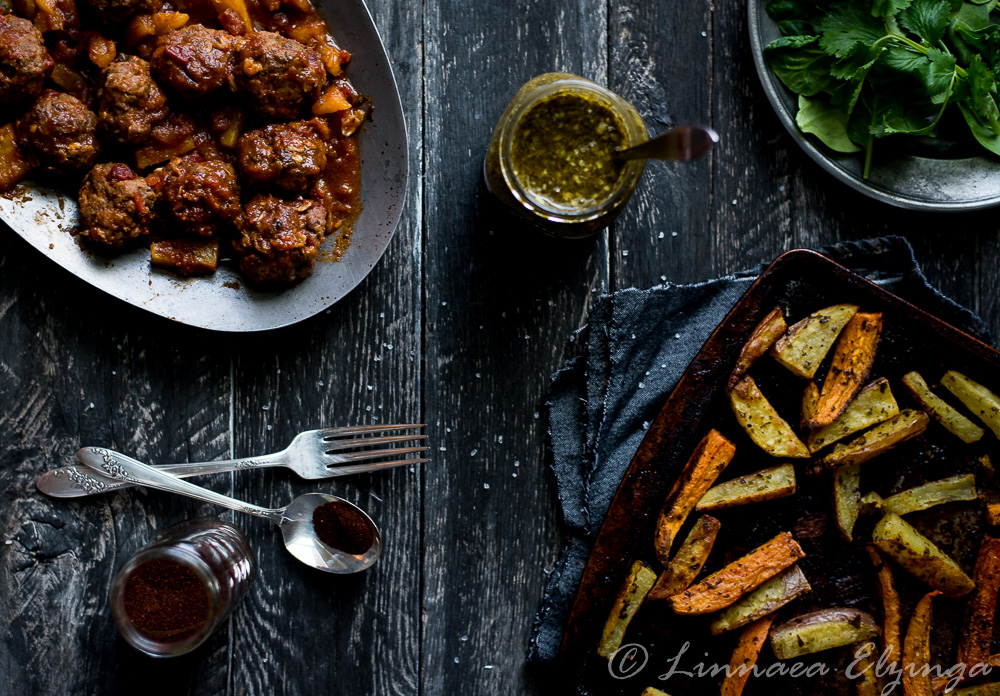 Ever feel like ground beef, while simple to cook, can start to feel a little boring? Well, with just a little mango and pineapple, add some punch to your simple meatballs! We serve them with pesto fries (recipe at bottom of page), but you can also enjoy these with rice or over mashed potatoes. Add a simple side salad and no-fuss dinner is served.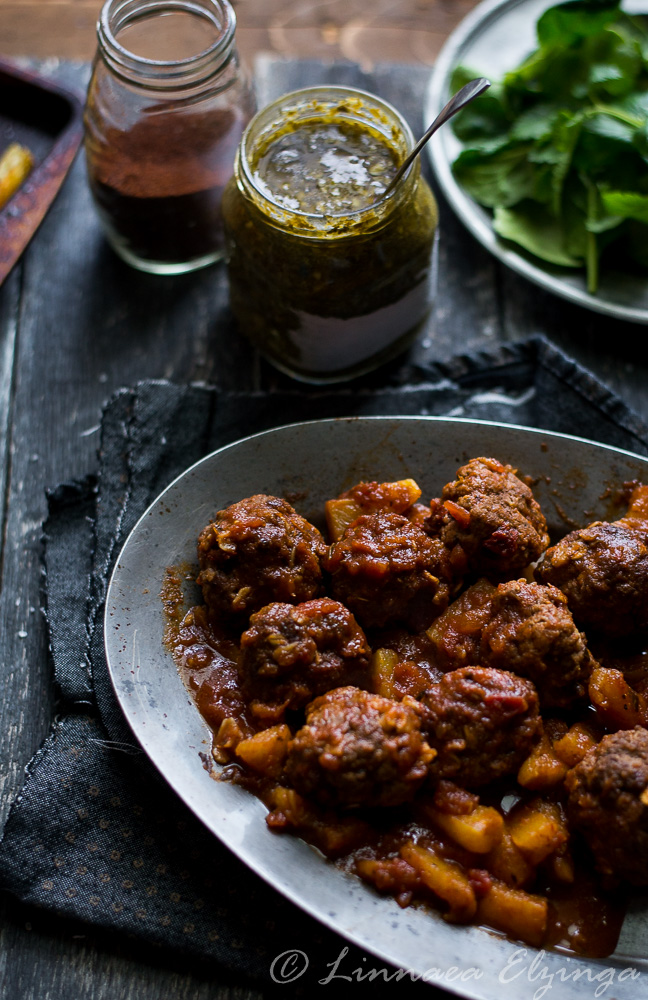 Hawaiian BBQ Meatballs
These easy hawaiian barbecue meatballs are delicious served over rice, mashed potatoes, or alongside some crunchy potato fries. For fries recipe, see below meatball recipe.
Ingredients
FOR MEATBALLS
2 lbs Alderspring regular or fatty ground beef
About 10 whole sun-dried tomatoes
1/2 teaspoon smoked paprika
1 teaspoon salt
1 teaspoon garlic powder
1 teaspoon dried ground rosemary
optional (for non-paleo meatballs): 1/2 cup gluten free oats or bread crumbs
FOR SAUCE
About 3/4 cup chopped fresh pineapple chunks
1/2 cup chopped mango chunks (optional)
1 cup paleo barbecue sauce (recipe linked to above) or your favorite barbecue sauce
1/2 teaspoon smoked paprika (skip if you feel your barbecue sauce is spicy enough)
Instructions
Preheat the oven to 350 degrees F.
Depending on what you want to serve the meatballs with, start either rice, mashed potatoes, or potato fries (fries recipe below meatball recipe).
For the meatballs, combine the ground beef, seasonings, and breadcrumbs in a bowl and use your hands to mix thoroughly.
Roll the meatballs into 1-inch balls and arrange in ungreased glass baking dish (a pie dish works well)
Sprinkle the chopped pineapple and mango around the meatballs.
Place in the oven and bake until meatballs are slightly brown but not fully cooked (about 20 minutes).
As the meatballs cook, prepare the paleo barbecue sauce (recipe linked to above) and stir in extra smoked paprika (optional).
Pour the sauce over the partially cooked meatballs. Return to oven and bake an additional 10 minutes.
Remove from oven and serve over rice, mashed potatoes, or alongside fries as shown in images.
Recipe For Potato Fries
1 sweet potato, peeled and sliced
1 regular potato, peeled and slice
1 tablespoon your favorite pesto
1/4 cup olive oil
Preheat oven to 350 degrees F. Toss the chopped potatoes in pesto and olive oil and spread over cookie sheet. Cook for about 45 minutes (to have fries and meatballs done at same time, start fries first)! Serve with meatballs and salad.