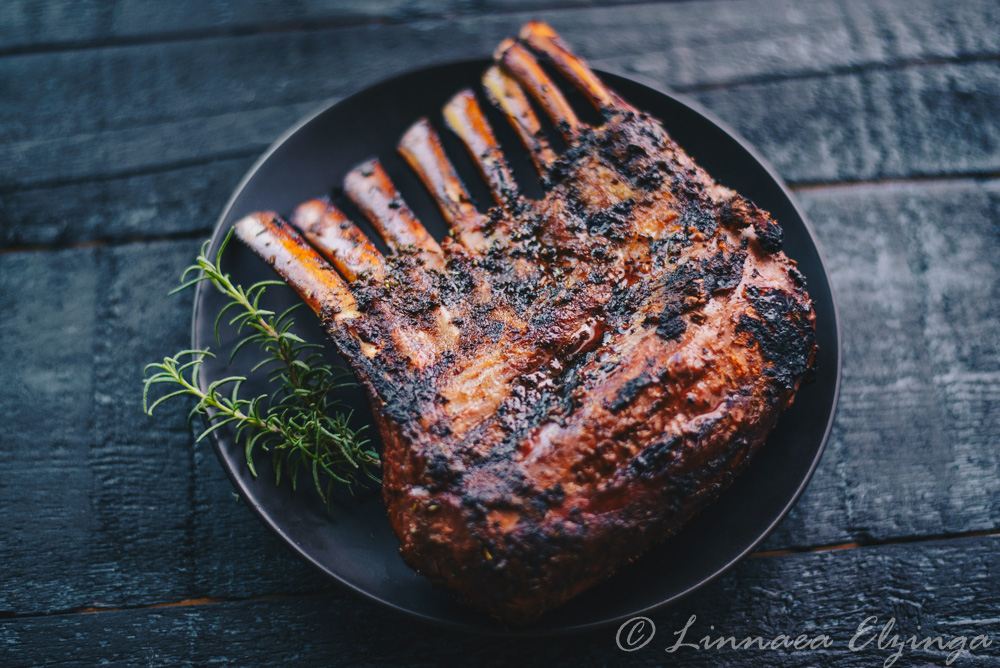 Here at Alderspring, it's not all beef. We are partnered with Brian and Kathleen Bean, who raise award winning grass fed lamb on their family ranch outside Sun Valley, Idaho. Lava Lake's grass-fed lambs range freely over nearly one million acres of pristine central Idaho mountain rangeland, resulting in a nutrient-dense, clean, wild protein. Brian and Kathleen are committed to sustainable agriculture and are spearheading conservation actions in Idaho's beautiful Pioneer Mountain region through their non-profit the Lava Lake Institute for Science and Conservation. Lamb raised sustainably like this is very important to us, and we also believe that it results in superior wild flavor. We sell it seasonally on our online store.
So, you've got great lamb. but that's only the first part. You also have to do that lamb justice by cooking it properly. It's not too different from cooking beef, and of course it depends on the cut, but here are some general tips for doing it right:
Seasonings
Here are some seasonings and sauces that pair very well with lamb:
Mint jelly (made from mint and lemon; I like this basic recipe with lemon instead of vinegar). Pairs well with lamb chops or roasts.
Lemon (either in a sauce or cooked with the lamb)
Oranges (chopped up and cooked right with the lamb so the juices can penetrate the meat)
Blueberry/Blackberry sauce (especially with a bit of lemon and balsamic vinegar to give it an edge)
Apple (in a sauce)
Wine (in a sauce or cooked with the lamb–when cooking with the lamb be sure not to use so much that it masks the flavor of the lamb)
Rosemary
Garlic
Thyme
Oregano
Sage
Salt & pepper
Of course, you probably don't want to use all of the above seasonings and sauces in one lamb dish, but you get the idea. It's hard to compare the flavor of lamb to grass fed beef. The best I can come up with is that while lamb does have a distinct flavor, it doesn't have as strong, intense, or "meaty" a flavor as beef does. It is also slightly sweeter and therefore pairs well with more fruity notes than beef. I've also noticed that good, clean lamb like Lava Lake Lamb does have a "gamy" flavor, but without the wonky notes commonly associated with that word.
Cooking Lamb
A Few Quick Tips: 
Always thaw the meat to room temperature all the way through before cooking.
If you have time, rub on your dry rub about 20-40 minutes before cooking to let the meat absorb the flavors.
Lamb is medium rare at 145 degrees F, medium at 160 degrees F, and well done at 170. To check temperature, just insert a thermometer into the center of the thickest part of the meat.
Cooking Specific Cuts
So now we get to the meat of the matter (hilarious, right?). The good news is that cooking lamb is not too different than cooking beef. Below I've broken down the main cuts you'll get into the best cooking methods.
Rack of Lamb, Loin, Shoulder Roast, Leg Roast. 
These cuts are best cooked with dry heat like grilling and roasting. The rack of lamb, for instance (pictured below), is delicious grilled for about 20 minutes. For thicker cuts that can be tough to grill evenly, I'd go with dry roasting. Here's how:
Season the meat.
Oil your pan (I prefer a little extra virgin olive oil).
Brown slightly on all sides in a medium high cast iron frying pan on the burner, on the grill, or at around 425 in the oven for about 10 minutes.
Transfer to oven and leaved uncovered, cooking for about 15 minutes per pound in a 350 degree F oven. Check the temp if you're not sure!
Take the meat out about 5 degrees before it reaches your desired temp. It will continue to cook for a bit even after you remove it from the oven.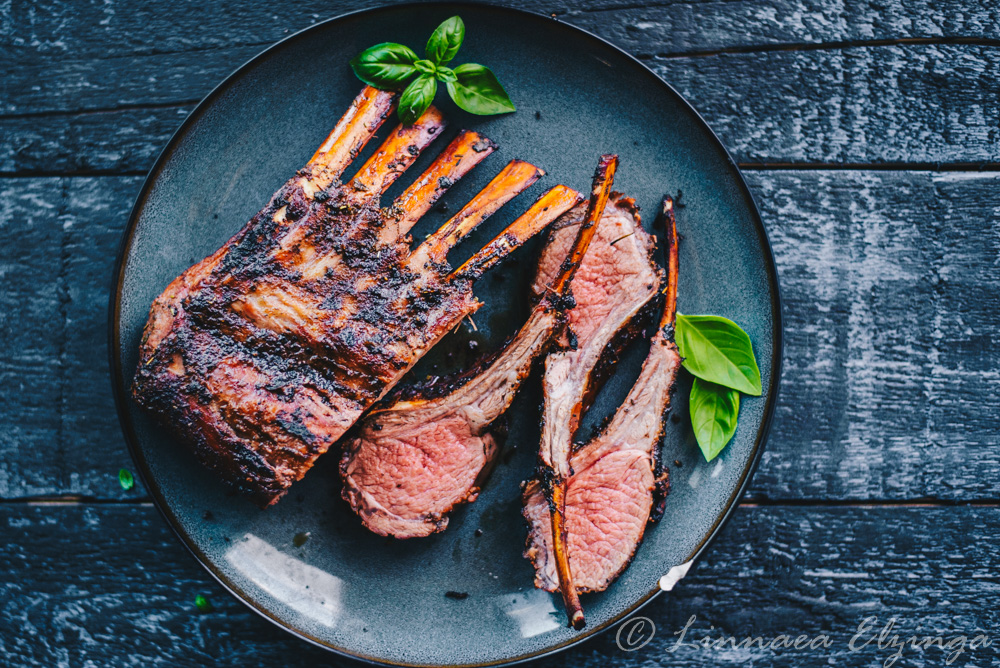 Chops, Ground Lamb (Burgers), Lamb Sirloin
These are all best on the grill, or can be pan-fried in a little olive oil. Here are the simple steps:
Season
Heat your cast iron pan/grill to medium high heat, oil your pan
Place on grill or pan and grill/fry for about 3-5 minutes per side, depending upon thickness. Just flip when the side you are grilling reaches a nice even brown. You may have to flip thicker cuts multiple times, so keep this in mind and flip when the meat is still a little lighter.
Check the temperature to gauge doneness.
Remove from heat and rest lightly covered on a plate for 5-10 minutes before slicing.
Those are the main cuts you'll be dealing with when cooking lamb, and if you have something unfamiliar just look it up (what's google for, right?). There are more specific recipes and tips available online for individual cuts, but I hope these general tips were helpful to you! What are your favorite lamb recipes and cooking techniques? Comment below to share your suggestions or questions!