Want to share this post or follow us?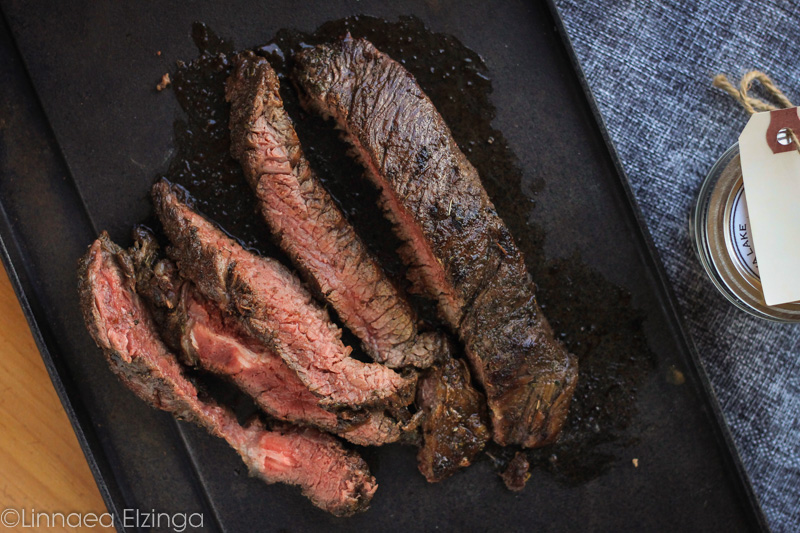 This is a great way to cook your organic skirt/flap/flank/flatiron steak! Though many look upon the Rib Eye steak as the ideal cut, these lesser-known steaks cook up juicy and flavorful when tenderized in this rich marinade.
Balsamic Molasses Marinated Steak (Skirt/Flap/Flank/Flatiron)
A flavorful and tender flank, skirt, flap, or flatiron steak marinated in maple syrup, balsamic vinegar, coffee, molasses, rosemary, sage, and various other seasonings.
Ingredients
1

steak

you can use a small or large skirt, flank, flatiron, or flap steak

2

tablespoons

extra virgin olive oil

1

teaspoon

organic maple syrup

1 1/2

teaspoons

oregano

½

teaspoon

cilantro

1

teaspoon

dried onion flakes

½

teaspoon

sage

1

teaspoon

rosemary

Salt and pepper

sprinkled generously into marinade

2

tablespoons

black coffee

freshly brewed

½

teaspoon

molasses

1

teaspoon

balsamic vinegar

1

teaspoon

maple syrup
Instructions
Place the steak in a medium sized bowl (one that is wide and flat on the bottom so that steak will be well-covered in marinade). Add all marinade ingredients, then use your hands to rub the marinade into the steak. Make sure the steak is well coated.

Cover the bowl with foil or a lid and place in refrigerator to marinade for 3 hours or overnight. About 30 minutes before cooking the steak, remove bowl from refrigerator and set it on the counter (this will allow the steak to warm to room temperature to ensure even cooking).

Put about 2 tablespoons of olive oil in the bottom of a cast iron pan that is big enough to fit the steak with extra room on the sides. Depending on the size of your pan you may need less or more olive oil. Just make sure you add enough to cover the bottom of the pan well.

Heat the pan to medium high heat. When the olive oil starts smoking slightly (the smoke will be barely visible, so you have to pay attention) put the steak onto the pan. Keep as far away from the pan as you can here because hot oil may splatter.

Allow the steak to cook for about three-four minutes on a side. Don't move it around or mess with it with your spatula, but instead allow a nice crust to form (once a crust forms, if your pan is hot enough the steak will detach itself from the pan). If your burner doesn't quite cover the bottom of your pan, you'll want to move the pan (not the steak) around a little bit to make sure the steak cooks evenly.

After about 3 minutes, check the bottom of the steak for brownness by lifting up an edge with your spatula. If it seems well-browned, flip. If it could get a little browner without burning, don't flip it yet.

Once you flip the steak, put a thermometer into the very thickest part of the steak and monitor the temperature as the other side cooks. For a rare steak, your temperature should be around 120-125 degrees F. For medium rare, 125-130 degrees F. For well done, 135 degrees F.

Depending upon just how hot your pan is and whether or not the pan is still increasing in heat, you may have to flip the steak again if the side you're cooking it on seems to be starting to burn.

After the desired temperature is reached and both sides of the steak appear to be evenly cooked, remove from the pan and set onto a plate. Cover lightly with foil and allow the steak to rest for 5-10 minutes before slicing and eating.

Slice against the grain (as shown in pictures).
Notes
Unless if you want to turn the marinade into a sauce and are prepared to make it hot enough to cook raw meat juices, you should discard it. Do NOT reuse it.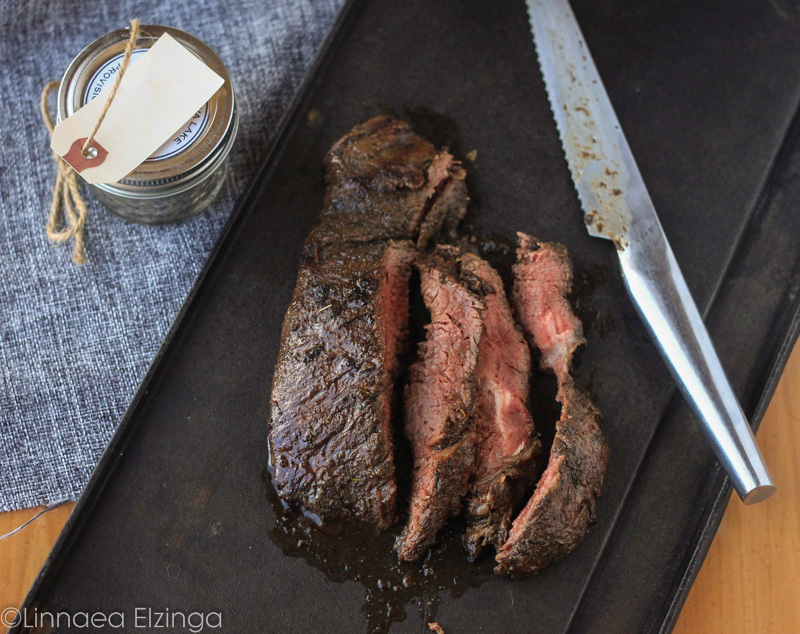 Want to share this post or follow us?